Willington food store emblazoned with colourful community artwork celebrating village life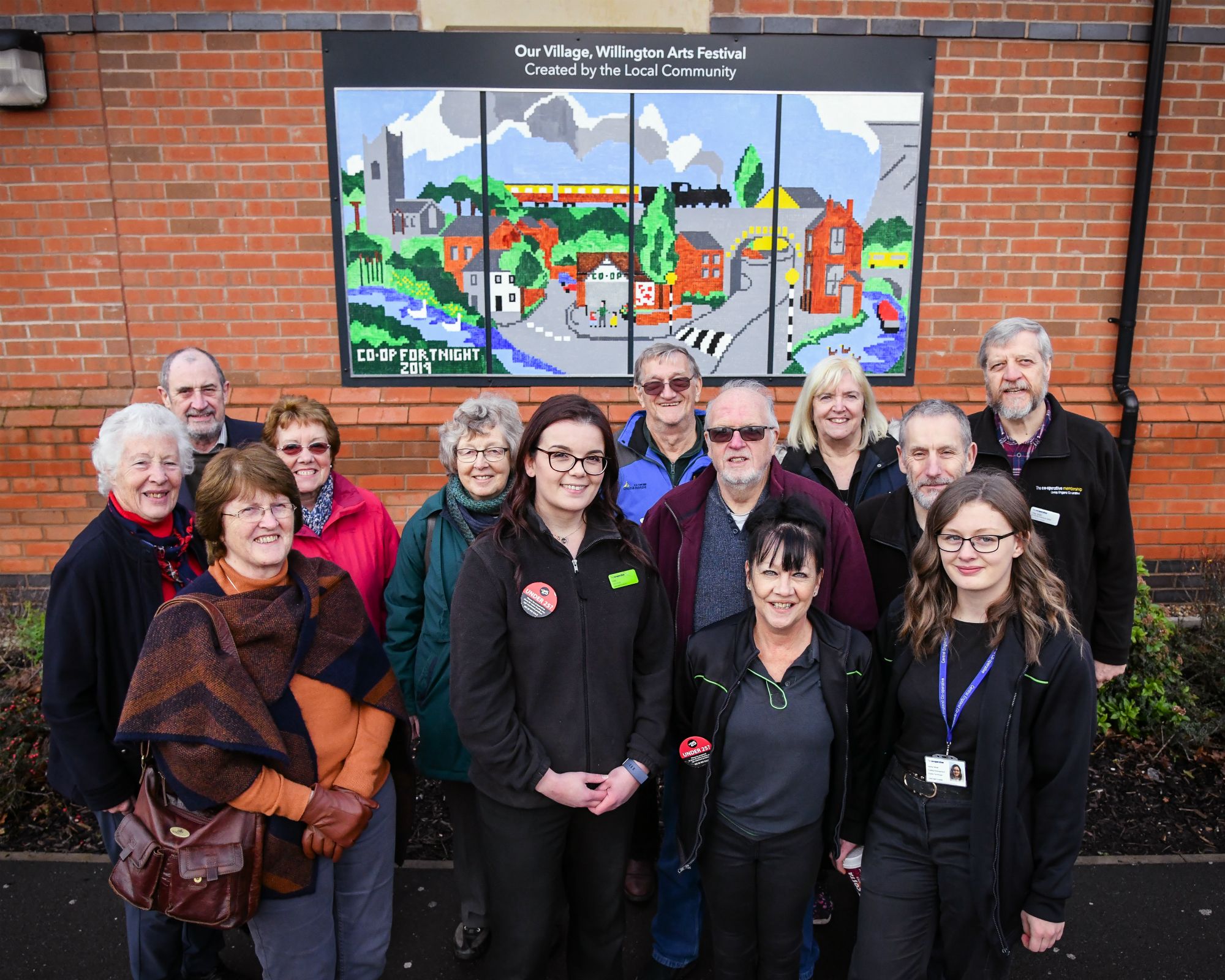 A Central England Co-operative food store in Willington has been given a colourful new feature thanks to a unique piece of artwork created by the village community.
The Willington Community Painting was commissioned by the retailer's Northern Membership and Community Council (MCC) who worked with Willington Arts Festival to create a special mural to promote Co-operative Fortnight in June 2019.
The Willington Arts team were welcomed into the Repton Road store during the Fortnight and encouraged customers and members to add to the artwork which depicts life in the South Derbyshire village.
The completed work has now been designed into an eye-catching feature which has found a home on the outside of the store and MCC members and representatives from Willington Arts Festival attended a special event to celebrate the work and the partnership.
Tanya Noon, Member and Community Relations Officer for the Northern region at Central England Co-op, said: "We are absolutely thrilled with the finished artwork and thank Willington Arts Festival for their support in producing such a colourful and vibrant piece of work which truly lights up the store.
"Co-operative Fortnight is a time when co-operatives from across the world celebrate their model of business and inform the public of why the co-operative is a different kind of business, as well as trying to educate the local community and the younger generations about the work of co-operatives.
"Central England Co-op was delighted to open its doors to community groups and good causes during the two weeks in the true spirit of co-operation, and it is fantastic to be able to celebrate what we did in South Derbyshire with this wonderful new feature at our Willington store."
The Northern Membership and Community Council is made up of Co-op members who are passionate about their community and want to make a difference within it. Each council is given funding and support by the Society to organise activities and events.
People can find out more about the work of the MCC by visiting https://www.members.coop/