Co-operative solutions to tackle Food and Finance Justice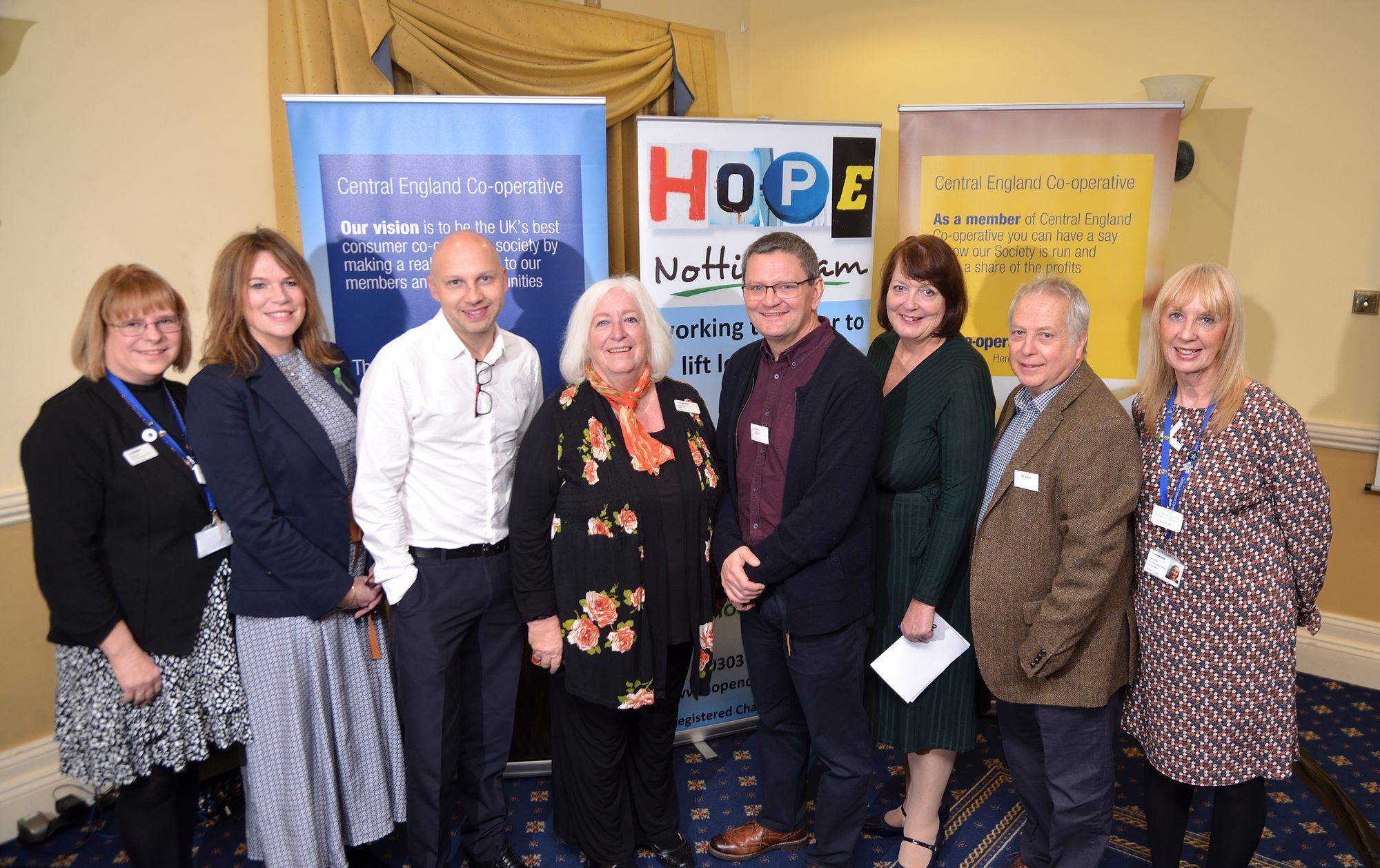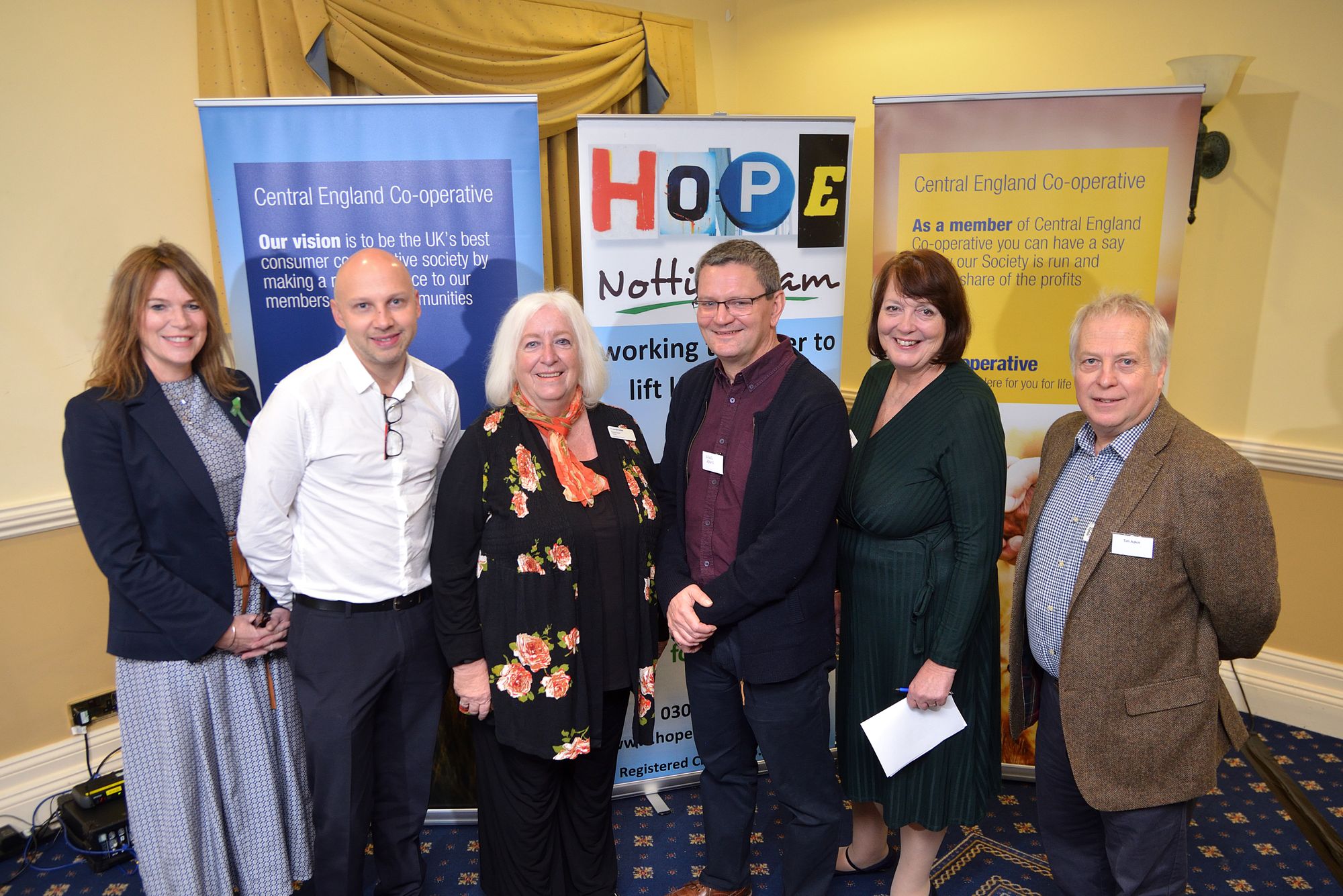 Food and Finance Justice – Co-operative Solutions by Tanya Noon.
Central England Co-operative hosted a Conference to bring a number of organisations working together from foodbanks, credit unions, and local authorities to look at the issues around food and finance justice.
The event was opened by the Society's President, Elaine Dean who outlined the purpose and why the Co-operative was engaged in trying to look at alternative ways of providing such services.
She referred to the Co-operative Party's Food Justice Campaign and how it was important to provide a platform to bring people together to look at solutions.  The food poverty crisis in the UK is not getting the attention it needs; with 8,000,000 people in the UK having trouble putting food on the table, 500,000 people in the UK using foodbanks; 10% of the NHS budget in the last year spent on treating type 2 diabetes, 1000,000 people in the UK living in food deserts.  So a more strategic approach is required.
Debbie Robinson, Chief Executive, gave an overview of what the Society had being doing from providing a collection service in store for food banks, working with fareshare and providing support during holiday hunger campaigns.  However, it was time to re-look at what is the real need in the communities in which Central England Co-operative serves and wider.  Debbie referred to the Co-operative's Values and Principles and its history of dealing with these issues in the 1800's and how well placed co-operatives are today to tackle the issues of today and find solutions.  This is how we live our lives and that people want self respect.
We want to end food poverty, period poverty, loan sharks but we need to work together in co-operation to empower people and give them hope for the future.
Jane Avery, Vice-President and in her capacity of working for Case (Co-operative & Social Enterprise Development Agency), referred to the co-operatives that she had assisted to enable people to succeed in business.  She highlighted the work being done with the WEA (Workers' Educational Association) and how we can tap into skills of people.  She made reference to 'What if'?.  What if we can change the way things are done to benefit the people who need it the most.
After the Co-operative introductions, Tim Adkin who is a Member & Community Council member and also works for Action Homeless in Leicester addressed the audience with his key note speech.  He referred to the pressures upon food banks, the rise in demand, and increasing poverty in the country. He outlined the issues caused by Austerity, the dismantling of social welfare systems, the inequality in the workplace and negative media campaigns surrounding benefits.  He added that if the present level of poverty and demand for help continues there is a big risk that Food banks can no longer be sustainable.  He defined Food banks as First aid posts and that we should be tackling the symptoms and issues more directly instead of embedding food banks into the establishment.
He went on to directly challenge the audience to do things differently.  Could food directly from the supermarket be a more dignified way of providing food and that the foodbanks could provide cafes and places to go and learn and meet others; could better services be provided by foodbanks and other like minded organisations, for example cooking skills, financial awareness and support services.
Councillor Sam Webster gave a talk on how the City Council was tackling the issues and also the Nottingham Credit Union.
Over 27,000 food parcels were given out in a year, 76% of people are referred due to universal credit and statistics show that over the next 9 years increases will be 3802%.  So the event to bring a great diverse of people together was a brilliant way to try and tackle issues on the ground.  The City Council to assist people had set up a One-Stop-Shop to access things like: budgeting, benefits, saving advice, borrowing safely, debt advice, etc...  www.asklion.co.uk/money.  This area of work was critical to the people and an online digital solution was one way of assisting people.  A newsletter with the information is also delivered to various homes locations in the region.
The Nottingham Credit Union had started in 1992 and is now a sustainable co-operative with no grant funding. He referred to how we needed to educate more people about the loan sharks, organisations like Brighthouse and payday loaners. The Credit Union loaned over £3 million last year and the more people they can get before going down other lines of finance the better.  He referred to payroll services and how companies can enable their own employees to access credit unions.
Nigel Adams, from Hope Nottingham gave an insight into Asset Based Community Development.  Lifting people from hunger to hope.  The Asset Based Community model was about doing things with people to empower and enable people.  There was too much of things done for people which was not inclusive and this model was bringing everyone together.  More work in the foodbank is around this than actually giving out the food and he referred to many stories of how it had made differences in people's lives.  The model of GRACE – of empowerment & giving and Relief & Advice with people in communities is a model that works and wanted to share with all other organisations on how they could use it in their settings.
Everyone was able to network and learn from each other and look to see how we could solve some of the issues around both food and finance justices.  Everyone took something back to either implement or action from the debates.
Tanya Noon, Employee Director and Member & Community Relations Officer for Central England Co-operative said that "since forming relationship with foodbank providers, credit unions and other like minded organisations, we just wanted to try and get as many as we could into a place to debate and discuss the issues around both food and finance justices.  The Conference highlighted the need for change and that it was time to enable the Co-operative to act to seek out new ways and co-operate and learn from each other.  The feedback has justified the conference with comments like: it was great to discuss the issues to help people in communities and to give them hope, the speakers were great and helped to get different agencies to talk to one another was brilliant, excellent insights into practices and potential opportunities.   Tanya said as this was the first stepping stone it was a great platform and we will want to develop ways in which to tackle food and finance justice.