Celebrating Pride Month
There are many free resources available that tell the history of Pride and its importance many people today.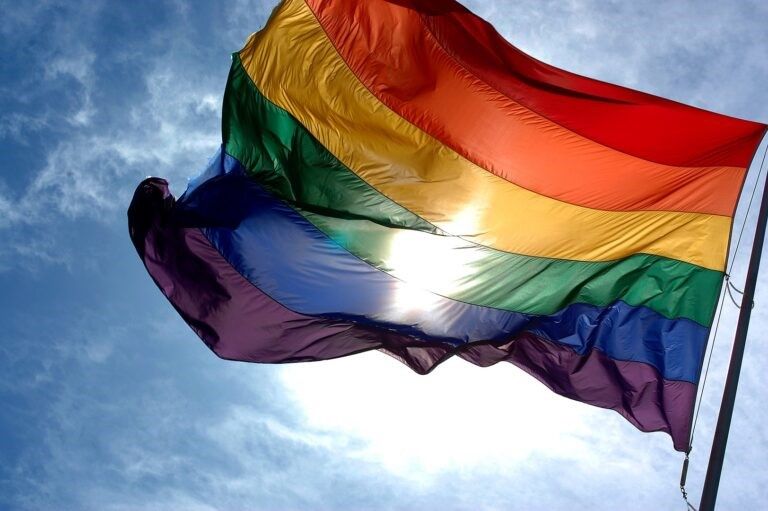 Learn more about Pride and why it matters
There are many free resources available that tell the history of Pride and its importance many people today. Remember, Pride is a celebration of people coming together in love and friendship, to show how far LGBTQ+ rights have come, and how in some places there's still work to be done. Pride is for EVERYONE, that means you too.
Communities all over the world will programme events and gatherings throughout the month of June (and beyond), including parades, talks and demonstrations. Just search for 'Pride Month' and choose what you would like to do next.
Learn more, do more
An amazing resource for clear, information, signposting and resources is Stonewall.org.uk
Also read articles from the British Library for historical content
or even seek out stories during your next  National Trust visit
Find a comprehensive list of Pride Parades and events here
Pride stories
This week's contribution comes from our colleague, Sam Thompson
Pride to me is being unapologetic about who I am and who I love. It's having the confidence in a room full of friends, peers or strangers to talk about my life, who I am, what I do... Who I love.

For many years being gay, or saying that my fiancée was a woman was the last thing I would tell someone about myself. I thought I was doing it because it shouldn't be important to anyone. I know now I was doing it because I was worried about how people might view me.
I love my life, and my partner, I love to talk about her, and our life together – speaking to other people and realising I wasn't alone in this supported me to be an authentic version of myself and not a censored version of what I thought I should be.

Pride to me is running around the park with our two nieces screaming at both their aunties to come and play with them. To them, I have never been anyone else, or been in love with anyone else.
They just see me.
Somewhere over the rainbow

The rainbow flag is a symbol of lesbian, gay, bisexual, transgender (LGBT) and queer pride and LGBT social movements.
Also known as the gay pride flag or LGBT pride flag, the colours reflect the diversity of the LGBT community and the spectrum of human sexuality and gender
Using a rainbow flag as a symbol of gay pride began in San Francisco, but eventually became common at LGBT rights events worldwide.
Originally devised by artist Gilbert Baker, the design has undergone several revisions since its debut in 1978, first to remove colours then restore them based on availability of fabrics. Baker's first rainbow flag had eight colours, though the most common variant consists of six stripes: red, orange, yellow, green, blue, and violet. The flag is typically flown horizontally, with the red stripe on top, as it would be in a natural rainbow.
Source: Wikipedia
Notable variations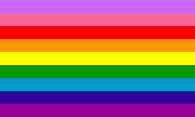 In March 2017, Gilbert Baker created a nine-stripe version of his original 1977 flag, adding lavender, pink, turquoise and indigo stripes. According to Baker, the lavender stripe symbolizes diversity.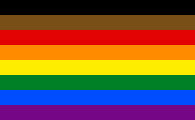 In June 2017, the city of Philadelphia adopted a revised version of the flag designed by the marketing firm Tierney that adds black and brown stripes to draw attention to issues of people of colour within the LGBT community.
In February 2018 a version of the flag, created by Estêvão Romane, co-founder of the Festival, was unveiled which added a white stripe in the middle, representing all colours.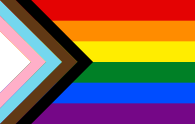 In June 2018 designer Daniel Quasar released a redesign that immediately went viral as the Progress Pride Flag on social media. The "Progress" variation adds a chevron along the hoist that features black, brown, light blue, pink, and white stripes to bring those communities (marginalized people of colour, trans people, and those living with HIV/AIDS and those who have been lost) to the forefront; "the arrow points to the right to show forward movement.
In July 2018 the Social Justice Pride Flag was released in India in the Chennai Queer LitFest. The flag was designed by Chennai-based gay activist Moulee. The design incorporated elements representing Self-Respect Movement, anti-caste movement and leftist ideology in its design.
In 2018, marchers at the Equality March in Częstochowa carried a modified version of the flag of Poland in rainbow colours. They were reported to prosecutors for desecration of national symbols of Poland, but the prosecutors determined that no crime had been committed.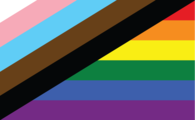 The 2018 New Pride Flag by Julia Feliz integrates the historic and modern-day struggles of the LGBT movements with racism, following intersectionality. The design adds the colours of the Trans Pride Flag with brown and black diagonal stripes, emphasizing the importance of trans people of colour for the queer rights movement from its inception at the Stonewall riots.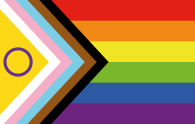 In 2021, Valentino Vecchietti of Intersex Equality Rights UK redesigned the Progress Pride flag to incorporate the intersex flag. This design added a yellow triangle with a purple circle in it to the chevron of the Progress Pride flag.
Host an Event
Gather a few friends and organise an event in your area. Maybe host a party with a range of activities, games, competitions and food. Don't forget to decorate the location with rainbow themed bunting, flags and balloons!
Or join us at one of the Pride events we're supporting as a society