June is Pride Month
Show your support for everyone who wants to be free to express themselves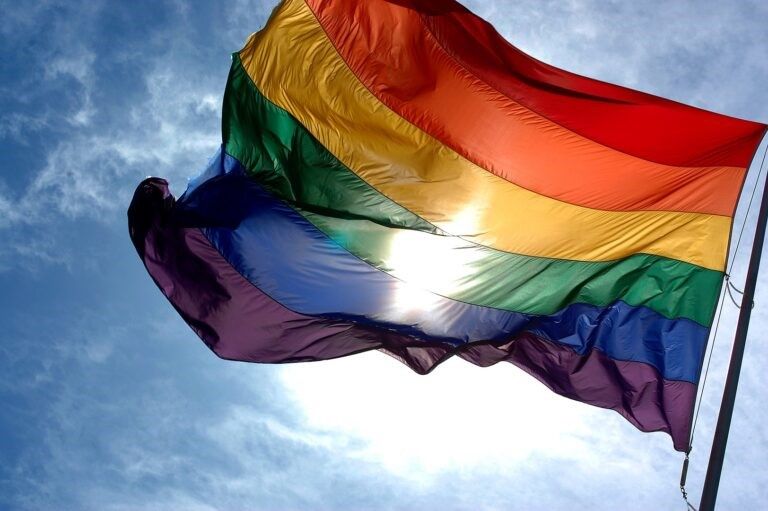 Pride Month tells the history of the LGBT community finding acceptance in the world. While it's more widely accepted today than ever before, there is still a long way to go!
Pride Month is a time for people to be proud of who and what they are without judgement. It's for everyone and anyone who wants to encourage freedom of expression and stand in solidarity with the LGBTQ+ community.
So, read on to learn about the LGBTQ+ community and how you can find a variety of ways to enjoy and celebrate Pride Month.
We're also delighted to share some personal Pride Stories from our Co-op colleagues.
Let's start at the beginning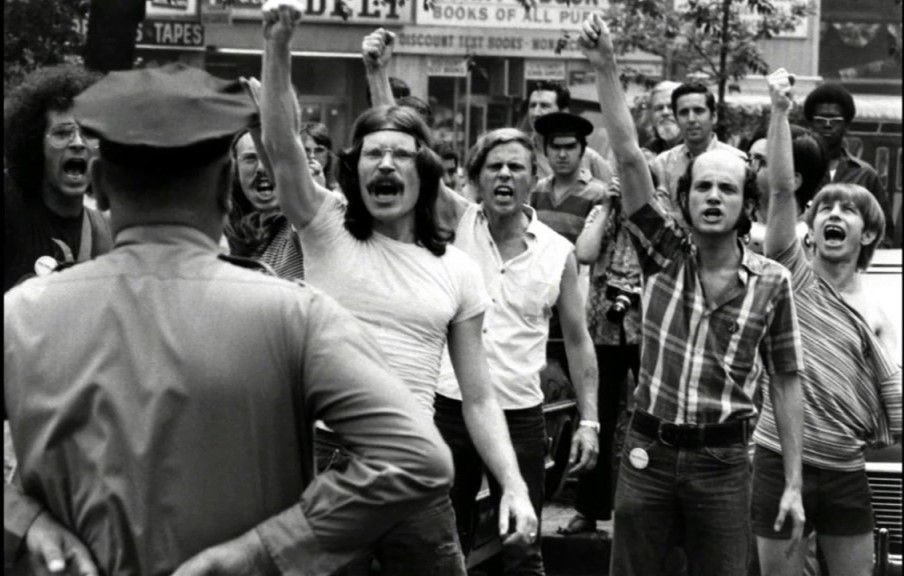 Pride Month is celebrated each year in the month of June to commemorate the Stonewall riots of 1968 in Manhattan, New York.
In the 1950s and 60s, the concept of being gay was not often spoken of or publicly expressed due to the pressure of American society and the social norms that viewed being gay as a taboo and a mental disorder.  There was a population of people who did not believe in oppressing these rights and they stood against the government to fight for it.
When the Stonewall Inn (located in New York City) started being raided by police because it was a gay bar, people started retaliating against police in its defence and their believed right to be freely gay.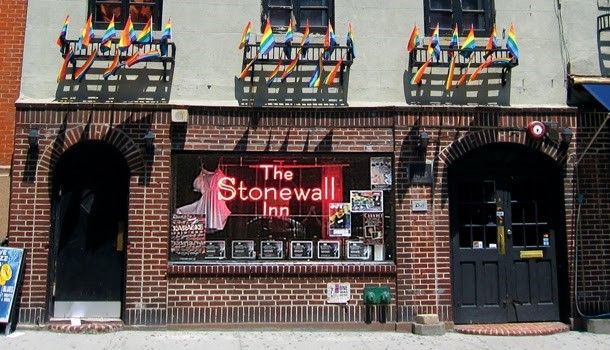 This is an early example of a grass roots uprising that took place over 6 days – and was the opportunity for many people, who had previously been quiet, to start to stand up for their cause.
Over the following decades, support for LGBTQ+ pride has been growing steadily, even when the LGBTQ+ lifestyle was considered taboo during the 1970s and 80s. As more people started supporting the movement and people started to understand what being gay meant, Pride Month started to become more popular and mainstream.
Today, Pride is celebrated every year in colourful street parades across the world, including the UK, United States, Canada, Spain, Israel, New Zealand, Australia and Japan, with people joining together in solidarity for freedom and equal rights for all.
Colleague's Pride Story
This week, we share a Pride story from Andrea O'Brien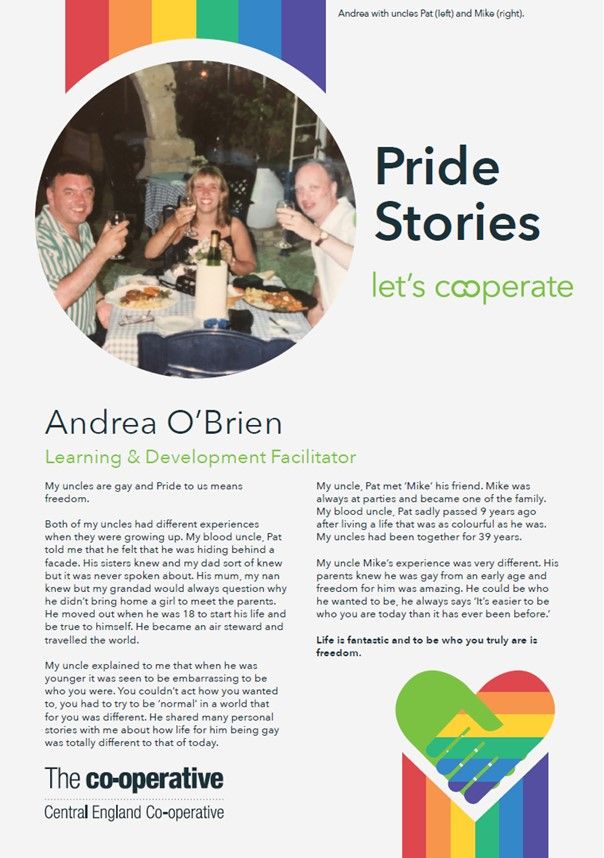 My uncles are gay and Pride to us means freedom.
Both of my uncles had different experiences when they were growing up. My blood uncle, Pat told me that he felt that he was hiding behind a facade. His sisters knew and my dad sort of knew but it was never spoken about. His mum, my nan, knew but my grandad would always question why he didn't bring home a girl to meet the parents. He moved out when he was 18 to start his life and be true to himself. He became an air steward and travelled the world.
My uncle explained to me that when he was younger it was seen to be embarrassing to be who you were. You couldn't act how you wanted to, you had to try to be 'normal' in a world that for you was different. He shared many personal stories with me about how life for him being gay was totally different to that of today.
My uncle, Pat met 'Mike' his friend. Mike was always at parties and became one of the family. My blood uncle, Pat sadly passed 9 years ago after living a life that was as colourful as he was. My uncles had been together for 39 years.
My uncle Mike's experience was very different. His parents knew he was gay from an early age and freedom for him was amazing. He could be who he wanted to be, he always says 'It's easier to be who you are today than it has ever been before.'
Life is fantastic and to be who you truly are is freedom.
Together with PRIDE
We are delighted to support four PRIDE events across our trading area this year. Come and share in the warm welcome shown by the LGBTQ+ community and demonstrate your support for everyone who wants to be free to express themselves.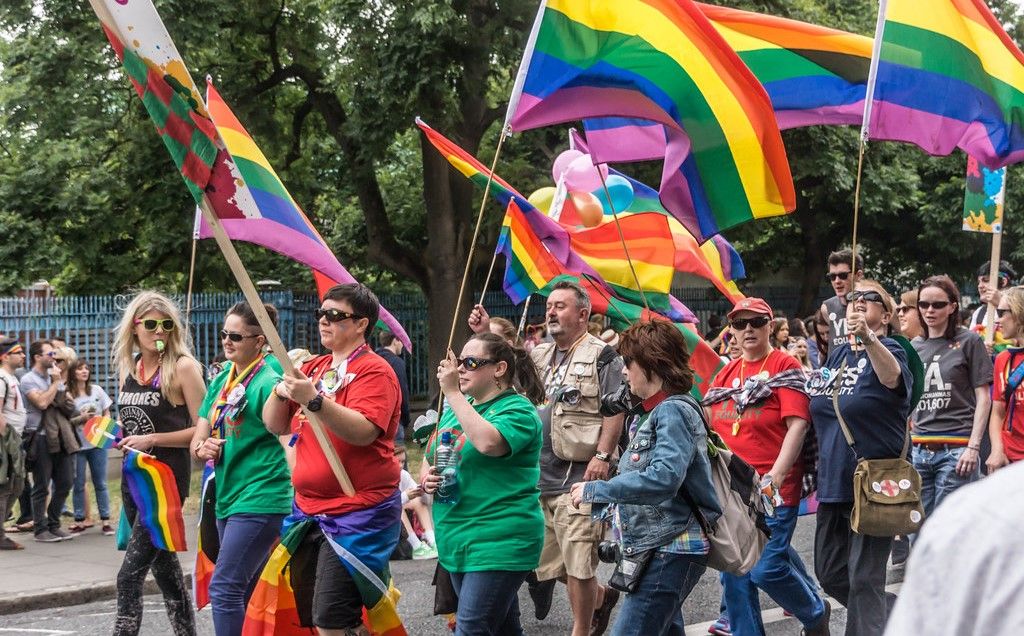 •            Birmingham Pride 24 – 25 September
These events mean a lot to us and to our communities, so we're keen to show our solidarity.
Come and join us!