November 11, 2021
Self-confessed football novices take to the pitch in special charity match
Our 'Can't Play Players' team took on the Leicester Wildecats LGBTQ+ team.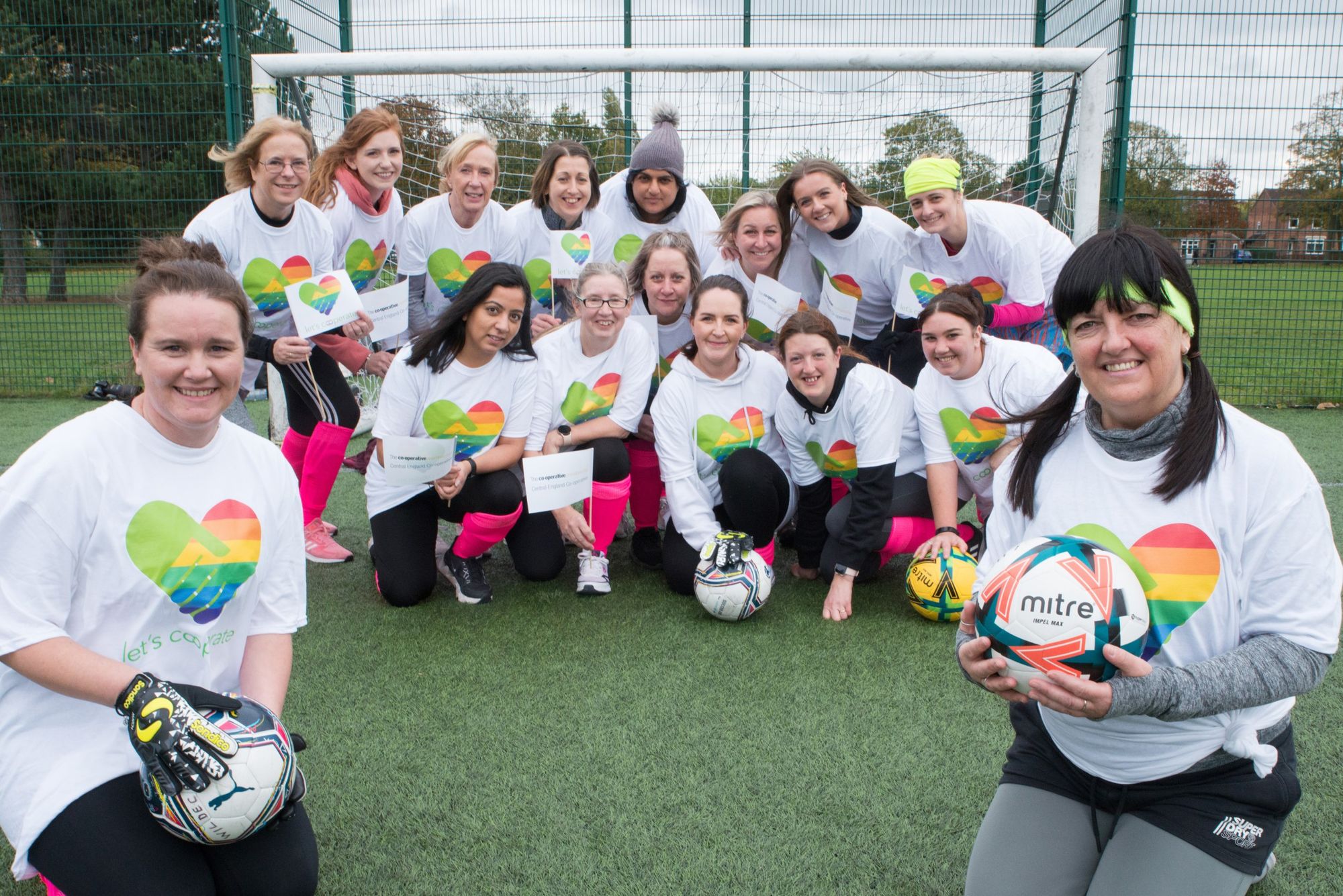 A special charity football game has been held in Leicester celebrating equality and raising vital funds for Dementia UK.
The 'Can't Play Players' women's team from retailer Central England Co-op took on the Leicester Wildecats LGBTQ+ team in a tournament held at AFC Andrews Football Club in Knighton Lane East.
The players from Central England Co-op were self-confessed 'non players' who all donned their boots and shinpads in the name of fundraising and to celebrate equality and inclusion.
All the players who took part received a medal, but it was the Leicester Wildecats Divas team that emerged victorious after the round robin tournament, with almost £200 raised on the day for the retailer's charity partner Dementia UK.
Karen Bevan, Membership and Community Relations Officer at Central England Co-op who organised and played in the game, said: "We first played a 'Can't Play Players' game in February last year and it was the first time that many of us had ever really kicked a ball but that didn't matter as it was just great fun and everyone who took part couldn't wait to give it a go again
"When the opportunity came up to play against the Leicester Wildecats team, we were delighted to make it happen. To raise money for such a great charity and join together to celebrate equality and inclusion, which is such an important part of what we stand for as a Society, made it a really inspiring, as well as enjoyable occasion.
"I'm really thankful again to Andy Ashton and everyone at AFC Andrews for helping us stage the game at their ground again and for their great hospitality, as well as the Leicester Wildecats team for joining us and helping make it such a memorable day."
Gareth Miller, Founder of the Leicester Wildecats, said their players had a great day and hope to take on the Can't Play Players from Central England Co-op again.
He said: "This was one of the most friendly and enjoyable tournaments we have ever played in. It was very well organised by Central England Co-op and all the games were played in good spirit and with great enthusiasm.
"Leicester Wildecats is very happy to work in partnership with Central England Co-op and we look forward to arranging another charity tournament soon."
Andy Ashton, from AFC Andrews, said: "As a community football club we are able to welcome and help people in a way we probably couldn't as individuals, and so we were delighted to help Karen and her team."