Two generations come together in Birmingham for special event to mark Fairtrade Fortnight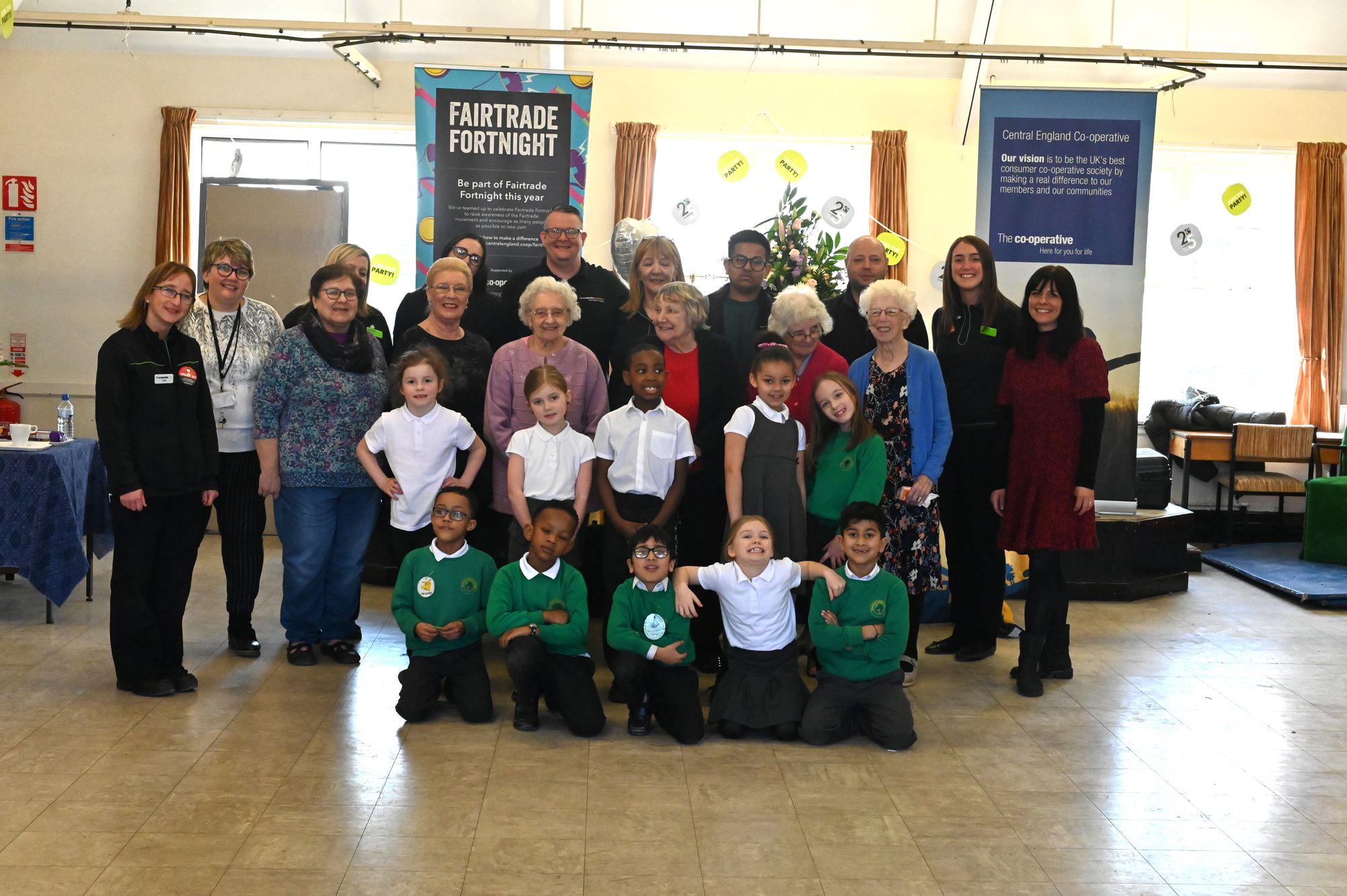 A special event in Birmingham has been hosted by Central England Co-op which has seen two generations come together to celebrate Fairtrade and build friendships.
The Fairtrade Intergenerational Tea Dance was organised and funded by the Western Membership and Community Council (MCC) at Central England Co-op and was held at the Co-op Rooms in Great Barr as Fairtrade Fortnight neared its end.
Children from Beeches Infant School and elderly residents from Homelands sheltered housing complex in Great Barr had a fun morning enjoying music, dancing and interaction, while finding out more about Fairtrade and enjoying some Fairtrade chocolate and cake.
Fairtrade Fortnight is taking place until 8 March and has seen thousands of individuals, companies and groups across the UK come together to celebrate the people who grow food, people who live in some of the poorest countries in the world and who are often exploited and badly paid.
James Knight, Member and Community Relations Officer at Central England Co-op, said the event was the perfect way to round off a great two weeks of celebrations.
He said: "Through the work Central England Co-op does in the community we have increasingly seen the benefits of intergenerational projects which bring such great benefits to both young and old, so we felt this event would be a fantastic way to bring our Fairtrade Fortnight celebrations to a close.
"As a co-operative retailer we are always looking at ways we can make a positive difference to people's lives in our communities and seeing the wonderful interactions between the children and the residents and the smiles on their faces has shown us this has been a very worthwhile event.
"It has also given us a chance to get the children and residents thinking about Fairtrade, which is a really important part of the educational work we do as major supporters of the Fairtrade movement over the last 25 years."
Vicky Colley, Head teacher at Beeches Infant School, said: "It has been a lovely experience for the pupils. They have seen a lot of familiar faces from the Central England Co-op as we are very local to the store and it has been wonderful to meet the residents from Homelands and have a lovely morning with them.
"It has also been great for the children to find out more about Fairtrade and we've made some great links for the future."
Central England Co-op has celebrated Fairtrade Fortnight with a range of events across the 16 counties it covers from donating Fairtrade footballs to local football clubs, to school assemblies and workshops.
Read more about what Central England Co-op has got up to during the two weeks at https://www.membershipmatters.coop/
Find out how to become a Central England Co-operative member by calling 0800 0501 601, emailing members@centralengland.coopor visiting https://membership.centralengland.coop/