July 8, 2019
Thirty-six community groups and charities handed share of £44,000 funding boost from our Community Dividend Fund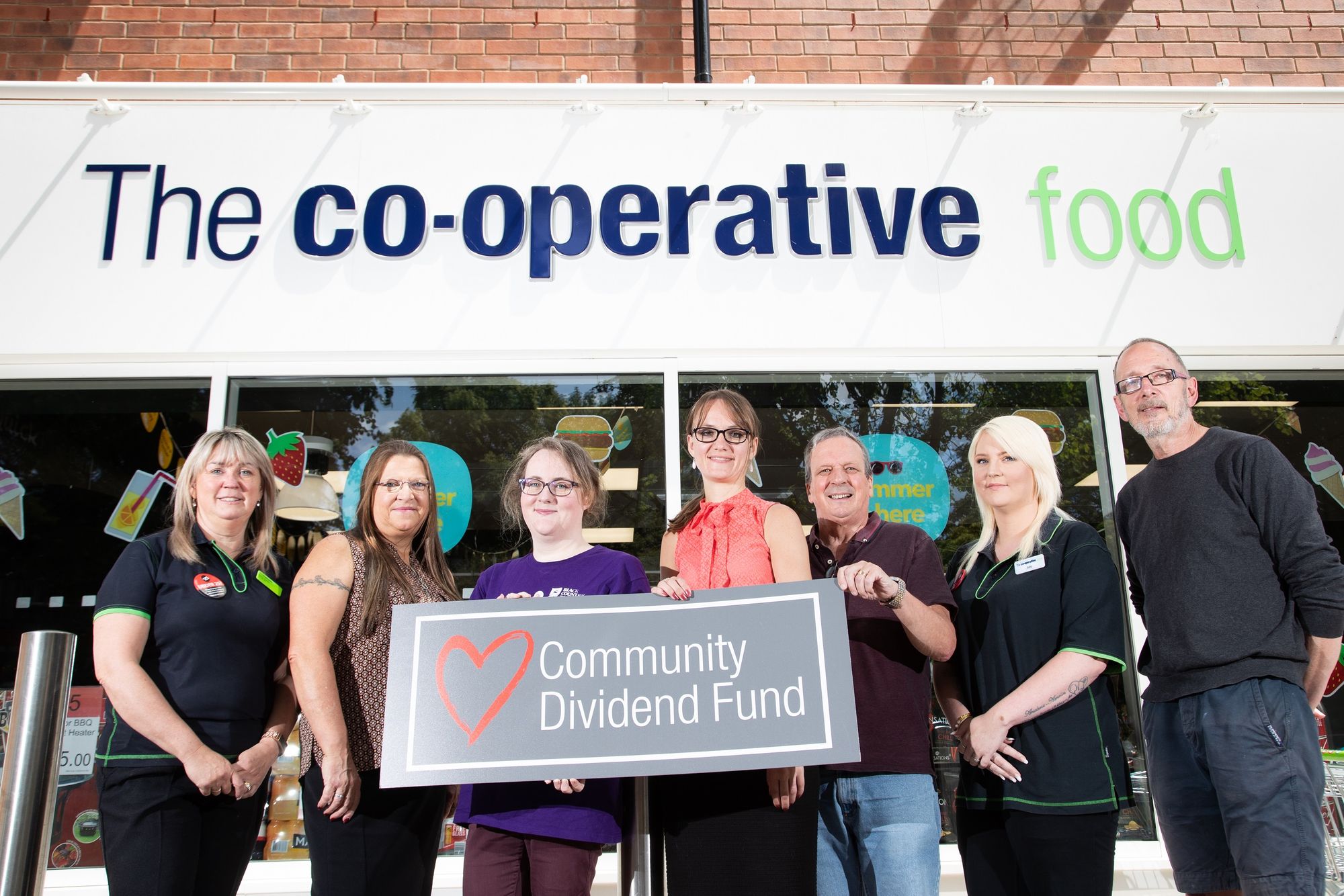 Thirty-six projects are celebrating after sharing £44,000 in the latest payout from Central England Co-operative's Community Dividend Fund.
Grants of between £100 and £5,000 are handed out every three months to a wide range of applicants.
The fund guarantees that at least one per cent of the Society's trading profit is reinvested in local communities in a bid to help projects to thrive across its trading area of 16 counties from the Midlands to the east coast.
Grants were handed out to good causes in Cambridgeshire, Derbyshire, Norfolk, Suffolk, Kettering, Leicester, Yorkshire and the West Midlands.
West Midlands
Birmingham Crisis Centre has been handed £3,500 to pay for the complete refurbishment of one of its accommodation units, which provide a kitchen, bathroom and bedroom for female victims of domestic abuse and their children.
The money will pay for redecorating, kitchen units, sink, cooker, bathroom, shower and fixtures and fittings.
Chief Executive Alan Fleming said: "On behalf of the women and children who are in residence at our confidential refuge escaping domestic abuse, the trustee's, staff and the families are extremely delighted with the very generous award made to our charity for our refurbishment project.
We have 24 self-contained apartments on site and this award will completely refurbish an apartment consisting of a new bathroom, kitchen, lounge, bedroom and all necessities brand new for the family to live in until we find a safe secure area and home for the family to move on to start a new life."
St Georges Knights Powerchair Football Club, based in Burton, provides sessions for people with physical disabilities to participate in sport.
The group currently has two powerchairs and will use a grant of £2,000 towards buying two more.
Arts charity Black Country Touring will use £900 to pay for a new laptop that will form part of an ambitious community cinema project. The project works across 13 venues in Sandwell, Wolverhampton and Dudley and provide a pop up cinema experience as part of an effort to cut levels of social isolation and loneliness by allowing people to come together enjoy, share and discuss film.
A similar scheme, operated by Screen B14, has been given £1,200 for a new projector as part of an expansion effort to offer its film screenings to more people including those who are hard of hearing, those with disabilities and homeless people.
Sukayna Najmudin, chairperson from Screen B14, said: "As an organisation, we have built ourselves on the foundation of accessibility. This grant will be invested into purchasing our own equipment, which will allow us to build on the services we can offer our community and help towards running more accessible film screenings."
A £2,000 grant will be used by Brushstrokes Community Project, in Smethwick, to support its busy community café. The money will be used to buy new kitchen equipment, chairs and tables to ensure the group can provide hot and nutritious food for people in need.
Rising Stars, based in Aston, works with young people from all backgrounds to help them fulfil their potential and pursue a passion for sport, in particular football.
The group will use a total of £1,095 to buy a new pair of portable metal goal posts to support a specialist programme aimed at diverting young people away from drugs alcohol, gang culture and knife crime by using sport as a diversion.
Stafford Stallions Football Club will use £650 to pay for a new kit.
Butterflies Breast Care Support Group has been handed £200 in food vouchers to promote healthy eating.
InUnity, a group which works with youngsters in the Billesley area of Birmingham, has been handed £520 to pay for a camera and sewing machine to support a creative arts project.
A total of £1,000 will be used by New Heights Warren Farm Community Project to spruce up a community café.
Quinborne Community Association will spend £1,980 on converting a room at its site in Ridgeacre Road to cater for the elderly so that it can provide a drop-in/information room and provide courses.
Fox Hollies Shed, which is a place for isolated people to meet and take part in practical activities, has been handed a grant of £950 to pay for a selection of power tools for its members.
Lichfield Arts will spend £670 on new lighting to support community concerts and festivals.
Yorkshire
Kirkroyds Pre-school, based in Wooldale, Holmfirth, will spend over £1,600 on the specialised surface to ensure that youngsters can play safely outside.
The pre-school submitted an application to the Central England Co-op Community Dividend Fund after rises in running costs and a lack of government funding meant that it was one of the only ways it could secure support for the vital work.
Jeanette Taylor, from the school, said: "Kirkroyds Pre-school is delighted to receive the funding to be able to refurbish our outdoor play surface.
"Outdoor play is essential for the development and well-being of the children and the new surface will ensure that our children are able to play safely and continue to enjoy the outdoors for many years to come.
"As a small charity with a low income, funding such as this is essential for our sustainability."
Norfolk and Suffolk
A total of £1,730 will be used by Conquest Art Group to create mobile art storage units and buy a selection of tools. The units are needed as members of the group are impacted by limited mobility due to a range of physical disabilities.
Davina Wilson, Conquest Art Group leader, said: "The grant will be used for specially designed storage units and new craft equipment to enable a much wider and more easily accessible choice for our members to enjoy, and allow everyone in our group the opportunity to explore different and exciting ways of being creative.
"We are all really appreciative and so pleased to know our application has been successful."
Bungay Black Dog Running Club is looking to be more inclusive by using a £500 grant to pay for a disabled toilet to ensure potential members with disabilities are catered for.
Jayne Capps-Jenner, chairman of the club, said: "Having this facility will make a huge difference to the club in terms of being able to expand our membership of disabled people and offering them an equal opportunity to take part in regular activity."
Brundall Allotment Association, which aims to encourage the community to produce healthy food choices, will use £1,223 to pay for a new poly-tunnel. The new equipment will allow for the group to appeal more to children and people with disabilities.
Leicestershire
Rothley Community Library is aiming to encourage the love of reading across the area will the launch of a brand new scheme.
A grant of £1,040 will be used to create a series of community book boxes that will be situated everyway from village parks to pubs.
The wooden and water proof boxes will be filled with books for all ages in an effort to attract more people to read and then visit the library, in Mountsorrel Lane.
Sue Barnes, from the library, said: "Our aim with this project is to introduce families to the library by setting up 10 community book boxes in each of the local village parks, village centre and local public houses. "
Disabled youngsters in Whitwick will soon be able to enjoy a brand new specialist piece of play equipment. The Woodstock in Whitwick Group has been handed £5,000 to buy the equipment as an attempt to make several parks in the area accessible to more people.
Stokeswood Allotment Society has been handed £500 to buy a new freezer to reduce running costs and to improve its ability to cook for more events.
Lenny Moule, from the society, said: "We would like to say a big thank you to Central England Co-operative for their continued support in helping to improve our community."
A total of £800 has been donated to Aylestone Football Club to pay for a brand new kit and footballs.
Lutterworth Community Allotment will spend £600 to pay for a new tool store and poly-tunnel after moving to a new site and in an effort to try and attract young families to volunteer and learn about healthy eating.
Penny Trethewey, from the community allotment, said: "We can't wait to go shopping and install all the new items at the plot."
A total of £1,000 will be spent by Broom Leys Primary School, in Coalville, as part of an ambitious project to revitalise a pond to teach youngsters more about the outdoors.
Hayley Barnard, deputy head teacher, said: "Over the past few years, the school's gardening club has become extremely popular; the addition of a new potting shed will allow children to grow plants and bulbs year-round."
Everything from new cooking equipment to camping fridges will now be available to 2nd Kibworth Guides following a grant of £550.
Kettering
Teamwork Trust operates a men's shed scheme that allows people to undertake woodworking projects and allows people to share their skills and experiences while not being judged.
The money will be used to pay for a variety of tools that will allow those taking part in the project and others to be trained as tutors so they can work with people with learning disabilities.
Vickie Bell, Head of Learning and Development at Teamwork Trust, said: "We're delighted to have been awarded this grant, which will enable us to re-kit our men's shed – a workshop space where men can come together to pursue practical interests which improve their health and wellbeing.
"Men typically find it more difficult to build social connections than women, and those who have used our services tell us what a difference it's made to their self-confidence and mindset.
"Having the most up to date equipment so that service-users can feel really accomplished with their projects is so important, and the £1,200 means we can replace our tools and buy new ones."
Derbyshire
Visitors to Willington Nature Reserve will soon be able to take in everything from ducks to dragonflies all year round after the Derbyshire Wildlife Trust was awarded £2,000 to pay for a brand new log cabin. The building will be used as an all-weather, visitor information centre.
Carol Phillips, senior grants and corporate officer at Derbyshire Wildlife Trust, said: "Derbyshire Wildlife Trust is delighted to receive this wonderful donation from Central England Co-op.
"As a charity that gets no guaranteed income, every penny really does count for us.  The money will enable us to provide an indoor education and community centre at our Willington reserve.
"This former gravel quarry in the Trent Valley is teeming with bird life all year round, from ducks in winter to sand martins and common terns in summer. Dragonflies and damselflies are plentiful here too.
"With lots of viewing platforms and a feeding station this reserve already attracts many members of the public – the funding will help us to ensure that many more people engage with nature and protect it for future generations."
Dozens of groups in Wirksworth who benefit from the parish hall, in St Mary's Gate, will soon be enjoying new tables and chairs following a donation of £1,140.
Fusion Space, a not-for-profit organisation that supports children and families living in deprived areas, will use £500 to support a range of physical activity, art and music workshops in Alvaston.
Edward Nkwelle said: "We know that there are many children and young people locally who are not able to partake in a wide range of activities mainly because they are not affordable.
"This grant will change all that because it offers equal access for participants to partake in enjoyable sports and arts activities.
"Most of the children who we work with say they are now looking forward to an exciting summer."
Youngsters in Chesterfield and north east Derbyshire will soon be able to get their first taste of learning to play music after £1,250 was handed to Ireland Colliery Chesterfield Band to buy plastic instruments. This forms part of a scheme aimed at getting children interested in playing brass instruments in a cost-effective manner.
Ian Davey, from the band, said: "We are delighted to be awarded funding from the Central England Cooperative Community Dividend Fund towards our primary school's project.  The money will allow us to purchase a number of innovative plastic instruments to take into local primary schools and enthuse youngsters to start playing a brass instrument
"Ireland Colliery Chesterfield Brass band will also offer free start-up tuition to students as part of the longer term aim to build a Junior Band to serve Chesterfield and Staveley."
Members of Derby Co-operative Bowls Club will use £1,600 to pay for a lifesaving defibrillator, which will be available for use by the club and the local community in an emergency.
Cambridgeshire
A total of £1,750 has been handed to Friends of Monkfield Park Primary School to help support a major project to revamp the 20 year old school overhaul its library and continue to encourage youngsters to read.
Helen Hickmott, Chair of Friends of Monkfield Park, said: "We are delighted to have received a Community Dividend Fund award from Central England Co-op, which will be used to help fund a library refurbishment in our school.
"We aim to put this money to good use by creating a more welcoming and friendly library space for children throughout our school to enjoy.
"We very much look forward to being able to re-develop our library, having waited 20 years."
Members of Bourne Town Bowls Club will use £1,500 to pay for a lifesaving defibrillator, which will also be able to be used by the nearby swimming pool and cricket club.
David Ashby, Chairman of Bourne Town Bowls Club, said: "Bourne Town Bowls Club wants to thank you for providing the funding for our defibrillator which is an essential part of our young people and the community project."
Wheatfields Nursery for Pre-School Education, based in St Ives, will use its £700 share to pay for a range of dual-language books to help cater for a variety of youngsters from ethnic backgrounds.
Youngsters from Deeping Rangers Football Club will be heading out onto the pitch next season in a brand new kit thanks to a £650 donation.
Central England Co-operative Chief Executive Debbie Robinson said: "We are delighted that these great projects and good causes have been handed a grant for the fantastic work they do in the community.
"Community Dividend Fund grants like this showcase how by being a member and shopping at your local Central England Co-op store allows us as a Society to continue to invest and fund vital projects in the area."
People can apply for funding by visiting https://communities.centralengland.coop/
Becoming a member of Central England Co-operative offers a whole host of benefits ranging from collecting points every time you spend in store to earn a share of the profits, access to members activities and community initiatives including the Community Dividend Fund, which hands out grants of up to £5,000 to charities and good causes across the Society's trading estate.
Find out how to become a Central England Co-operative member by calling 0800 0501 601, emailing members@centralengland.coop or visiting https://www.members.coop