Thirty-five good causes to receive vital support thanks to £30,000 funding boost from our Community Dividend Fund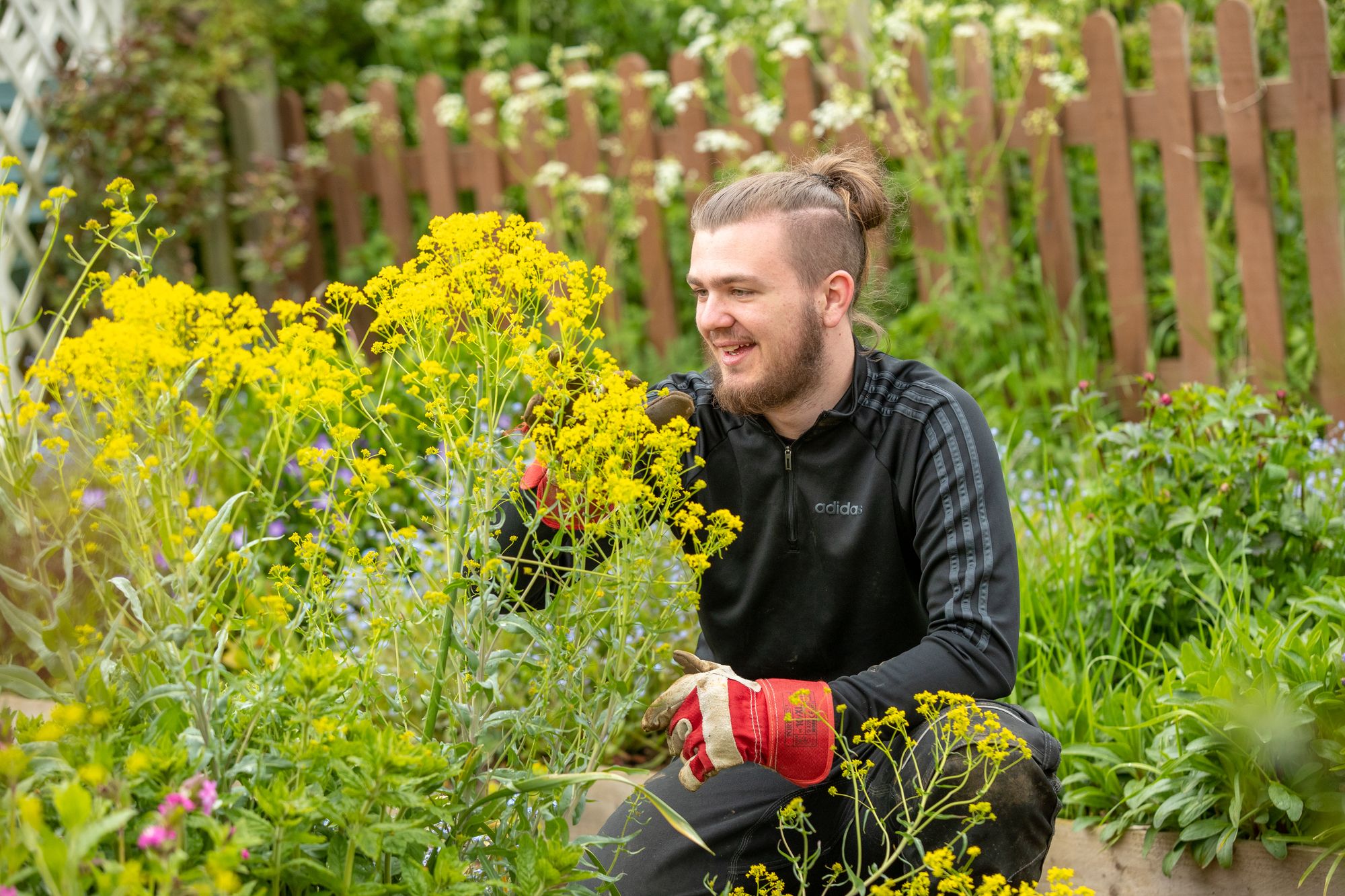 We have handed out over £30,000 to 35 charities and good causes as part of our revamped Community Dividend Fund aimed at supporting those who help support access to food, health and wellbeing, inclusion and the environment.
A wide range of charities and community organisations were delighted to receive the funding boost during these uncertain times.
Groups apply for between £100 to £5,000 every two months to support all manner of projects after being relaunched after, for the past 12 months, it was temporarily repurposed to support good causes impacted by the Covid-19 pandemic. During that time, 116 good causes have shared over £175,000.
Organisations in the following areas have benefitted from a grant from the latest round of funding: Northamptonshire, Leicestershire, Derbyshire, West Midlands, Cambridgeshire, Norfolk, Suffolk, Yorkshire and Nottingham.
Jim Watts, Society Secretary, said: "Community Dividend Fund grants showcase how by being a member and shopping at your local Central England Co-op store allows us as a Society to continue to invest and fund vital projects in the area – especially during uncertain times like these.
"Our relaunched fund aligns with our new Society Purpose to create a sustainable Society for all and we are delighted to share these funds with these amazing groups and cannot wait to see how they use it to benefit their local community."
To apply, members will need: name, address, membership number, organisation type, organisation bank account or constitution and to explain what the group does, how the grant will be spent and the specific impact it will have related to Covid-19.
People can find out the full criteria and how to apply for funding by visiting https://www.centralengland.coop/community/
Below is a full breakdown of good causes handed funding listed via county:
Northamptonshire
· The Lewis Foundation - £2,500 – to provide gifts and support to adults undergoing cancer treatment in hospitals and the community
Lorraine Lewis said: "Adults are having to go through cancer treatment alone during this challenging period of social distancing and that's why it's more important than ever for us to continue to deliver our free gifts and support packs to patients in hospitals and the community. We'd like to say a huge thank you to the Community Dividend Fund for helping us to make a difference in the community. It has been a very difficult period for people in hospital, not being able to be supported by their family and friends. Helping us to provide a gift, helps to support people from a distance and let them know they are not alone. The items may be simple but, when in hospital, they make a huge difference to brighten people's day."
· Northamptonshire Rights and Equality Council - £500 – to provide support to those who have faced discrimination in the local community
Anjona Roy said: "We are all thrilled to receive the Community Dividend Fund grant from Central England Co-operative. We will be using the funds to undertake safeguarding training and DBS checks with our staff and volunteers. It's a real vote of confidence to have the resources from Co-op members to help us make sure that we work in a way that looks out for the welfare and wellbeing of service users, staff and volunteers."
· Marie Curie - £200 – to provide support for its specialist line available to those dealing with terminal illness
· Marie Curie Stamford - £200 – to provide support for its specialist line available to those dealing with terminal illness
Leicestershire
· Merrydale Infant School, Calydon Road, Leicester - £500 – food items to help teach youngsters about healthy eating
· Elohim Christian Church, Nuneaton - £500 – to help feed families who might otherwise might not have access to food
Pastor Faye Clarke said: ""We are overjoyed at receiving a grant from the Community Dividend Fund in order for us to provide food hampers for local families in need throughout the school holidays. To be able to partner with the Central England Co-op to help feed families is a real privilege; together we can make a difference."
· Harborough Eco Village - £1,100 – to help fund a cooking project for local people
· The Bodie Hodges Foundation - £1,260 – to help pay for staff and materials to encourage memory making and helping to explore grief with bereaved young children
· Chroma Church, Leicester - £500 – to help pay for food and toiletries to create packages for people in the community
Ruth Hollington said: "Chroma Church Food Bank are delighted to receive £500 from the Community Dividend Fund, this generous donation has enabled us to continue to offer food bank services and provide the essential food and hygiene products our clients require; we are so incredibly thankful for the assistance."
· Cosby United Youth and Juniors Football Club - £750 – to help pay for a set of new team kits
Richard Woolerton said: "The award will be used to buy some of our junior teams much needed new kit for the new season ahead. It will also mean there will be no burden on the parents to purchase the kit and they can hold on to their hard earned pennies. The players, managers, coaches and parents at Cosby United Youth and Juniors FC would like to say a massive thank you to Central England Co-op for the generosity they have shown in choosing us for some funding."
· Fosse Mutual aid - £500 – to help pay for food and toiletries to create packages for people in the community
West Midlands
· Lichfield Talking News for the Blind - £1,000 –to help pay for specialist equipment such as alarms to keep blind people safe in their homes
· Curborough Community Centre Gardening Club, Lichfield - £350 – supplies to encourage people to garden together to improve the environment
Cathy Wood said: "We are thrilled to be awarded a grant by the Central England Co-op Community Dividend Fund. It will enable us to replace our old mower and will save us significant time and energy which we can devote to maintaining the plot, preparing for autumn/winter and planning for next year. We also plan to buy seed so that we can continue developing our wildflower project to encourage pollinators for our fruit and vegetable crops."
· Chasetown FC Under 14s - £750 – to help pay for a set of new team kits
Matt Thomas, Team Manager, said: "I'd like to thank Central England Co-op for their community funding support. We were so excited to tell the team about our award for funding. The last couple of seasons have been really tough with the Covid-19 pandemic and life and football being put on hold. We can't thank Co-op enough for their generous donation towards much needed training wear and equipment for the team."
· The Hub, in Hazelwell - £500 – to help provide much needed items for one of its community rooms
Graham Mitchell said: "The Hub is very pleased to receive a grant from Central England Co-op towards the cost of completing a planned programme of improved LED lighting including finally to its major public room. This will improve the standard of lighting  and will be beneficial to all including our large number of elderly users and be more energy efficient and reduce our carbon count. This is particularly welcome at a time when the pandemic has reduced our income due mainly to a dropin room rental income."
· West Midlands Powerchair Regional League - £1,000 – to help hire an additional court to cope with demand and Covid-19 related restrictions
· Active Wellbeing Society - £1,000 – to help pay for a range of items to support efforts to tackle the issue of high deprivation and inequality locally
· Tamworth FC Under 16s - £750 – to help pay for a set of new team kits
Derbyshire
· Derbyshire Refugee Solidarity - £2,000 – to help supply refurbished bikes for refugees and asylum seekers
· Marie Curie - £200 – to provide support for its specialist line available to those dealing with terminal illness
· Evergreen Collective - £755 – to buy equipment to allow for people to play rounders in the local community
Mishba Khan said: "Evergreen is delighted with the financial support being provided by the Community Dividend Fund grant. We are excited to develop our Rounders club for women and children which aims to improve the physical and mental wellbeing for the local community. The grant will allow us to purchase bibs for the players, a new rounders kit and a first aid kit, which everyone at the Evergreen Rounders Club is very excited about."
· Littleover Dazzlers Football Club - £750 – to help pay for a set of new team kits
Cambridgeshire
· Deeping Rangers Football Club - £750 – to help pay for a set of new team kits
· Cambridge Cruse Bereavement Care - £1,000 – to fund a call handling service and to train more supervisors
Moira Upton said: "Cambridge Cruse is delighted and very grateful to the Community Dividend Fund for this funding. Now bereavement support can be offered to more people whenever or at whatever time in their life. The funds will help train more volunteer supervisors to help support bereavement support volunteers in this incredible work."
· Grafham Water First Responder Scheme - £500 – new equipment and clothing
Richard Winser said: "We are absolutely delighted to have received a community grant from Central England Co-op. It will be used as part of the initial sum we need to establish an Ambulance Service First Responder Scheme, that will serve the villages adjacent and around the Grafham Water area in Cambridgeshire. Once fully established, we hope the scheme will benefit five parish council areas and two GP Surgery areas in Great Staughton and Buckden. The Grafham Water Community First Response Scheme will be made up of volunteers who have been trained to attend emergency calls received by the East of England Ambulance NHS Trust and provide 'first aid' until an emergency ambulance arrives. We are confident that when the initiative is fully established, it will make a lifesaving difference."
· Headway Cambridgeshire - £1,000 – to pay for a range of materials that will support those recovering from brain injuries and associated mental health problems
Norfolk
· West Norfolk Ride for the Disabled - £3,700 – to help pay for 200 sessions across the next 12 months for disabled youngsters
· Norwich Cruse Bereavement Care - £1,000 – to fund training courses for bereavement support staff
· Scrapbox, in Reepham - £650 – to pay for a new computer and printer to support work to reclaim resources destined for landfill, process them and sell them to local community organisations
Tula Chenery, Manager, said: "Scrapbox is thrilled to receive a Central England Co-operative Community Dividend Fund award, which will be put towards the purchase of new IT equipment to replace our ancient and very slow PC and temperamental printer. As a non-funded, dedicated "reclaimed resources" charity, we rely on our sales and memberships to keep us running so we can help local businesses by reclaiming much of their usable waste (which would otherwise go to landfill), and providing these reclaimed resources to our local community organisations, educational establishments and individuals for art and crafting purposes.  Up-to-date IT equipment will be a fantastic asset for us! It will mean our administration tasks can be achieved so much quicker and more efficiently and we can take a laptop into our shop to input membership details directly into a database, which will save time and so much paper."
· Silver Road Community Centre, Norwich - £500 – to support its ongoing work in the community
Julie Brociek-Coulton, Manager of Silver Road Community Centre, said: "The Silver Road Community Centre want to thank Central England Co-op for their generous donation of £500 which will go towards us buying items for our Christmas hampers. These will be for people who use our food bank but also residents we know that need an extra something special at Christmas."
Suffolk
· Halesworth and District Swimming Club - £200 – for swim caps and bags to help youngsters taking part
Yorkshire
· The Welcome Centre, Huddersfield - £500 – to pay for food to help create vital food parcels
· Eden's Forest, Holmfirth - £1,000 – materials to adults and young people struggling with their mental health and wellbeing
A spokesperson said: "We're really very grateful for the award and are planning on using it towards providing the resources required to construct our outdoor kitchen. We already have a regular volunteer group and work with The Prince's Trust in providing work experience opportunities and it's these two groups that will help and learn how to construct the site. As a social enterprise based in a large woodland we're supporting the wellbeing of adults, children and families and an outdoor kitchen will go a significant way in providing a level of comfort and a facility to develop outdoor cooking skills."
Nottingham
· Wild Things Ecological Education Collective - £1,450 – to support woodland based programmes for children and young people who face severe disadvantages in life
A spokesperson said: "Wild Things would like to say a massive thank you to the Central England Co-op Community Dividend Fund. This grant will enable us to offer extra support to children from a primary school in Bulwell, Nottingham, through delivery of our high-impacting Forest School nurture programme. The children who participate will be chosen by their schools due to being particularly vulnerable because of their experience of the pandemic and its on-going impact on their emotional, social, physical and educational wellbeing. Wild Things has a critical role to play to support the recovery of those who have been most affected by the pandemic and we'd like to thank the Community Dividend Fund in supporting our project."
· Orchard Out of School Club - £1,211 – to help feed youngsters before and after school and to pay for equipment to get them safely to and from home such as high-viz vests
Andrea Simpson, manager of Orchard Extras, said: "We have always tried to shop local and use the Central England Co-op store on Chapel Street in Kirkby-in-Ashfield. The generous support in the form of vouchers for use in store will help us provide breakfast and afternoon snacks while the cash will pay for items associated with the move to our new venue - all for the benefit of local children and families."