April 6, 2022
Service held as vital extension to cemetery opens with support from Central England Co-op
The Claybrooke Cemetery extension includes an archway funded by Central England Co-op's Community Dividend Fund.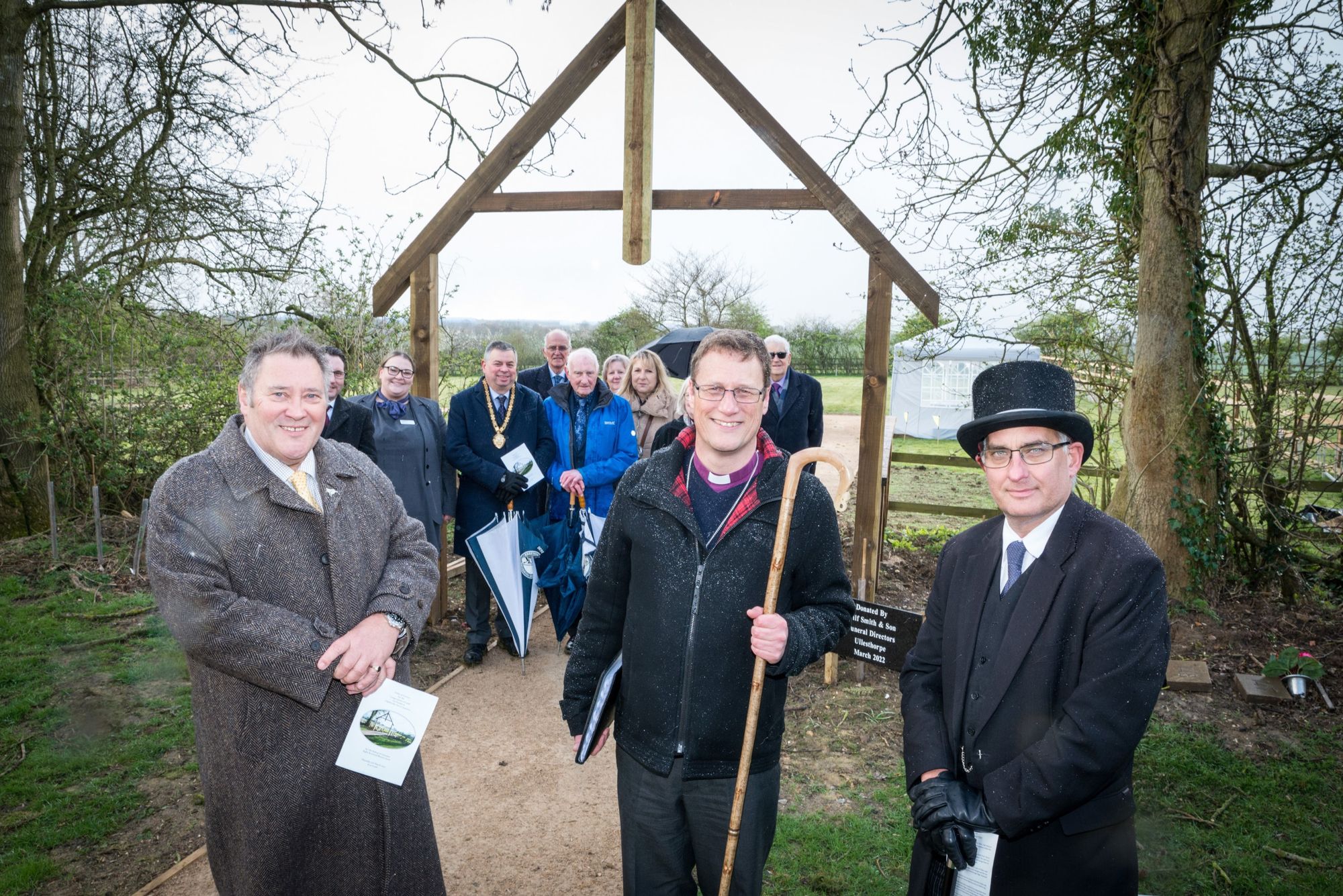 A special dedication service has been held for an extension to a Leicestershire cemetery which will ensure it will continue to provide for the community for many more years to come.
Claybrooke Cemetery serves the communities of Claybrooke Parva, Claybrooke Magna and Ullesthorpe and had become oversubscribed with more space urgently needed to ensure it could continue its vital role.
It's required a joint effort from parish and town councillors and staff to secure the land needed for the extension, while additional funding was also secured from Central England Co-op's Community Dividend Fund for an archway to be built over a bridge to the new extension.
The Rt Revd Martyn Snow, Bishop of Leicester, led a special dedication service at the cemetery attended by local dignitaries and many of those behind the project, with refreshments after at Wilf Smith and Son Funeral Home, part of Central England Co-op Funeralcare.
Graham Hart, Interim Chair of Claybrooke Cemetery Joint Burial Board, said: "It's been a big effort by all the parish councils and Harborough District Councillor Rosita Page to secure the funding for the extension.
"The situation was becoming increasingly urgent with just three or four plots left so we had to move quickly to secure and prepare the land.
"The outgoing clerk of the burial board Maurice Howell has also been very active in getting planning consent and helping us get to this point so we must thank him for his hard work.
"Claybrooke Cemetery's future is vitally important for the communities in the area so their loved ones can rest in the parish that they have lived in and been a part of during their lives.
"It's believed that 90% of residents of these villages still prefer to be buried and this extension will serve the needs of the three parishes for the next 100-120 years."
Wilf Smith and Son Funeral Home sponsored the application to Central England Co-op's Community Dividend Fund which has funded a special archway to the new extension.
Funeral Director David Luckey said: "We're proud to be part of the community in Claybrooke and Ullesthorpe and were delighted to support the project to create this much-needed extension to the cemetery.
"It was also a pleasure to be part of this special day marking the opening by welcoming the guests to the home and providing refreshments and to hear more about how vital the new extension will be to the parishes we are honoured to serve."
More information about the Central England Co-op Community Dividend Fund and how to apply can be found at www.centralengland.coop/community-covid