November 8, 2021
Retailer helps fund Leicestershire village band's dream appearance at the iconic Royal Albert Hall
The Ratby Co-operative Band performed at the National Brass Band Championships.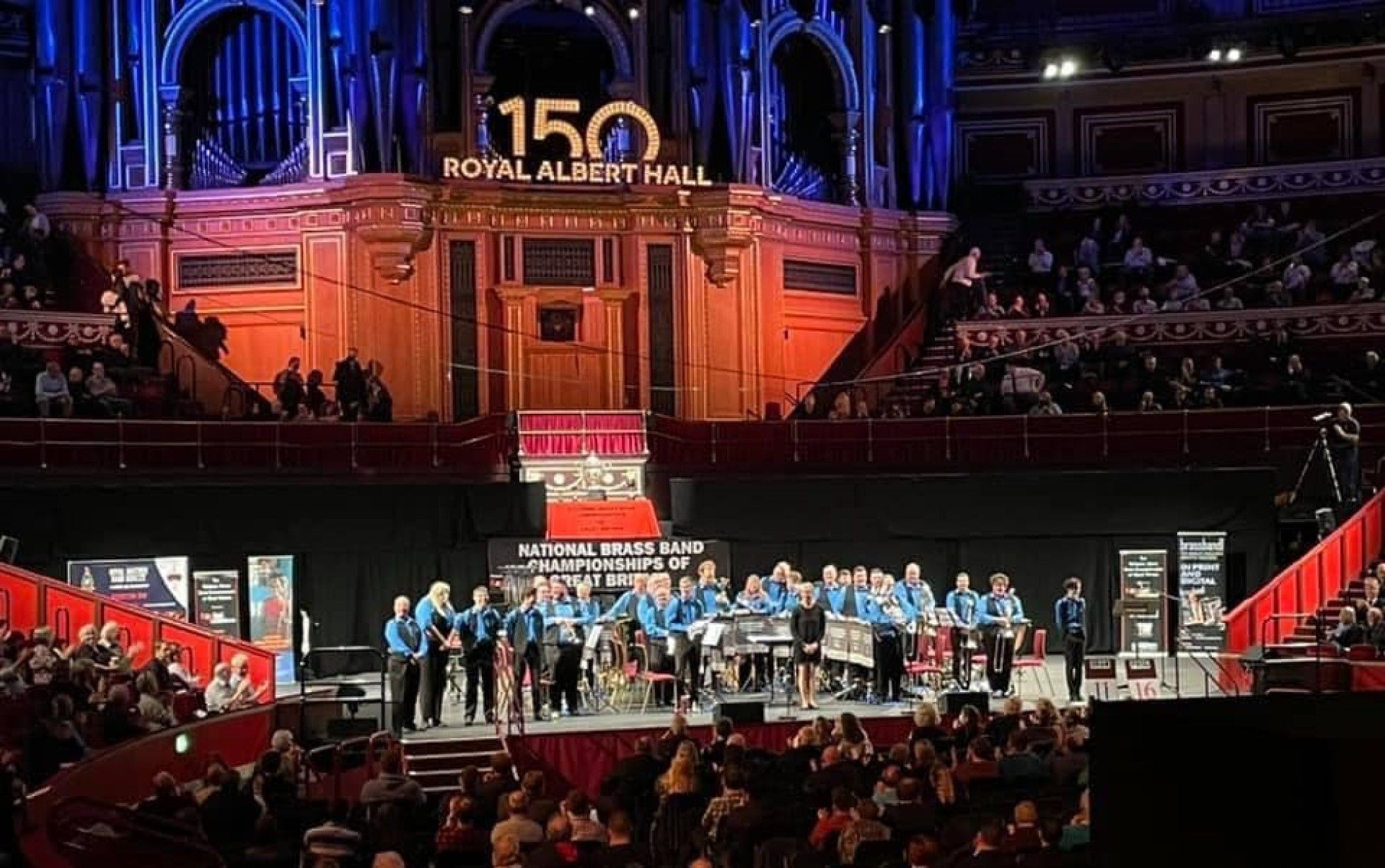 A Leicestershire village band has taken to the stage at one of the world's most famous music venues thanks to backing from Central England Co-op.
The Ratby Co-operative Band have only recently been able to get back together for in-person rehearsals and one of their first public performances back was at the renowned Royal Albert Hall.
The band were invited to attend the National Brass Band Championships in the capital and started a crowdfunding campaign to raise the necessary funds for the trip.
However, they were boosted by a donation of £1,500 from Central England Co-op's Southern Membership and Community Council (MCC) to help them on their way.
It proved to be a successful event for the band and Chairman Steve Plant said it was an unforgettable experience, despite some panic on the day when their coach did not arrive to take them from their rehearsal space in London to the Royal Albert Hall leading to a frantic dash in taxis.
He said: "When we received the invitation to take part in the championships it was at quite short notice, so we had to quickly consider the expense involved (entry fees, extra rehearsal facilities, transport, new music and new equipment). So, a huge thankyou goes to Central England Co-operative for contributing financially towards this momentous occasion.
"Each band had to perform a specially commissioned work composed by the American Composer Bruce Broughton and the piece chosen was 'Heroes' which celebrates the 50th Anniversary of the Apollo 11 moon landing as well as the heroic achievements of its three astronauts, Neil Armstrong, Buzz Aldrin and Michael Collins.
"The composer, who was at the Royal Albert Hall for the competition, is known for numerous motion picture scores and tv themes.
"The band took to the stage with enthusiastic applause from a large audience and proceeded to give a superb rendition of the test piece.
"Our aim was to give it our best shot and hopefully knock over a few competitors. We placed fifth out of the 19 performers which was fantastic. When our position was announced the place just erupted as so many people were Ratby supporters on the day.
"Everyone in the Royal Albert Hall was so pleased for us, a superb result in our first ever entry in this competition. If they didn't know where Ratby was beforehand they do now!"
Karen Bevan, Member and Community Relations Officer for the Southern region at Central England Co-op, said she was thrilled that the MCC was able to support the band to take part.
She said: "We have been immensely proud to support the hugely talented Ratby Co-operative Band over the years and when we heard about the performance at the Royal Albert Hall and the need for extra funding the MCC was really keen to help.
"The band's fantastic placing in such a strong national field in the competition shows just how talented they are, and I hope they had a truly unforgettable experience performing at such an iconic venue as the Royal Albert Hall."
The Ratby Co-op Band is a member group at Central England Co-op. You can find out more about the benefits of membership at https://membership.centralengland.coop