New green space funded by carrier bags set to benefit local community after launch in Yaxley
The new sustainable space at the Yaxley Central England Co-op has officially opened to the community.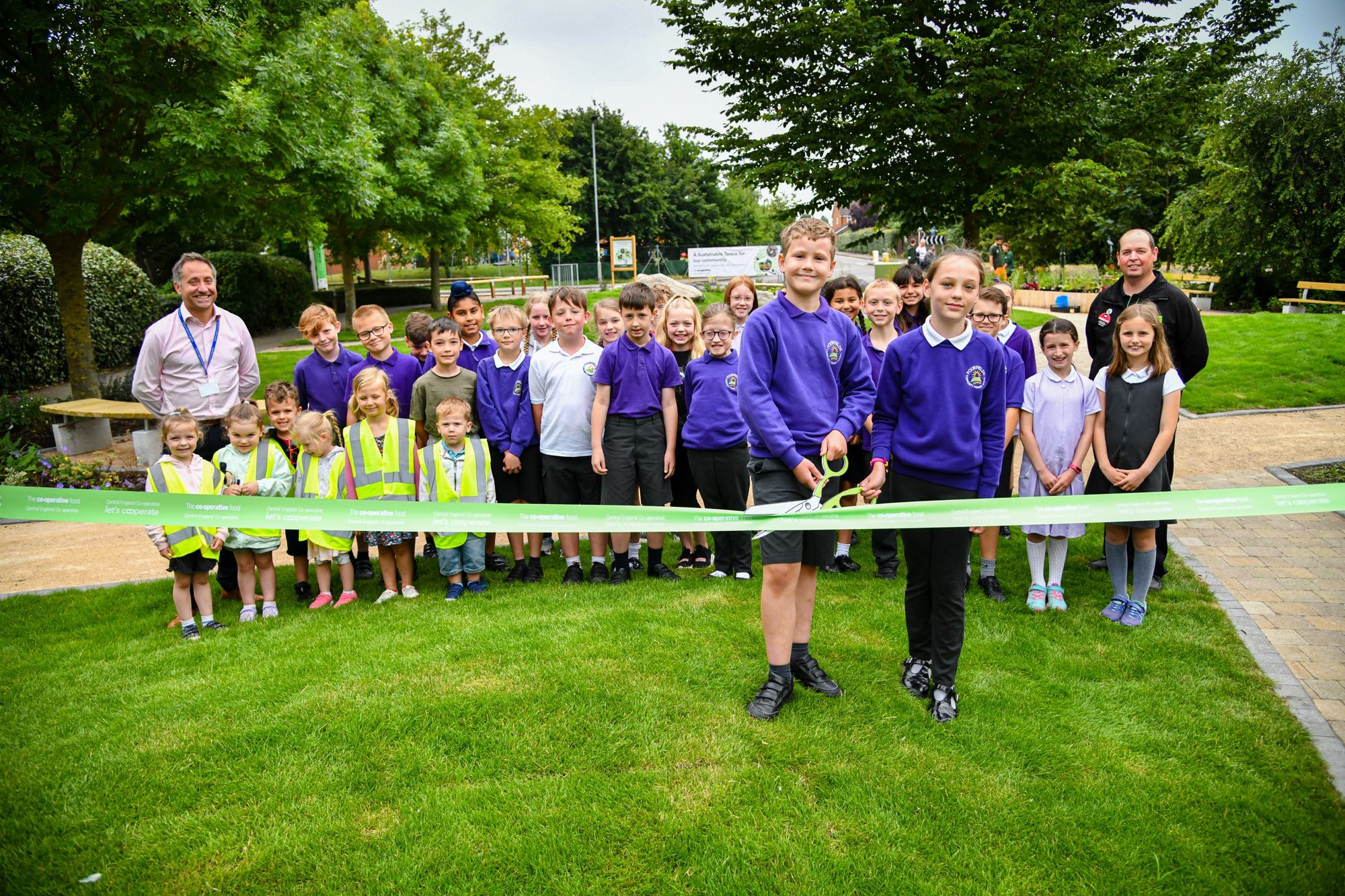 A Cambridgeshire community now has a brand new green space for locals to enjoy as part of project led by Central England Co-op (CEC) and funded by purchases of carrier bags in its stores.
The area at the Central England Co-op in Bentley Avenue, Yaxley has been given a bespoke design including seating linked by a network of footpaths. There are also grassy mounds and boulders for informal seating and play, as well as a raised timber planter for community growing activities.
It's the third sustainable space to launch as part of a £350,000 project led by Central England Co-op in partnership with the charity Groundwork UK, with funding for the spaces coming from the Society's carrier bag levy fund.
Schoolchildren from nearby Fourfields Community Primary School's gardening club and Stretton Pre-School attended the launch event to help cut the ribbon.
They also enjoyed some activities in the brand new space with CEC's member and community team and some green fingered fun with Groundwork East who helped them to plant bulbs, paint rocks and do scavenger hunts.
Also joining the fun on the day were volunteers from local groups such as Yaxley Parish Council and Yaxley Litter Pickers who took part in a planting session.
Stuart Mott, manager of the Bentley Avenue store, said he and his team were 'thrilled' to now have such a welcoming space for the local community to enjoy outside the store.
He said: "It was such a pleasure to launch this wonderful new space at our Bentley Avenue store by welcoming both young and old to enjoy this great new asset which has transformed an area that now offers a peaceful and reflective area for locals to enjoy.
"We have a great community here in Yaxley and seeing the little gardeners from Fourfields School making the most of the space and the volunteers from some great local groups enjoying what has been created really brought a smile to our faces."
Work on the area was carried out by contractors Oak Interiors, while Groundwork East helped design and create the new space, as well as leading on the activities with the schoolchildren and local groups on launch day.
Hannah Gallimore, Social Change Manager at Central England Co-op, said: "At Central England Co-op we're committed to working with our communities to create a sustainable Society for all and our project with Groundwork UK is already bringing great benefits to those areas chosen and the people who live and work there.
"The space at Yaxley has been really brought to life by all the teams involved and it was great to see the children from Fourfields School and the community enjoying what has been created and it showcased the wonderful benefits it will bring for locals in the years to come."
Graham Duxbury, Groundwork's UK Chief Executive, said: "The results of this fantastic project will go a long way to make a difference to the local Yaxley area. We're proud that our partnership with Central England Co-op is ensuring that more people can connect with nature and improve their health and wellbeing by creating spaces that benefit the whole community."
Julia Watts, Principal Landscape Architect at Groundwork East, said: "It's great to see the underused space being transformed into an asset for local residents and the neighbouring school as a community garden.
"Not only will the local community be able to benefit from the space, but the area has also been improved for biodiversity which is a great environmental benefit as a result of the project."
The Yaxley sustainable space is the third launched by Central England Co-op following the first at its Dodworth food store in Yorkshire in March and the second back in May in Desborough, Northamptonshire. It is hoped that a fourth space will be launched later this year next to one of the Society's funeral homes in Cambridgeshire and a fifth in the West Midlands is also in the pipeline.