New cycle repair stations rolled out at 22 Central England Co-op sites to encourage cycle use
A five-figure investment has been made by the Society to install public bicycle repair stations at 22 sites across the country.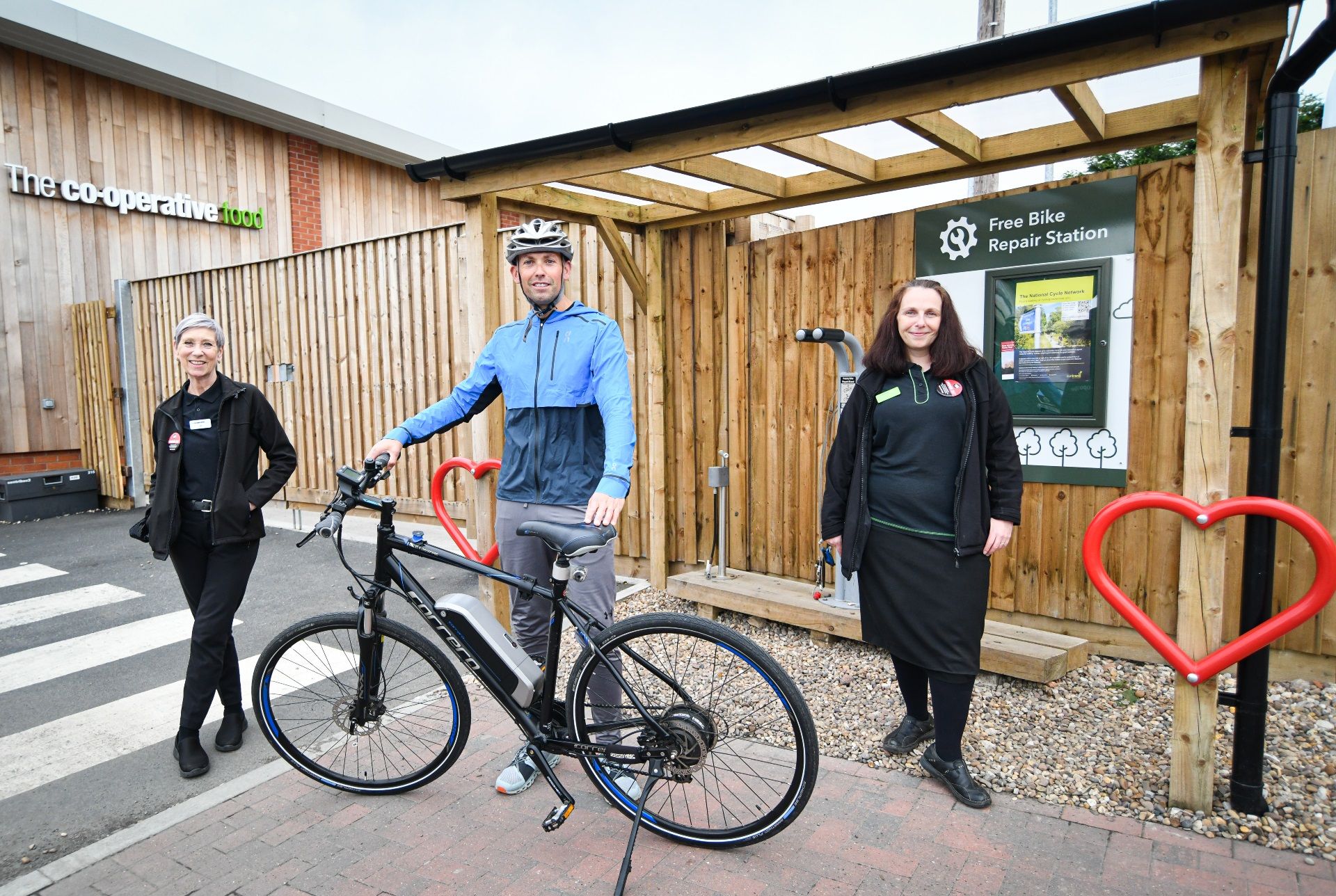 Central England Co-op is continuing its support for cyclists with a five-figure investment to install public bicycle repair stations at 22 sites following a successful trial.
The features offer those eventually commuting to and from work as restrictions continue to ease and those riding for pleasure a specialist bike maintenance station with a sturdy workstand and pump for cyclists to make necessary repairs and tune up their bicycles.
They have been rolled out following a successful trial at the retailer's Openwoodgate Food Store in Belper, Derbyshire.
Alongside the installation of the repair stations, all the stores in the scheme will also include a range of features to make them perfect pit stops for cyclists, from coffee machines and seating areas to community noticeboards featuring local cycle routes and information in partnership with Sustrans, custodian of the National Cycle Network.
The Society is also looking forward to celebrating the joys of cycling this National Bike Week (30 May-5 June) as it supports a range of events including Dr Bike maintenance sessions and bike donations working with the charity The Bike Project.
The retailer is also encouraging colleagues, members and customers to join Cycling UK's World's Biggest Bike Ride, more details of which can be found at www.cyclinguk.org/bikeweek/worlds-biggest-bike-ride
Hannah Gallimore, Central England Co-op Corporate Responsibility Manager, said: "As a co-operative, our communities are always at the heart of all our decisions, especially during these uncertain times.
"This is why we wanted to make sure we are there as perfect pit stops for the increasing numbers of people choosing to cycle, whether to help keep fit and healthy, for their enjoyment and wellbeing or to get about safely, as well as those commuting to and from work as restrictions are eased.
"Supporting greener travel also forms a major part of our purpose to create a sustainable Society for all with other new initiatives including the installing of electric car charging points at new stores and offering home delivery via a fleet of eco-friendly electric vehicles.
"The cycle repair station at our Openwoodgate Food Store has received great feedback from cyclists and has offered a really useful service while also acting as a good meeting place for the local cycling clubs while they refuel. We are now delighted to extend this offer to more communities across our trading area."
The Central England Co-op sites now featuring cycle repair stations are:
·       Boley Park, Lichfield
·       Station Road, Reepham
·       Watling Street, Grendon
·       Ely Road, Sutton, Cambridgeshire
·       Stafford Street, Eccleshall
·       Cannock Road, Wildwood, Stafford
·       Brooklime Way, Tamworth
·       Blenheim Road, Ashbourne
·       Harrison Drive, Wirksworth
·       Repton Road, Willington (to be installed)
·       Main Street, Horsley Woodhouse
·       Lane Head Road, Shepley
·       High Street, Barnby Dun
·       Pinfold Street, Eckington
·       Burley Road, Oakham
·       Dog and Gun Lane, Whetstone
·       Knightthorpe Road, Loughborough
·       Loughborough Road, Quorn
·       Lynn Road, Dersingham
·       Samuel Road, Langley Country Park, Derby
·       Grantham Road, Bottesford
.       Sandbed Lane, Openwoodgate, Belper
To find out more about the bike repair stations and offers for cyclists at Central England Co-op, as well as events coming up during National Bike Week visit www.members.coop/bikestation