Members in Derby showing democracy in action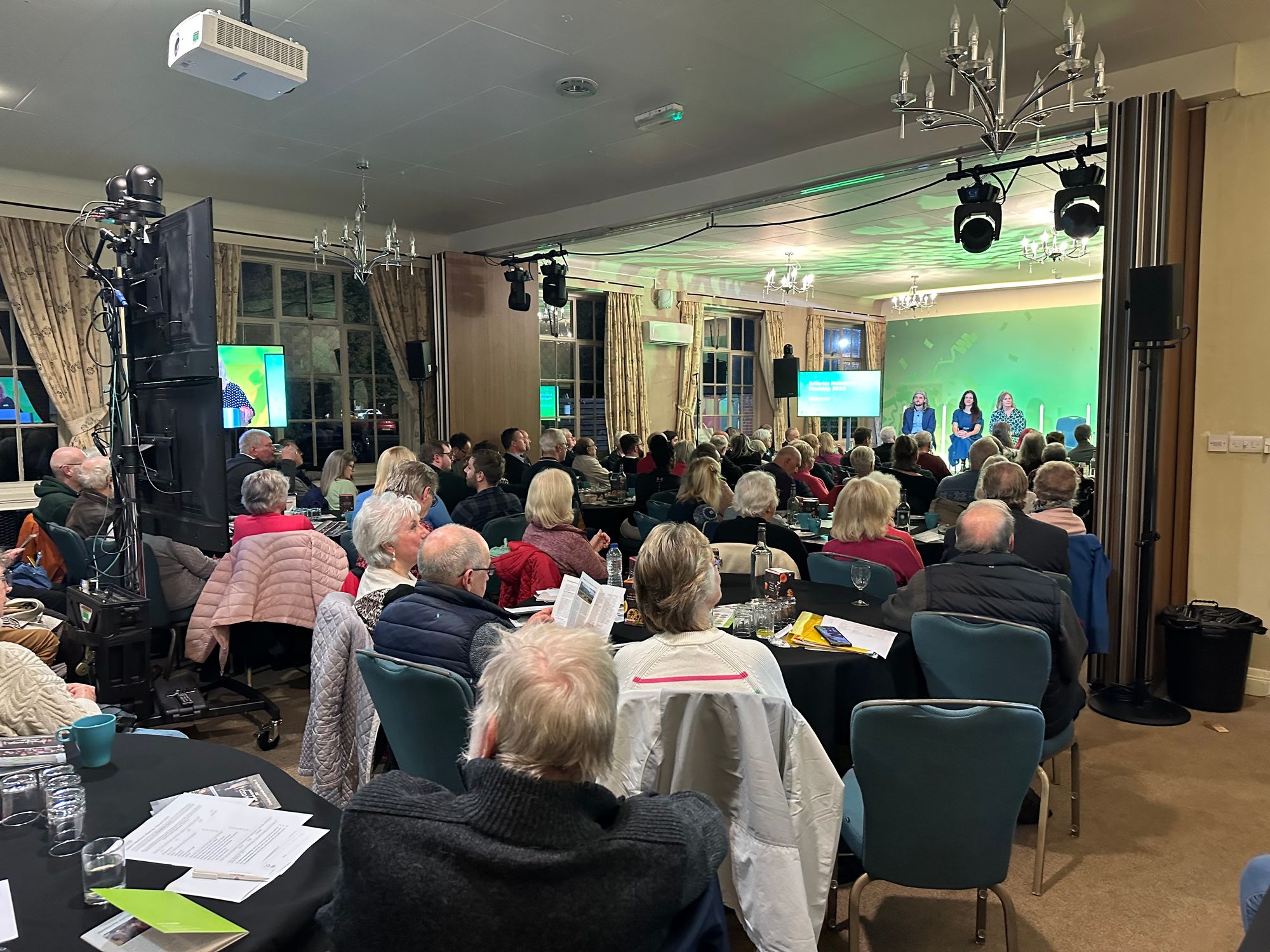 Blog written by Tanya Noon, Member & Community Relations Officer.
The live broadcasting meeting was streamed from the Derby Conference Centre to other satellite venues in Yorkshire, Halesworth, Market Harborough and Stafford plus online.
The evening in Derby was set with the talented Bex, from the Open Expression Group which runs in the Littleover Insomnia and Community space. she performed a number of songs as members were welcomed to the start of the networking and tastings session. Food tastings including some festival ranges from biscuits, mince pies, crisps and concluded with wine tastings.
Our Membership & Community Council members supported the evening along with colleagues from the business and our thanks and gratitude are recorded to them.
The meeting went live with our President, Elaine Dean and presentations were made from the Chief Executive Officer, Debbie Robinson, Chief Finance Officer, Selina Butterfield-Mashoofi and the Society Secretary, Andy Seddon. Members were able to ask questions during the live session plus additional questions were taken at the local updates. Other Directors presented included John Chilcott and Tanya Noon. Each of the venues had Directors/Executive/Management in attendance. Presentations and questions were around the safer colleagues, safer community campaign, cost of living and the Board's strategy around stores. A video was shared from the Co-operative Party which also highlighted the work around keeping workers safe in their stores and the work being undertaken with Parliament.
The Membership & Community Council for the Northern region gave a presentation on the work that had been conducted and took local questions. (Thanks to Phil Fee, Chair and members Joanna West and Ollie Pardo who presented the report). Thanks also to Janet Morris, Karl Furniss, Becci Britland Paul Robinson and Kathryn Salt who helped during the evening and who also deliver the MCC Plan throughout the year along with the rest of the MCC members.
We had a number of stall holders which included Spiral Arts, who made a co-operative tree asking members what it meant to be part of Central Co-op, our retail and floral teams, Derbyshire Refugee Soliarity, the Community Police and our very own Tatting Group. Lyn who runs the group loved showcasing the work to the CEO and CFO.
We received further updates from the community dividend recipient Maria from Green Thyme CIC and were further entertained by Bex from the Open Expression Night.
Overall we had about 120 members turn up for the evening and they were given the opportunity to talk to the Board members and Executives. This is a great way for members to interact on a local level and hold the Board to account.