Lifesaving frontline NHS heroes in Leicester boosted by donation of 1,000 bottles of water
Our Southern MCC support project donating refreshments to frontline NHS workers in Leicester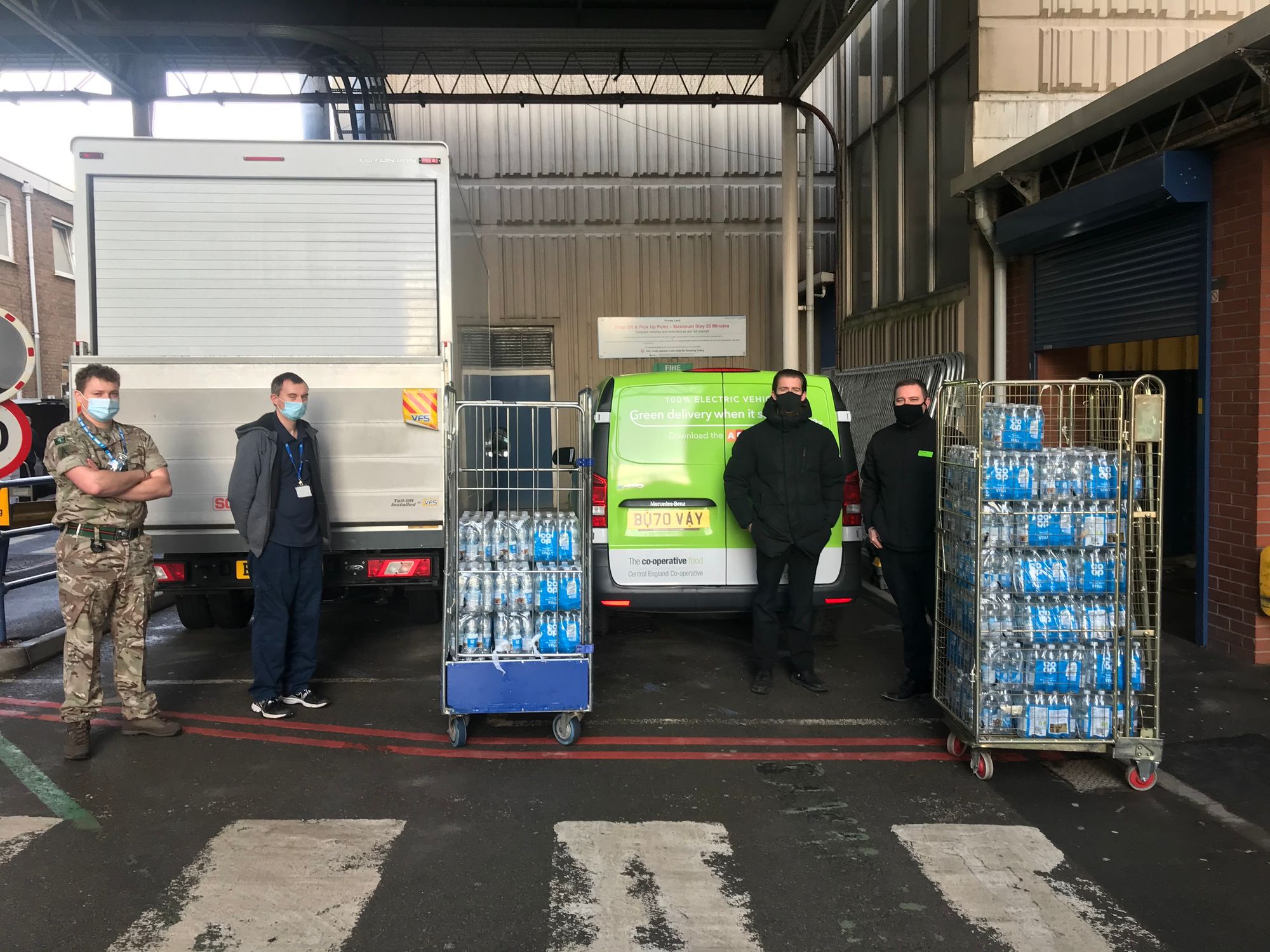 A Leicester community project's support for lifesaving NHS heroes in the city have been boosted by a donation of 1,000 bottles of water by Central England Co-op to help keep them hydrated on the frontline.
Our Southern Member and Community Council (MCC) has been working with the Supporting the Vulnerable LE19 group which was set up in the first lockdown last year to help the elderly and vulnerable of Enderby and Narborough with shopping, medication or just lending a friendly ear when they get lonely.
Narborough Parish Councillor Andy Allbut-King helped set up that group and has been working on a new project to donate refreshments to hospital workers as they work on the frontline in the fight against Covid-19.
When the Southern MCC heard about Andy's new project, it stepped in with a donation of 1,000 bottles of water and delivered them to the Leicester Royal Infirmary to be split across the city's hospitals.
Andy explained why he wanted to support hospital workers in this way.
He said: "This new challenge was set up a few weeks ago after seeing a Facebook post that someone in the south has donated 100 bottles to the Covid wards of their local hospital. That's where it started.
"I put up a post on All Things Enderby Facebook page and it went ballistic. Almost immediately I was inundated with offers of water and treats for the local Leicester hospitals.
"I was amazed that so much could come from such a post – people messaging me saying that it was a fantastic idea and that they wanted to help too. I have had doctors and nurses message me saying how grateful they are and that they are astounded that the public think so highly of them.
"The reason that I put the post up was I believe that we have to look after the healthcare professionals who are looking after our loved ones. Wearing PPE for 12 hours is very draining. These professionals need rehydrating and a boost to their sugar levels – hence the treats and high energy drinks.
"My aim is to get 10,000 bottles of water and as many treats as I can possibly get. To date and with the donation of 1,000 bottles from Central England Co-op I will have sent around 3,500 bottles split equally to the Covid wards of Leicester Royal Infirmary, Glenfield Hospital and the General Hospital.
"People have been so kind. I could never have anticipated that my post would generate so much interest and donations from so many kind, thoughtful people."
Karen Bevan, Member and Community Relations Officer at Central England Co-op, said she was delighted the Southern MCC were able to help such a worthwhile project.
She said: "I have been liaising with Andy since the first lockdown in terms of support for the LE19 group and our Narborough village store has previously helped with the donations of bags for food deliveries to the vulnerable.
"We jumped at the chance to help his latest project and our Whetstone Store Manager Marc Angrave kindly offered to deliver the water to the Leicester Royal Infirmary via our delivery vehicle. It is a great example of frontline workers helping other frontline workers in these uncertain times."