Leicestershire Central England Co-op plays starring role in new National Lottery parkrun video
Double Paralympic gold medallist Jonnie Peacock MBE starred in the online ad.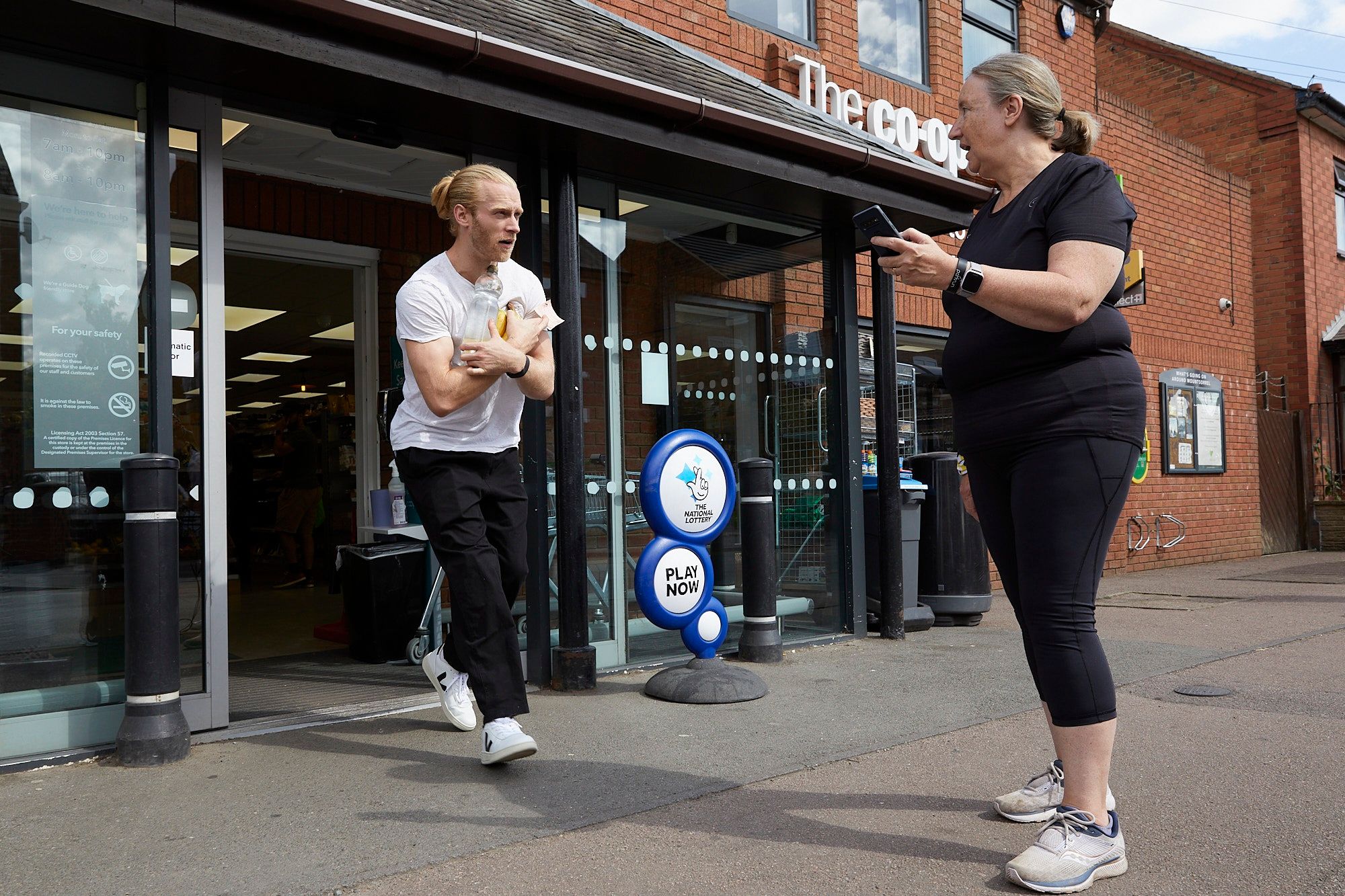 Double Paralympic gold medallist Jonnie Peacock MBE has been spotted running around the aisles of a Central England Co-op store in Leicestershire – all part of a new advert promoting The National Lottery's support for parkrun.
Jonnie was joined by Lorraine Isaac, one of the run directors of the parkrun held at Watermead Country Park in Leicestershire, in the online ad which was filmed recently at the Central England Co-op store in Mountsorrel.
The ad aims to promote parkrun and the fact that, thanks to National Lottery players, £3.6M has been raised for parkrun over the past eight years.
Luke Barrow, Store Manager at Central England Co-op in Rothley Road, Mountsorrel, said the team were happy to welcome the inspirational Jonnie, who secured gold medals at the 2012 and 2016 Paralympics before swapping his spikes for dancing shoes to be part of Strictly Come Dancing in 2017.
He said: "We were delighted to be part of the filming and welcome Jonnie and Lorraine to the store to promote such a great cause as parkrun, which are helping to get people active and live healthier lifestyles, which is an important thing for us as a co-operative retailer.
"Jonnie was really friendly and was happy to pose for photographs with the team and it was fantastic to support Lorraine as well who is doing such great things with the parkrun at Watermead Country Park."
Parkrun is a free weekly community event held in parks and open spaces around the world. The initiative, which is supported with funding made possible by National Lottery players, is a positive, welcoming and inclusive experience where there is no time limit to complete the course.
It doesn't matter if people walk, jog, run, volunteer or spectate – the emphasis is on having fun, getting fitter and making friends.
Lorraine, 55, is one of three generations of her family, along with daughter Amie (23) and dad Bob (82), who take part in the 5k parkrun at Watermead Country Park.
She said: "Jonnie joked that he couldn't run 5km. He said 'I'm built for speed, not distance'. He's just a really nice guy – down to earth and happy to chat. A few people stopped him for selfies, and he was just lovely."
The video can be viewed at: https://youtu.be/-RthldwMtDU