Left Feet Forward Exhibition Launches
On Friday the 28th of October Artefact, a workers coop art gallery and performance space, supported by Central Co-op, launched their new exhibition "Left Feet Forward." This new exhibition celebrates Co-op History and examines how local Birmingham Co-ops exist in 2022.
The Birmingham Co-op History Group have kindly provided specially printed boards with TASCOS information on them. TASCOS standing for Ten Acres and Stirchley Co-operative Society. TASCOS was based within five minutes' walk of Artefact and those visiting the exhibition will enjoy learning of the Co-operative history within the local area. The Birmingham Co-op History Group will be hosting a special cake and coffee session on Saturday the 12thof November to
Another exhibition display were photos of current local co-ops along with information provided by these Co-ops. The information is provided by the Co-ops themselves and explores key themes and dilemmas do they face, such as their history and what challenges they face moving forward.
Artefact also commissioned professional artist and Artefact member Gugan Gill to produce a film about the history of the local co-operative community. Gugan delved deep into the archives to discover the history of Co-ops within Birmingham. She also interviewed Birmingham Co-op mainstays like Phil Beardmore as part of the project. The film was shown during the launch night and will be on rotation whilst Artefact is open until the exhibition closes on Saturday the 26th of November.
Finally, and most excitedly on the night. Artefact performed a play, written especially for the exhibition by Susan Finley. In the play, written in modern times, Karl Marx turns up and thinks about how a co-operative can help solve the problems of exploitation in 2022. Members of Co-operatives performed the play, which got a rousing reception on the night.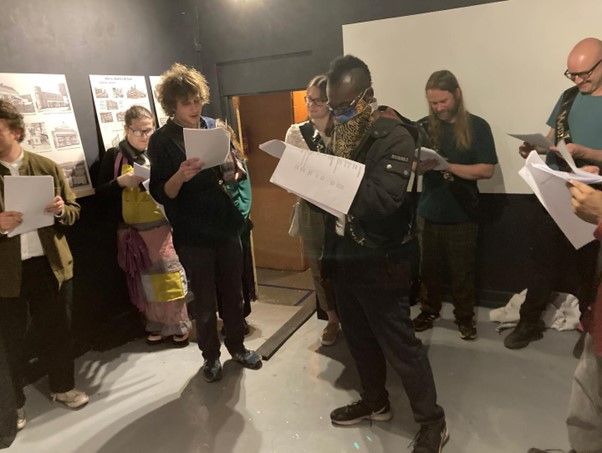 Left Feet Forward runs until Saturday November the 26th. Artefact is open on Wednesday Evenings 6-11pm Thursday evenings 6-11pm, Friday and Saturdays 12pm-11pm. Artefact is also open for events at other times.
Blog post written by Shaz Rahman, Birmingham MCC Member