Join our Funeral Teams to celebrate Macmillan's World Biggest Coffee Morning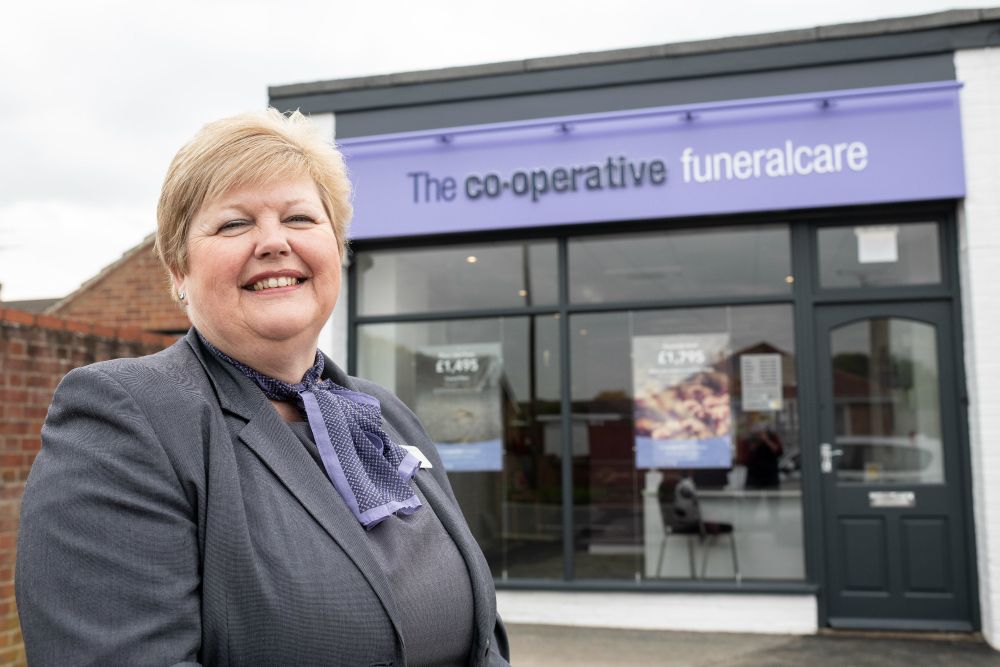 Central England Co-operative Funeralcare will be serving up coffee and cake across the country to raise money as part of Macmillan Cancer Support's World's Biggest Coffee Morning.
Colleagues from Funeral Homes from Littleover to Lowestoft will be opening their doors to the public on or around Friday, 27 September to play their part in supporting the annual flagship fundraiser.
Every year people from across the country gather together to have a catch up, a cuppa and a slice of cake while helping to support the event, which collected £26.9 million in 2018.
Planned events taking place are below:
·         Wednesday, 18 September 10am-12pm – M J Claypole Funeral Directors, 37 Main Street, Yaxley, PE7 3LZ
·         Friday, 20 September 9am-12pm – A.E. Grice Funeral Directors holding a coffee morning at Ashby Methodist Church
·         Friday, 20 September 10am-12.30pm – Co-op Funeralcare, Peterborough Road, Stanground, PE2 8RB
·         Tuesday, 24 September 10am-1pm – Co-op Funeralcare, Gresham Avenue, Lowestoft, NR32 3DQ
·         Tuesday, 24 September 10am-12pm – Co-op Funeralcare, Lincoln Road, Peterborough, PE1 2PB
·         Tuesday, 24 September 10am-2pm – Co-op Funeralcare, Normanton Road, Derby, DE1 2GH
·         Wednesday, 25 September 10am-1pm – Co-op Funeralcare, Fitzwilliam Street, Peterborough, PE1 2RX
·         Wednesday, 25 September 10am-12pm – Co-op Funeralcare, Nottingham Road, Eastwood, NG16 3AJ
·         Wednesday, 25 September 9am-12pm – Co-op Funeralcare, Pinfold Gate, Loughborough, LE11 1BE
·         Wednesday, 25 September 12pm-2pm – Co-op Funeralcare, Uttoxeter Road, Mickleover, DE3 0DA
·         Wednesday, 25 September 10am-12pm – Co-op Funeralcare, Weoley Castle Road, Weoley Castle, B29 5QL
·         Wednesday, 25 September 9am-12pm – Swanns Funeral Directors, Bridge Street, Loughborough, LE11 1NQ
·         Thursday, 26 September 10am-2pm – Co-op Funeralcare, Weasenham Lane, Wisbech, PE13 2RY
·         Thursday, 26 September 10am-2pm – Co-op Funeralcare, Church Street, Irthlingborough, NN9 5FT
·         Thursday, 26 September 2pm-4pm – J.H. Grice Funeral Directors, Station Road, Hatton, DE65 5EL
·         Thursday, 26 September 2pm-4pm – Co-op Funeralcare, Carter Street, Uttoxeter, ST14 8HA
. Thursday, 26 September 9am-12pm – Co-op Funeralcare, District Centre, Sinfin, DE24 3DS
·         Friday, 27 September 1.30pm-4pm – Co-op Funeralcare in Castle Donington joining with Retail and Travel colleagues for joint event with coffee and cakes in the café at the Castle Donington Supermarket in Station Road
·         Friday, 27 September 10am-11.30am – Co-op Funeralcare, Park Farm Centre, Allestree
·         Friday, 27 September 10am-12pm – Co-op Funeralcare, Southview, Littleover
·         Friday, 27 September 10am-12pm – WB Bradford & Son Funeral Directors in High Street, Measham holding an event at Measham Age Concern
·         Friday, 27 September 10am-12pm – Ward & Brewin Funeral Directors in Swadlincote joining coffee morning at Oakland Village, Swadlincote and will be raffling off a hamper and a floral bouquet, as well as holding a tombola
·         Friday, 27 September 1pm-4pm – Co-op Funeralcare, Warwick Road, Solihull, B91 3DA
·         Friday, 27 September 10am-12pm – A Storer and Sons Funeral Director, Nottingham Road, Somercotes, DE55 4JG
·         Friday, 27 September 9.30am – Funeral Director Zaheer Iqbal from Co-op Funeralcare Ward End will be participating in the coffee morning at Grasmere Residential Home in Ward End, and providing light refreshments
·         Friday, 27 September 10am-1pm – Co-op Funeralcare, Alcester Road South, Maypole, B14 5JA
·         Friday, 27 September 11am-2pm – Co-op Funeralcare, Chester Road, Chelmsley Wood, B37 7WG
·         Friday, 27 September 10am-2pm – JR Norris & Son, Edinburgh Road, Kettering, NN16 8NZ
·         Friday, 27 September 10am-12pm – A Coley & Son Funeral Directors in Crowland holding a coffee morning at The Crowland Hub
·         Friday, 27 September 10am-12pm – Co-op Funeralcare Pakefield's Funeral Director Graeme Franks attending and helping out at coffee morning at Esterene House Care Home in Pakefield
·         Friday, 27 September 10am-12pm – George James & Son, City Road, March, PE15 9LT
·         Friday, 27 September 10am-1pm – Dennis Easton Funeral Services, Broad Leas, St Ives, PE27 5PU
·         Friday, 27 September 10am-12pm – Co-op Funeralcare, Huntingdon Street, St Neots, PE19 1BG
·         Friday, 27 September 10am-12pm – Co-op Funeralcare, The Precinct, Main Street, Stretton, DE13 0DZ
·         Monday, 30 September 1pm-3pm – Co-op Funeralcare, Quinton Road West, Quinton, B32 2RE
·         Wednesday, 2 October 10.30am-1pm – Co-op Funeralcare, Hobs Moat Road, Solihull, B92 8JJ