Hear How our Member Groups are Staying in Touch during Covid19 - Co-operation in Action!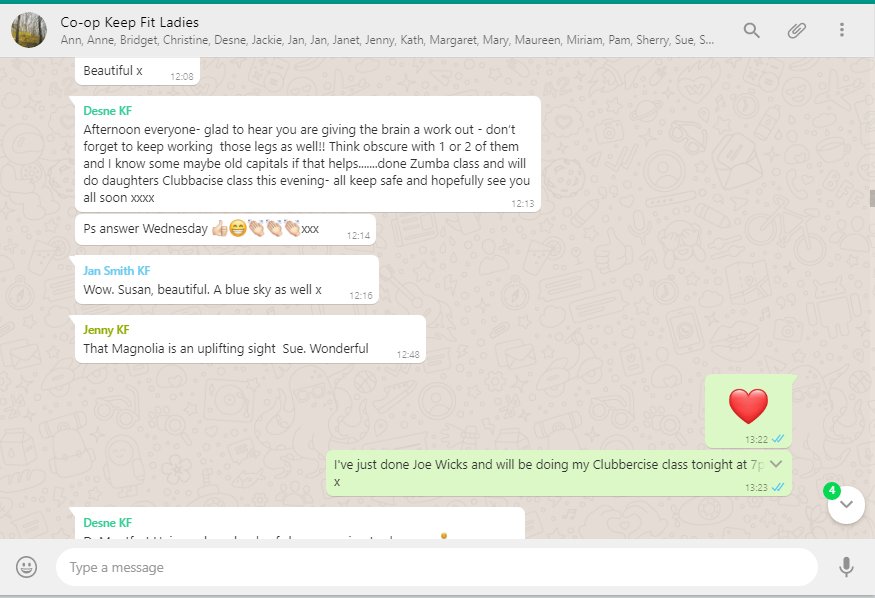 Desne, our Keep Fit Tutor, and Jayne who attends her classes, have been busy keeping members who attend the classes occupied and this is what they had to say:
Attached are some screenshots of our conversations in the Whatsapp group. There are 20 of us in it, some others haven't got access to Whatsapp or want it.  However, one lady would like to be in the group but hasn't got a smart phone, so I try to keep in touch with her by sending a text once a week to give her an update.
I set the group up and Desne is also an administrator, as she had access to the group's contact details as I only had a few of the ladies numbers.
Desne sets puzzles and suggestions of exercises to encourage us all to take part. she also suggests other exercise classes to look at online whilst we are not together.
For some ladies, especially those living alone, this is a little bit of normality in these strange times as many share lovely pictures of their gardens and we send funny clips etc. to keep positive. Desne and I  try to post something each day
As you probably know, Sue Belcham and I arrange the group lunches together several times a year, and were due to have our Easter meal earlier this month.
Sue also arranges walks for the group if ever Desne is away on holiday and has even arranged monthly walks on the first Monday of each month
Hope that gives you a good idea of how fabulous this groups of ladies are.