Halesworth Members Meeting.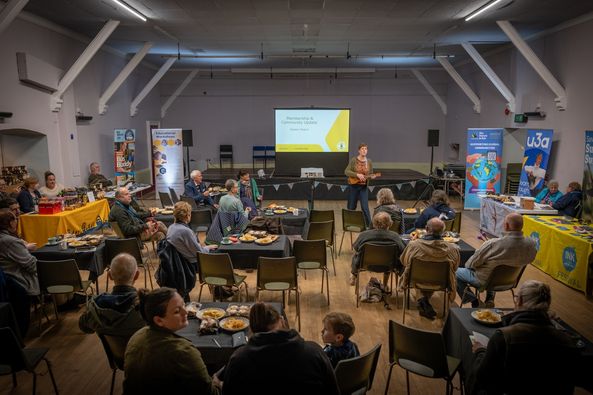 The live broadcasting meeting was streamed from the Derby Conference Centre to other satellite venues in Yorkshire, Halesworth, Market Harborough and Stafford plus online.
We had a wonderful evening at The Rifle Hall in Halesworth, We opened the event with Helen Hayes with a sing along & musical instruments for all. Networking opportunities with local community groups including U3A, The Hopper community bus, Halesworth Lions, Halesworth Swift, Communities Together East Anglia, INK, Dementia careers, Halesworth Millennium Green & Halesworth Otters Tea, coffee & food tastings including some festival ranges from biscuits, mince pies, crisps and concluded with wine tastings.
Our Membership & Community Council members supported the evening along with colleagues from retail & funeral who were all fantastic & we are truly grateful for their support.
The meeting went live with our President, Elaine Dean and presentations were made from the Chief Executive Officer, Debbie Robinson, Chief Finance Officer, Selina Butterfield-Mashoofi and the Society Secretary, Andy Seddon. Members were able to ask questions during the live session plus additional questions were taken at the local updates.
The Membership & Community Council for the Eastern region gave a presentation on the work that had been conducted and took local questions. (Thanks to Mick Langford, Chair & Nicole Suchy, vice chair who presented the report). Thanks also to John Morland, Colin Baldwin, Lisa Brown, Mike Cattee, Mandy Duruk & Brad Tuckfield for supporting throughout the evening from setting up to tidying away at the end of the evening.
We received further updates from the community dividend recipient Simon Weeks from The Rifle Hall Trust.
After the local update & local questions we all enjoyed a delicious buffet made by local cater Toni Leeming.
Overall we had about 67 members turn up for the evening and they were given the opportunity to talk to Board members Richard Bickle & Brad Tuckfield. This is a great way for members to interact on a local level and hold the Board to account.
Thank you to all who attended.