Film Co-op marks UN International Day of Peace with on-line screening of "We Are Many"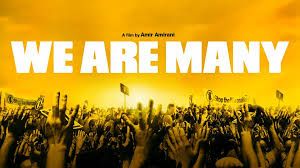 Ten years ago, a group of Central England Co-op members set up Birmingham Film Co-op, with support from the society, to screen "Films for a Fairer World" each month in Birmingham.
Since lockdown we have tried various ways to keep members engaged while we can't meet in person and, following the success of our first on-line film screening last month, we are delighted to invite people to our next on-line film.  This marks the United Nations' International Day of Peace on 22nd September and will be available to download and watch between 22nd and 24th September.
"We Are Many" documents a day like no other. It's the 15th February 2003 and millions of people around the world took to the streets to speak up for peace.  Feel the passion, be amazed by the size of the demonstrations and listen to many people, including well-known Birmingham figures, Clare Short and Salma Yaqoob, share their experience of the day.
Our online screening will feature additional exclusive music performances and a Q&A, the whole event celebrating the United Nations International Day of Peace.
Tickets are available now and enable you to watch the film at a time of your choosing between 22nd and 24th September via our Virtual Theatre page: https://watch.eventive.org/wearemanyuk/play/5f5bdac871650f005c4d4251
Everyone is welcome and if you'd like to find more about the Film Co-op, have a look at our facebook page: www.facebook.com/justfilmcoop
Blog post by Richard Bickle, Richard is a co-founder of Birmingham Film Co-op and serves on the Board of Central england Co-operatuve.