Eighteen good causes to receive vital support thanks to £27,700 funding boost from community fund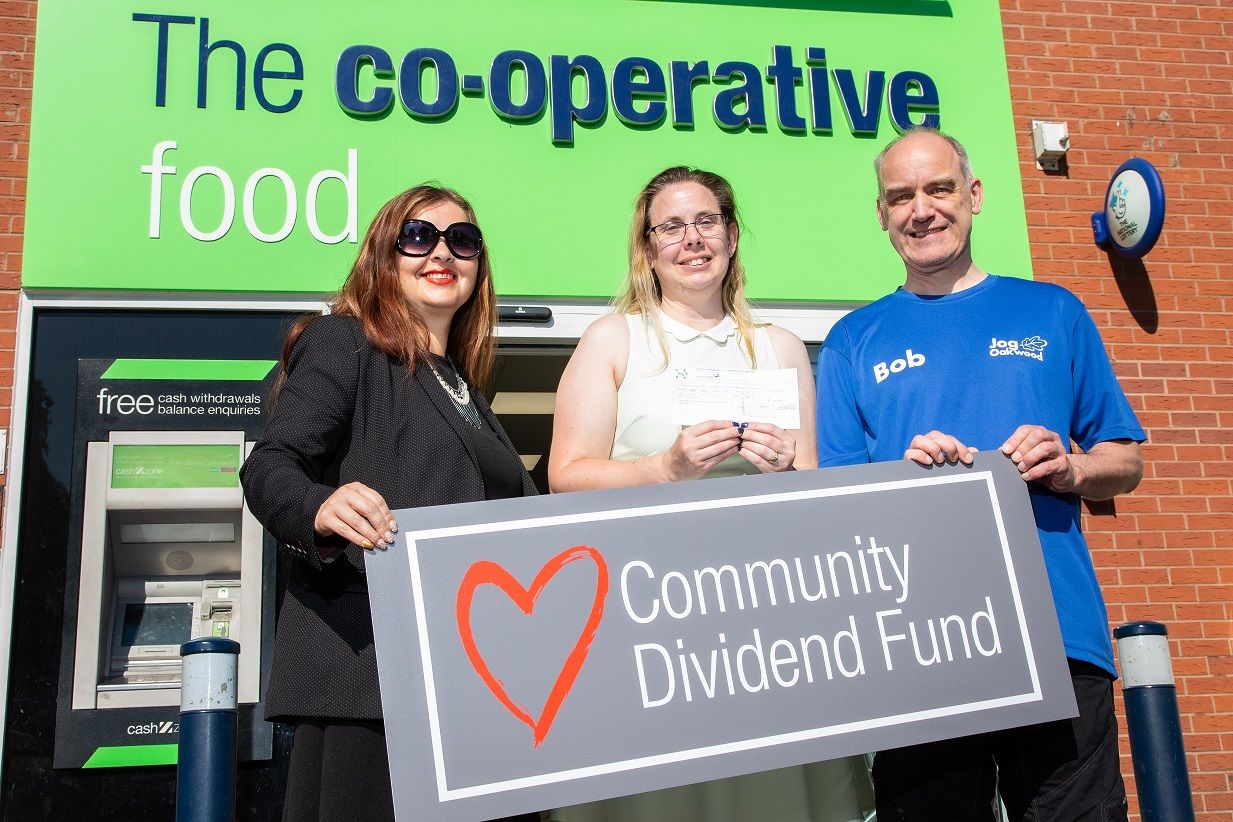 Central England Co-op has handed out over £27,000 to 18 charities and good causes as part of its revamped Community Dividend Fund aimed at supporting those who help support access to food, health and wellbeing, inclusion and the environment.
A wide range of charities and community organisations were delighted to receive the funding boost during these uncertain times.
Groups apply for between £100 to £5,000 every two months to support all manner of projects after, for the past 12 months, the fund was temporarily repurposed to support good causes impacted by the Covid-19 pandemic. During that time, 116 good causes have shared over £175,000.
Organisations in the following areas have benefitted from a grant from the latest round of funding: Leicestershire, Northamptonshire, Birmingham, Worcestershire, Lichfield, Norfolk, Cambridgeshire and Derbyshire.
Jim Watts, Society Secretary, said: "Community Dividend Fund grants showcase how by being a member and shopping at your local Central England Co-op store allows us as a Society to continue to invest and fund vital projects in the area – especially during uncertain times like these.
"Our relaunched fund aligns with our new Society Purpose to create a sustainable Society for all and we are delighted to share these funds with these amazing groups and cannot wait to see how they use it to benefit their local community."
To apply, members will need: name, address, membership number, organisation type, organisation bank account or constitution and to explain what the group does, how the grant will be spent and the specific impact it will have related to Covid-19.
People can find out the full criteria and how to apply for funding by visiting https://www.centralengland.coop/community/
Below is a full breakdown of good causes handed funding listed via county:
Leicestershire
· Whetstone Junior Vixens Under 8 Girls - £750 – to pay for new kit and training equipment
· Think FC - £2,880 – to help fund an eight-week workshop to make business tools and skills more accessible to all
Northamptonshire
· Back to Books - £1,000 – the not-for-profit organisation will use the funding to install a new greenhouse to support its health and wellbeing projects
o Carole Miles and Maureen Walvin said: "Back to Books would like to thank Central England Co-op for the £1,000 Community Dividend Fund Award made towards our next project. All of our members have seen their gardens / growing spaces as a sanctuary during the pandemic. We posted out seeds we had collected or been gifted whilst we were unable to meet and communicated through Zoom, email or by phone. Going forward into the new year we want to create opportunities for small, Covid safe groups to meet and grow flowers and produce with our help. We have access to a safe outdoor space and a small dilapidated greenhouse. We want to grow flowers and veg plugs in the new greenhouse and share them with the local community, creating small gardens, wild flower areas or planters in memory of those we have lost to support and bring joy to those who are struggling. The new greenhouse which this award will enable us to buy will be our starting point for a year of growing, wellbeing and creativity."
Birmingham
· Sense Touchbase - £2,000 – the charity that supports children and adults with complex disabilities will use the funding to provide five specialist sessions for skills development and to improve their mental health and physical wellbeing
o Carl Williams, Community Fundraising Manager, said: "We are so thrilled to receive this support from Central England Co-operative. The £2,000 donation will go a long way to helping us support deafblind children in the Midlands with new, stimulating sessions and activities that will support their development and offer lots of fun along the way."
·       Cruse Bereavement - £2,000 – to train four new volunteer supervisors
· Hope Garden (part of the Azadi Trust) - £1,500 – to support a therapeutic garden project that offers a safe space for asylum seekers and refugees
· MHA Communities - £1,500 – to fund the launch of a half day dementia friendly activity each week
· City of Birmingham Duke of Edinburgh Award Association - £1,000 – to support people aged between 14 and 25 from low income families take part in the Duke of Edinburgh Award
· Bromsgrove and Redditch Network Community House - £250 – to help fund the volunteer centre pay for Covid-19 related costs such as PPE
Worcestershire
· Vamos Theatre - £2,500 – supporting the 'Joy in a box' scheme aimed at people who are frail, live with dementia or learning disabilities
o Hazel Ratcliffe said: "Funding from the Co-op Community Dividend Fund will support our activity advent calendar for people living with dementia or other forms of sensory impairment/learning disabilities. With an activity or sensory game for every day, the project aims to aid creative play and ideas for interactive and communal events in residential settings and day settings aiding resident and staff wellbeing. We are thrilled to receive funding to allow us to spread a bit of Christmas joy at care settings within the Central England Co-op regions in December 2021."
· The Precious Trust - £2,500 – to support a new empowerment project to support vulnerable girls and young women locally and in Birmingham
o Jess Pritchard said: "We are so pleased to have been awarded £2,500 through the Co-op Community Dividend Fund. This support means so much to The Precious Trust and the girls and young women we support. This grant will help us launch our new empowerment project that aims to support the mental health and wellbeing of girls and young women who have been subjected to exploitation in Birmingham."
Lichfield
· Cherishers - £1,000– this not-for-profit company will use the funding to run a lunch club for the elderly for the next six months
Norfolk
· St Peter and St John Church (Kirkley) - £1,500 – to pay for various equipment to support efforts to tackle food poverty
o   Lorraine Light said: "The funds from Co-op Community Dividend Fund will be used to purchase equipment including café tables and chairs so we can open a Community Café in Kirkley, Lowestoft. The Covid-19 lockdowns resulted in feelings of social isolation with loss of confidence and the community asked if the church could open a safe, welcoming space for people to meet friends and enjoy an affordable coffee/tea and bite to eat. As a result of this funding, this can now happen and help rebuild confidence, and improve mental health."
· Norwich Door to Door - £3,200 – to cover the cost of training for those involved with running a specialist minibus service for disabled and elderly people
o CEO Ian Elliott said: "The grant from Central England Co-operative's Community Dividend Fund will help us recruit and train more volunteers and enable us to make an even bigger difference in our community by helping people without access to transport to engage and make a contribution."
· Field of Joy - £1,000 – to allow the care farm to run a free weekly wellbeing day for vulnerable local adults
o Caitlin Howells said: "The grant will enable us at Field Of Joy to offer our local community a free wellbeing in nature course, consisting of a weekly mindfulness in nature session, followed by tea and biscuits around the campfire and a gentle volunteering wellbeing session where people can choose to garden and grow food, plant and tend our wildflower meadows and help care for large and small animals including goats, sheep, horses, donkeys, guinea pigs and chickens. These sessions will help to reduce isolation and forge new friendships and connections with each other and the natural world, as well ashelp to improve physical and mental wellbeing in an inclusive, friendly, peaceful space."
Cambridgeshire
· Diamond Hampers CIC - £500 – to help pay for equipment to help local people in need of a little extra support
· Deeping Rangers Football Club - £750 – to pay for new kit and equipment
Derbyshire
· Chellaston Residents' Association - £870 – to pay for new waste bins to keep the area tidy
· Freedom Leisure (Ashbourne) - £1,000 – to pay for a specialist hoist to allow disabled people to swim
o Melanie Flude said: "The funding we have been awarded will help pay towards the costs of a new pool hoist for our swimming pool at Ashbourne Leisure Centre. Our previous hoist had to be de-commissioned due to its age, which meant those with limited mobility and disability haven't been able to use our pool. Being awarded our grant means we can now start the process of getting suppliers into the centre to assess the location of where the hoist will be located and complete any initial ground works required before the hoist is replaced."