Dozens of youngsters in Birmingham enjoy inspiring celebration of sport backed by Central England Co-op
Central England Co-op sponsor special sporting event in Birmingham.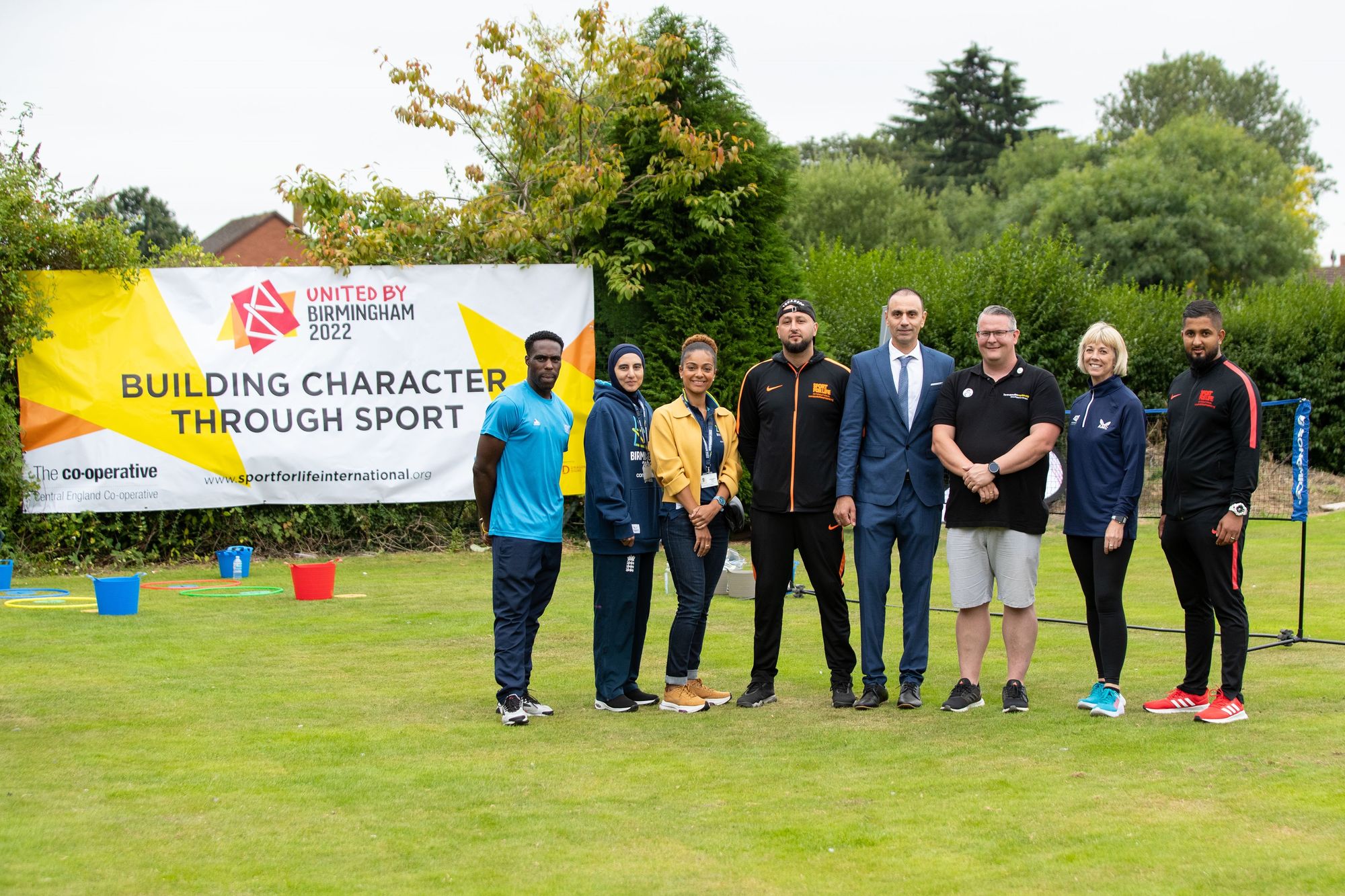 T20 cricket, LTA tennis and the Birmingham 2022 roadshow including boxing, table tennis and badminton made for an exciting day of sport in Birmingham at a launch event for a new project aimed at inspiring girls ahead of the Commonwealth Games next year.
Over 50 girls and boys joined the fun at the launch of the 'Building Character through Sport' project at the Sport for Life Centre in Barrows Lane, Yardley, which was sponsored by retailer Central England Co-op.
The 12-month project is being organised by Sport for Life International, run by the charity Sport Legacy Foundation, and is endorsed by the 'United By' Birmingham 2022 programme which is supporting a range of projects designed to make a difference to Birmingham communities as part of the city's hosting of the Commonwealth Games.
The launch event featured a four-team cricket competition, with T20 Women's cricket making its debut at the Birmingham Commonwealth Games, and long-standing Sport for Life supporter and England international Moeen Ali gave his backing to the event.
His current England Test commitments meant he wasn't able to attend, however Gulfraz Riaz, CEO of the National Asian Cricket Council was on hand to show his support.
Moeen Ali said: "I am delighted to be helping Sport for Life develop this important area in cricket leading up to the Commonwealth Games Birmingham 2022 and to develop new facilities at the Sport for Life Centre.
"Their new project Building Character through Sport has been endorsed by Birmingham 2022 under the United By community scheme; this will ensure that more young people especially girls will benefit from the 22 group coaching sessions which they will be running, together with new coaches' courses concentrating on girls' cricket over the next year.
"Greater physical activity in all age groups is hugely important at the moment especially after such a challenging 18 months."
The youngsters also had a chance to try their hands at tennis at the event, with the Lawn Tennis Association (LTA) carrying out demos, street tennis and challenge skills throughout the day.
Claire Brown, Head of Midlands Region, Lawn Tennis Association said: "The vision we have for tennis is seamless with the aims that Moeen Ali and Sport for Life have for Birmingham. We want to open tennis up to local communities whatever their motivation, ability or backgrounds to ensure that tennis is relevant, enjoyable and for any age across a whole lifetime.
"Moeen Ali embodies these aims and we are committed to working together to reach all communities, especially in Birmingham."
The event proved a fantastic pre-cursor to next year's Commonwealth Games and Shah Begum, Project Assistant to the Chairman of Birmingham 2022's organising committee, said projects such as this will help spread the message in the local community.
She said: "Since joining us as a United By project in mid-July, Sport Legacy Foundation and their coaching organisation Sport for Life have now launched their year-round programme Building Character through Sport. We are looking forward to working more closely with them to deliver the impact and legacy that we know Birmingham 2022 can provide to communities in Birmingham."
Other invited guests who enjoyed the action, as well as a Commonwealth-themed lunch between the games, included Julia Regis, widow of West Bromwich Albion and England footballer Cyrille.
She spoke about the Strike A Change Mentoring programme, the inaugural initiative of the Cyrille Regis Legacy Trust set up by members of Cyrille's family to continue the great community work he was involved in and she was delighted to support the launch of Building Character through Sport which chimed with what the programme is looking to achieve.
Jane Power, Chief Executive of the Sport Legacy Foundation, explained more about the event and the Building Character through Sport project.
She said: "Sport Legacy Foundation is delighted to have launched the first 'Building Character through Sport' event, a United By project endorsed by Birmingham 2022.
"Women's T20 cricket is being played at the Commonwealth Games next year and the Foundation's coaching programme Sport for Life is committed to bringing down barriers to entry into cricket and encouraging more girls and communities to engage in cricket more often.
"Over the next year we will organise 22 group coaching sessions in Birmingham hosted by Sport for Life coaches. Each session will include 22 skill drills in three sports, cricket, football and tennis with rewards given for most improved performance.
"Sport for Life will also, in partnership with the Lawn Tennis Association, National Asian Cricket Council and Football Association, create 12 new coaches, four for each sport concentrating especially on girls in sport who will help drive awareness and growth of physical activity in all age groups in their communities.
"Building Character through Sport will also develop a series of events or 'campfire chats' at Commonwealth Forest sites, one of which will be planted at the Sport for Life Centre at Barrows Lane, where conversations will be invited on resilience, courage, kindness, leadership, patience, respect and self-control in partnership with the University of Birmingham Jubilee Centre, Waverley Education Foundation and many other academies here in Birmingham.
"We are grateful to the Organising Committee of Birmingham 2022 for endorsing us and look forward to the year ahead and to the Games in July and August 2022.
"Secondly, we plan to improve the facilities at Barrows Lane over the coming years and want to thank Central England Co-operative for their support, providing their Healthy Eating stand and for kindly sponsoring the launch event."
Central England Co-op is a keen supporter of the work of Sport for Life International at the Barrows Lane site, which the retailer owns.
Central England Co-op Chief Executive Debbie Robinson said: "It is an absolute pleasure to be able to sponsor such a wonderful event and I would like to thank Sport for Life for organising the day which I'm sure has proved to be an inspiration to all those young people taking part.
"This summer's Olympics and Paralympics have reminded us just how inspiring and empowering sport can be and have only added to the excitement that next year we will be welcoming some of the world's best athletes to Birmingham for the Commonwealth Games.
"The power of sport cannot be underestimated and at Central England Co-op we want to support young people to get active and discover the many benefits of playing sport, such as developing teamwork, building character and boosting mental and physical wellbeing."