Donate unwanted Bicycles & FREE Maintenance checks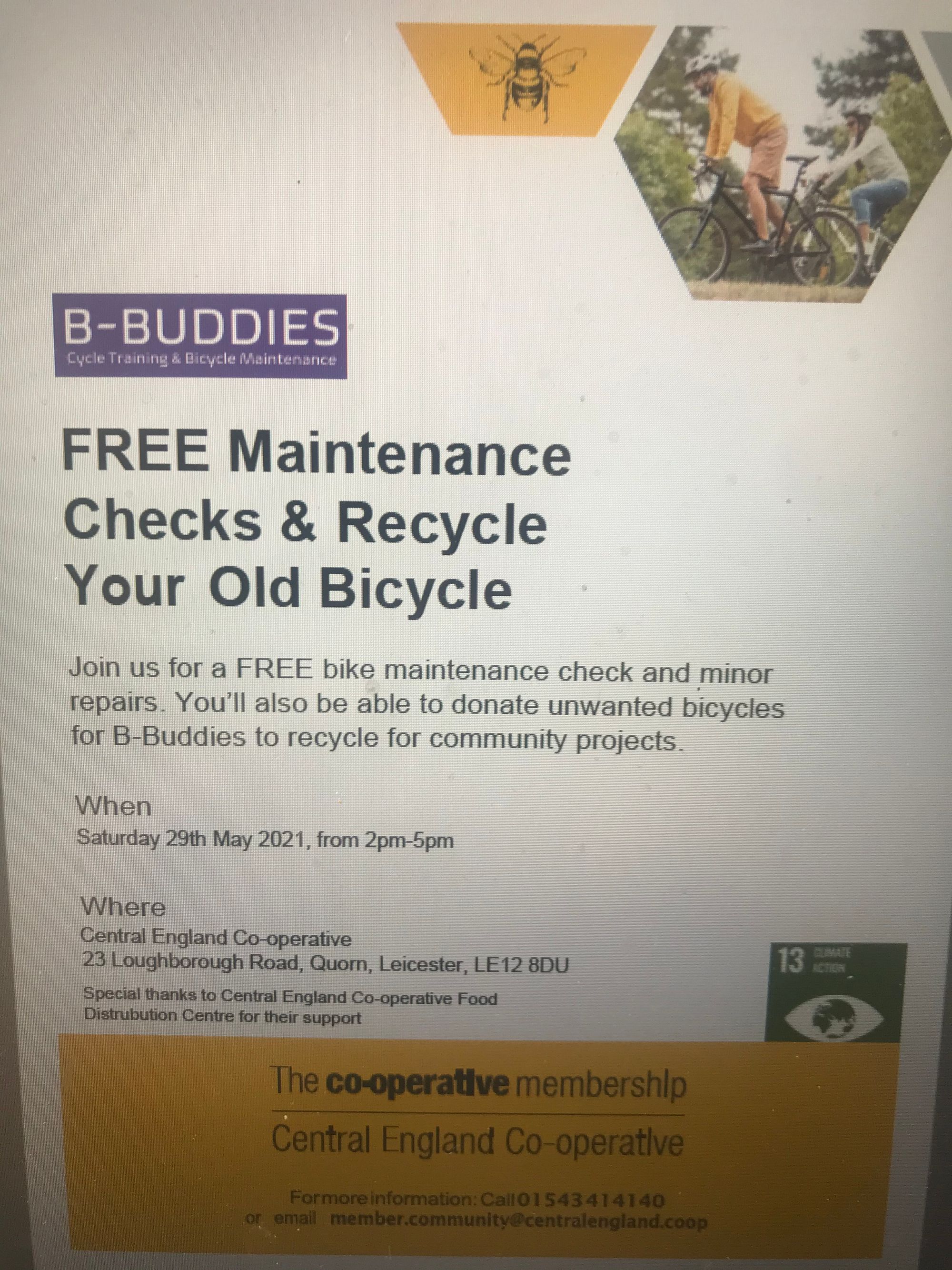 The Southern Membership & Community Council have a number of events taking place outside of our stores this Spring/Summer.
If you have an unwanted bicycle that could be donated, refurbished, and used for community projects to help more people to learn to ride a bicycle, or just to get active, then please bring it along. We would love to take it off your hands and put it to good use.
We will also be offering FREE bicycle maintenance checks to ensure that you continue to be safe on the roads.  Please note that these are basic checks, but you will be offered lots of great advice about the future maintenance of your bicycle and where you can go to get a full service.
The events are taking place at our Co-op stores below:-
Saturday 29 May 2021,  23 Loughborough Road, Quorn , Leicester, LE12 8DU – 2pm-5pm
• Wednesday 2 June 2021, Knightthorpe Road, Loughborough, LE11 4jp - 11am-2pm
• Friday 4th June 2021  - Anstey Co-op, 17-25 Cropston Road, Anstey, LE7 7BP  (Half Term) - 11am-2pm
Thursday 1st July 2021 - Thrapston Co-op, Oundle Road, Thrapston, Kettering, NN14 4PD -  10.30am,-1.30pm - Maintenance Only
• Thursday 15th July 2021 - Hallam Crescent Co-op, 170 Hallam Crescent East, Braunstone, Leicester LE3 1FF - 11am-2pm
• Thursday 22nd July 2021 - Groby Village Co-op, 11 Leicester Road, Groby, LE6 0DJ - 11am - 2pm
• Thursday 5th August 2021 - Rowlatts Hill Co-op, 2a Rowlatts Hill Road, Rowlatts Hill, Leicester LE5 4UN - 11am - 2pm