Derby Area Members' Educational Visit to Crosby Beach and Southport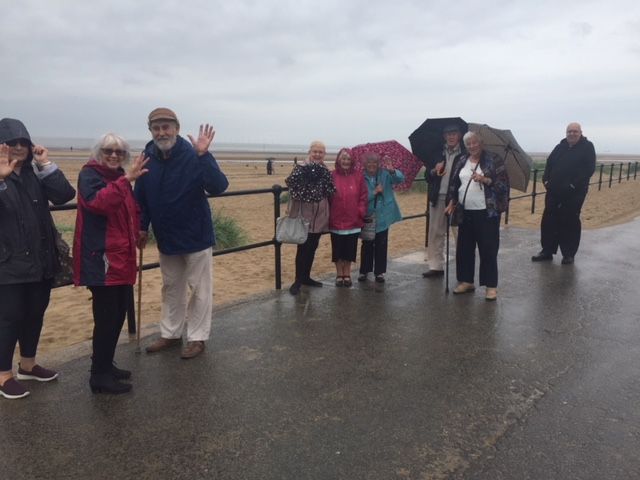 Central England Co-op President Elaine Dean reflected on the Derby Area Members' Educational Visit to Crosby Beach and Southport
We drove in pouring rain to Merseyside and our first stop was Crosby Beach to view the amazing 'Another Place' by Antony Gormley. These are 100 cast iron life sized statues of a middle aged man - Antony Gormley in fact.
Each weighing 650 kilos they are spaced out across the Mersey estuary for over three kilometres of the shoreline and stretch 1km out to sea.
They are best viewed as the tide goes out as they 'emerge' but we had to visit at low tide and they were all visible despite the heavy rain. It is remarkable that they have survived about 10 years now with high tide twice a day and so exposed to the elements and the vagaries of a busy shipping lane.
The Members enjoyed the visit despite the rain but it was a shame they couldn't walk around and pose with them.
Then we went on to Southport where after half an hour or so the rain ceased and for the last two hours we had warm sunshine. We all enjoyed walking around the Victorian arcades on Lord Street and most people enjoyed a fish and chip lunch followed by an ice cream.
Many Members went out on the pier and availed themselves of all the amenities of a Victorian seaside town.
We learned about the history and development of Southport during the industrial revolution and Victorian times.
Forty-five Members went on the trip and we advertised the next educational visit (Hereford in October, see the Mappa Mundi ), the Ripley community event (September 3) and the Derby Members' Meeting 8 October.