Twenty-two good causes receive vital support thanks to £33,350 funding boost Community Dividend Fund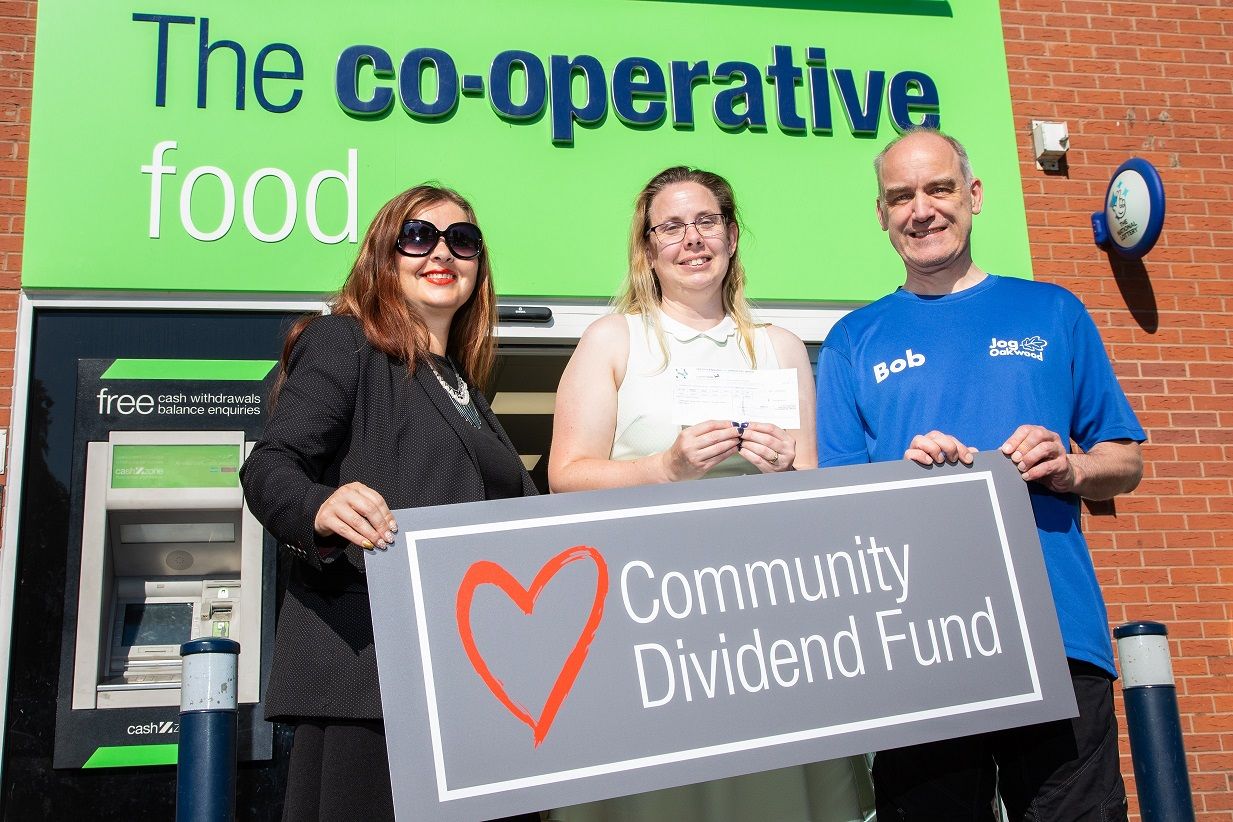 We have handed out £33,350 to 22 charities and good causes as part of our revamped Community Dividend Fund aimed at supporting those who help support access to food, health and wellbeing, inclusion and the environment.
A wide range of charities and community organisations were delighted to receive the funding boost during these uncertain times.
Groups apply for between £100 to £5,000 every two months to support all manner of projects after, for the past 12 months, the fund was temporarily repurposed to support good causes impacted by the Covid-19 pandemic. During that time, 116 good causes have shared over £175,000.
Organisations in the following areas have benefitted from a grant from the latest round of funding: Leicestershire, Worcestershire, Lichfield, Burton, Birmingham, Norfolk, Peterborough, Derby and Sheffield.
Jim Watts, Society Secretary, said: "Community Dividend Fund grants showcase how by being a member and shopping at your local Central England Co-op store allows us as a Society to continue to invest and fund vital projects in the area – especially during uncertain times like these.
"Our relaunched fund aligns with our new Society Purpose to create a sustainable Society for all and we are delighted to share these funds with these amazing groups and cannot wait to see how they use it to benefit their local community."
To apply, members will need: name, address, membership number, organisation type, organisation bank account or constitution and to explain what the group does, how the grant will be spent and the specific impact it will have related to Covid-19.
People can find out the full criteria and how to apply for funding by visiting https://www.centralengland.coop/community/
Below is a full breakdown of good causes handed funding listed via area:
Leicestershire
Leicester Hospitals Charity - £2,370 – to fund iPads for young people to use while receiving treatment.
Louise Jones, Head of Philanthropy, Leicester Hospitals Charity, said: "We would like to thank the Central England Co-op Community Dividend Fund for this generous grant that will allow us to purchase five iPads for our young patients to use while they are in hospital. This grant will mean that children can connect with family and friends during their stay, but it will also allow children to access online therapy sessions to explain their condition and help to aid their recovery."
Leicester Community Sponsorship Group - £2,000 – funding to sponsor to help refugee families settle in Leicester.
Sarah Bradley said: "The Leicester Community Sponsorship Group are raising money to welcome and support a refugee family moving to Leicester. The generous grant from the Community Dividend Fund will be used to help settle the family in their first weeks and months in the UK, for example in providing food and clothing, and accessing interpreters if necessary."
St Matthews Big Local - £2,700 – to help renovate its well-used community hub.
Claybrooke Joint Burial Board - £850 – to build a bridge as part of a planned extension.
Evington Hilltop Allotments - £2,700 – to allow for the use of solar power to power on-site cabins.
Whetstone Co-operative Cinema - £1,070 – to invest in better quality to improve screenings for the local community.
Worcestershire
Three Counties Holistic Healthcare - £1,050 – to support with health, wellbeing and therapy courses.
Susan Barley said: "We are Three Counties Holistic Healthcare – a small independent charity based in Worcester. We have been running since 2007 and our purpose is to provide wellbeing courses and holistic/complementary therapy free(or by small donation) to people in Worcester on a low income, who otherwise would not be able to access this type of service. Finding funding has been a challenge since the Covid-19 pandemic and we are very pleased that Central England Co-op has awarded us funds for this service that has already helped many people on the road to health and personal wellbeing."
Lichfield
Streethay Primary School - £940 – to help develop a garden and forest school.
6thLichfield Scouts - £1,000 – to improve their Scout hut.
Charles Trivett said: "In September this year the Scout association set up a new section to cater for four and five year olds. These are known as Squirrel Scouts. Because the section is so new and the needs of the children are different from older members of the Scout movement, there has been a lot of investment to prepare our headquarters for Squirrels. This grant has enabled us to complete a full health and safety check for Squirrels, provide a proper storage cupboard to store all their fun activity materials and get suitable storage boxes for all the craft equipment.
Burton
Burton and District Mind - £3,000 – to help support a planned mindfulness roadshow.
Ken Lawrence said: "Burton and District Mind, the mental health charity, provide quality services across East Staffordshire, Lichfield District and Tamworth Borough. We are very thankful for the generous grant from the Central England Co-operative Community Dividend Fund. The grant enables us to provide a Mindfulness Roadshow to community groups across our service area who have been most affected by the pandemic."
Birmingham
Bethany Community Outreach - £500 – to help run a food bank to support local people.
Kevin Warrington said: "On behalf of Bethany Food Bank we would like to say thank you to Central England Co-op. As we have received some funding this will help us to continue to support the many people who use our foodbank. The numbers keep on going up and we are now feeding nearly 1,500 people per week and the support we have received from Central England Co-op is very much appreciated."
Coton Green Evangelical Free Church Trust - £2,000 – funding to support a wide range of projects that benefit the local community.
Norfolk
Sunbeams Play - £2,190 – to fund a multi-sensory suitcase to help youngsters with autism.
Sarah Southernwood said: "Sunbeams is absolutely thrilled to be receiving a grant from Central England Co-op's Community Dividend Fund which will enable us to purchase a fully equipped 'Sensory Suitcase'. The sensory suitcase will be an invaluable tool for our team to work with and for our members to explore."
Aylsham Community Gym - £1,000 – to support the launch of low impact classes.
Annette Marsh said: "Aylsham Community Gym is so thankful for this award, hoping to bring together those who have become isolated for whatever reason. Belonging to a community of familiar faces through a group exercise class followed by a drink and a chat with fellow class goers."
Bungay in Bloom - £750 – to aid the refurbishment of a communal garden.
Didy Ward said: "Bungay in Bloom was thrilled to be awarded the Community Dividend Fund as it means we can now embark on a project that we have been wanting to work on for a few years.  There is a strip of land between the car park and the small community garden we manage which is overgrown and in great need of some care and attention. We plan, with our team of trusty volunteers, to dig it over and plant it with a mixture of small shrubs, perennials and bulbs with something of interest for all seasons. We will improve the soil with organic matter to give the plants a good start and we will choose plants that are wildlife friendly. This long border will be an attractive and welcoming sight for visitors to our town, softening the barrenness of the car park and will also encourage residents to rest a while in the adjacent community garden."
Peterborough
Peterborough Elderly Christmas Shoebox Appeal - £500 – to create shoeboxes filled with vital essentials for those who live in sheltered accommodation and care homes.
Social Echo North Huntingdonshire CIC - £500 – to the funding will be used to create extra storage space.
Green Back Yard - £1,690 – to buy a range of items to help the work of the community green space.
Kathy Shaw, Trustee for the Green Back Yard, said: "The Central England Co-op grant will help us buy equipment for volunteers to develop a local community food growing project. The equipment will assist in producing food to sell locally from our site."
Deafblind UK - £2,000 – to help the ongoing cost of a variety of support programmes.
Gerry Reilly said: "Deafblind UK is enormously grateful to the Central England Co-operative who have awarded us £2,000 from their Community Dividend Fund. Those affected by dual sensory loss are marginalised and isolated, and this has been made much worse by the pandemic. This grant will allow us to provide much needed wellbeing and emotional support and where appropriate allow us to provide a telephone befriender. These services can make the world of difference to our beneficiaries."
Little Miracles - £1,040 – to support families with additional needs in a range of ways from food parcels to toys and clothes.
Derby
Release Financial Charity - £1,000 – to help the good cause continue to offer its specialist debt advice.
Paul Stears said: "The Covid-19 pandemic has and continues to affect our communities in many ways. Thanks to funding received from the Central England Co-op Dividend Fund, Release Community Money Advice is able to provide free, confidential and non-judgmental money/debt advice and support to people."
Sheffield
New Hope Community Church - £2,500 – to support the salary of a domestic violence support worker.