Christmas Sharing - take a closer look at the Co-op festive offerings we have this year
Every week from November 11 to December 16, we will be talking about our Christmas products by showcasing everything from taste tests to festive recipes with the help of colleagues, customers and members.

During November and December we will be showcasing some of our amazing festive products that you can pick up in stores in the run up to the big day.
Every week from November 11 to December 16, we will be talking about our Christmas products by showcasing everything from taste tests to festive recipes with the help of colleagues, customers and members.
Keep coming back to this page for daily updates during the run up to December 25 and remember if anything takes your fancy nip to your local store, pick an item or two up and give them a try!
---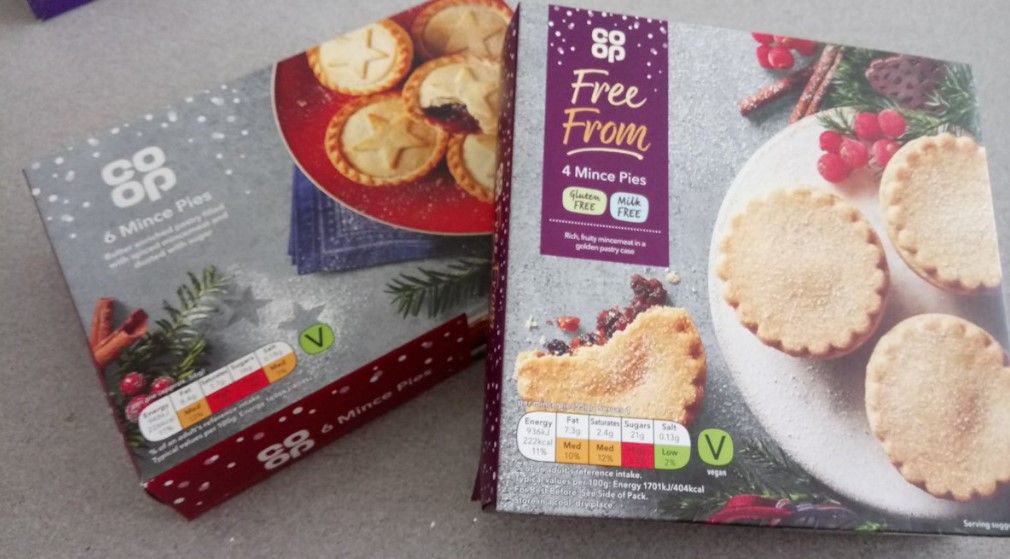 Central England Co-op Mince Pies for all requirements
The build-up to Christmas is well and truly under way and that means mince pie season! Central England Co-op has mince pies to suit all tastes, budgets and requirements - including luxury mince pies, gluten free and vegan versions. Our shopper Sue was particularly taken with our gluten free offering, which she called "so tasty, light and delicious".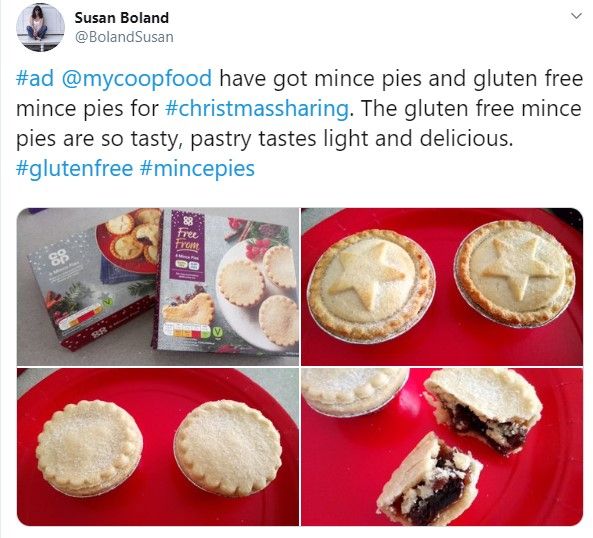 ---
Customers enjoy that first mince pie of the festive season
Our customers are not waiting for Christmas to enjoy a mince pie and Central England Co-op's offerings have been getting rave reviews. Shopper @ericahughes on Twitter exclaimed the Co-op Mince Pies were the "perfect treat on a cold, wet miserable day like today", while @lifeappears declared the Co-op Irresistible All Butter Pastry Luxury Mince Pies as "seriously yummy". Meanwhile, @EjBanton chose one of the retailer's luxury versions as her first mince pie of the season and said it was "worth waiting for".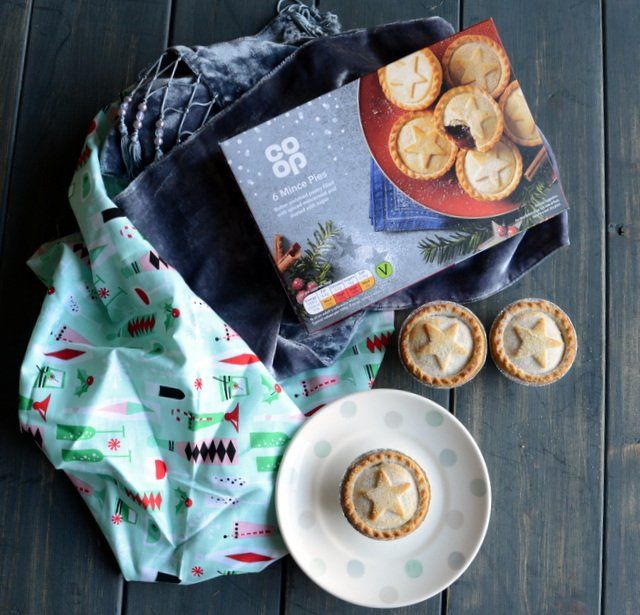 ---
Christmas snacking at Co-op offers delicious treats for all tastes
With the weather outside continuing to be rather inclement, a Christmas film indoors with plenty of Co-op festive snacks and tipples is proving particularly popular with our customers and colleagues - and who can blame them with this year's delicious offerings?!
Blogger and customer Hannah (@lifeappears) has been happily snacking away on our 'yummy' Pigs in Blankets crackers which she admits to being tempted to wolf down the lot! Read about it on her blog here http://www.lifeappears.com/home/co-op-christmas-week-2-snack-time
@BradTuckfield pitted our Co-op Irresistible Hand Cooked Ultimate Roast Potato Crisps against our Turkey and Stuffing Legs snacks but concluded they were the 'perfect duo'. He said: "It feels like an early start on the Christmas day lunch when you tackle a bag of these." You don't need to ask us twice!
Customer @JS0600 chose our 'delightfully seasoned' Christmas Tree tortilla chips, beetroot crackers and some festive ruby ale for her weekend snacking.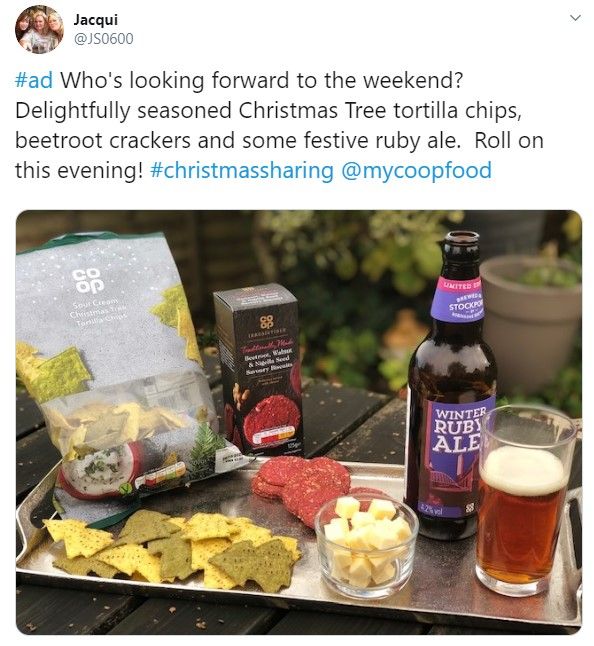 For @rebeccawhomes the Co-op Indulgent Pink Grapefruit and Elderflower gin liquor was 'something else' and the perfect accompaniment to some Ultimate Roast Potato Crisps, which are proving seriously popular among our taste testers.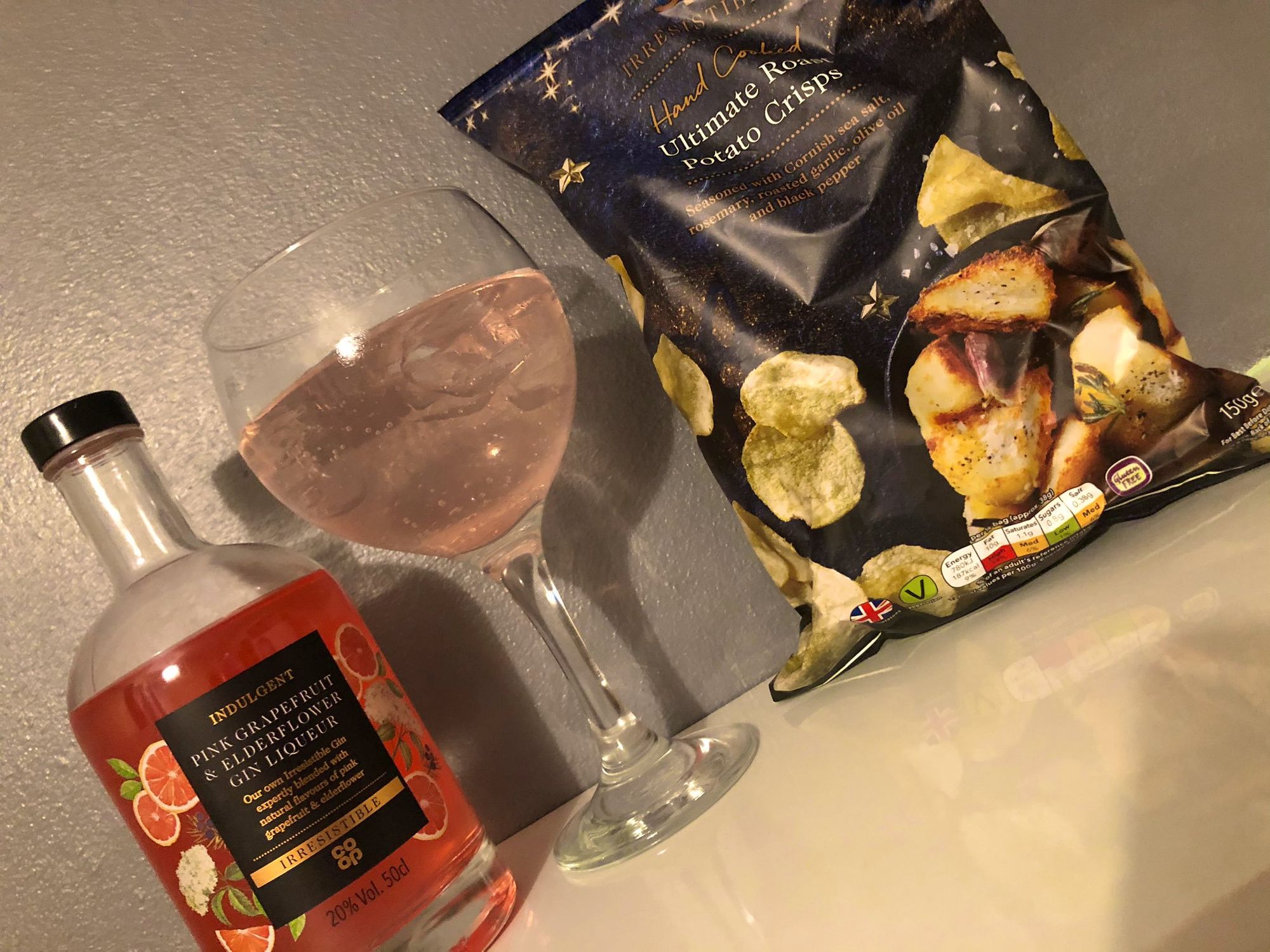 There was too much choice for @jamesknight3007 when deciding which snacks to choose for a family festive film night - so he went for the lot!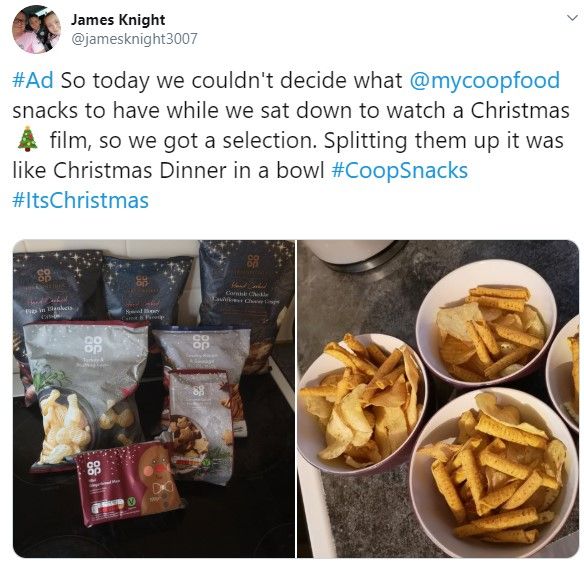 This gave @GlidewellGavin and his family an idea for their own Christmas film night...
---
Warm yourself up this Christmas with this delicious Hot Chocolate Orange recipe
Chocolate and orange is always a winning combination and it is particularly popular at this time of the year. Our blogger Emily has come up with a winning recipe for a delicious Hot Chocolate Orange drink to really warm the cockles this festive season, using all items available at your local Central England Co-op store, including  Co-op Irresistible Fairtrade 54% Cocoa Dark Chocolate with Orange (100g) for that orange punch. You can find the recipe on her blog here...
https://www.recipesandreviews.co.uk/2019/11/hot-chocolate-orange-recipe.html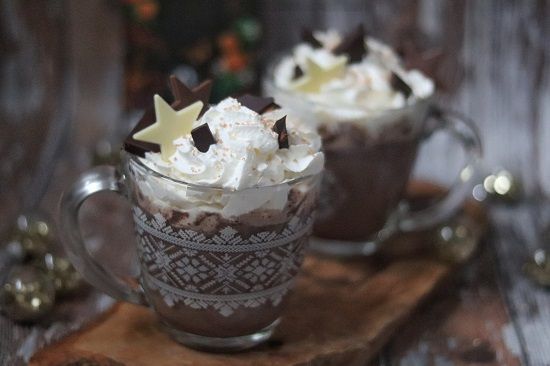 ---
Blogger impressed by range of snacks and drinks at the Co-op
Blogger @ericahughes tried and tasted some of our great range of snacks and festive tipples which are perfect for a night in or a Christmas party. The Co-op Irresistible Pigs in Blankets Crisps and Co-op Sour Cream Christmas Tree Tortilla Chips were highlights for Erica, while she was particularly impressed with the gin selection in store. Read her blog here https://alittleluxuryfor.me/coop-christmas-drinks-and-snacks-ad-christmassharing/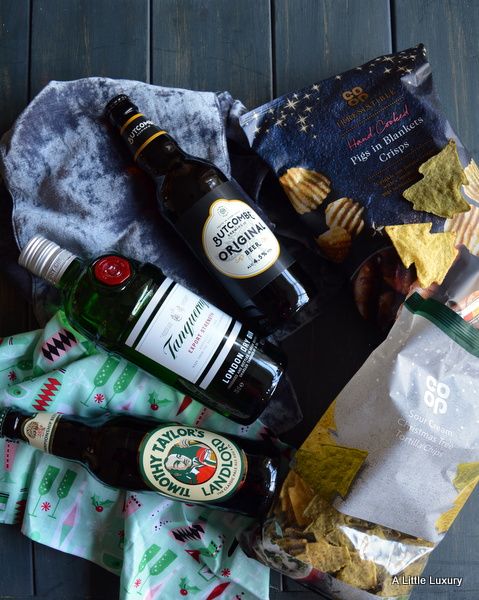 ---
Special dietary requirements catered for with growing range of products
There is a plenty on offer in our food stores this Christmas to serve those customers and members with special dietary requirements - whether gluten free, vegetarian or vegan, there is lots to recommend. Customer @JS0600 found our vegan Vegetable Spring Rolls and our gluten free hand-cooked vegetable crisps the perfect accompaniments to writing Christmas cards and wrapping presents.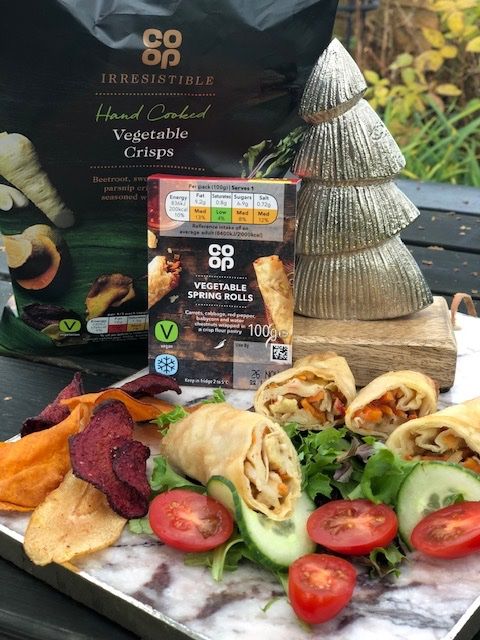 Meanwhile, @BolandSusan was delighted to discover a great gluten free option in our selection of festive sandwiches.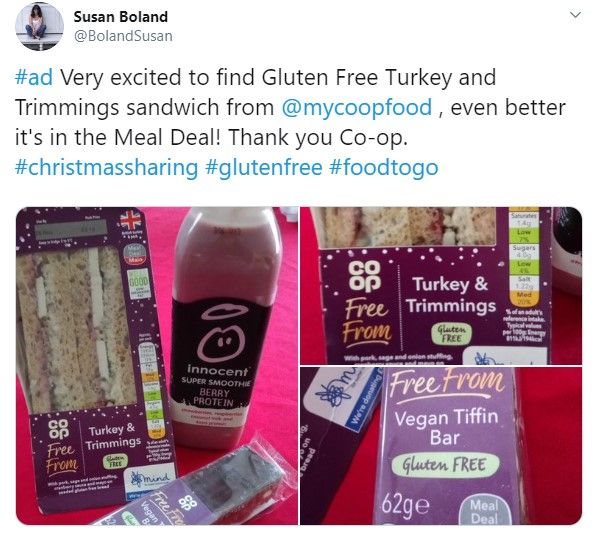 ---
Blogger tests out range of free from festive products
Blogger Hannah Smith (@lifeappears) took to her blog to look at some of the great range of festive treats on offer from our Free From range.
The milk free Santa Bar proved a winner - you can read her thoughts on her life appears blog here:
http://www.lifeappears.com/home/co-op-christmas-week-3-free-from
---
Vegan party range gets the thumbs up
Shoppers looking for some delicious options to offer their vegan party guests have been finding plenty to try at Central England Co-op this Christmas.
Both @BradTuckfield and @brooks_gb took to Twitter to give a thumbs up to our offerings this year, with tempura Prawns, mozzarella sticks, vegetable spring rolls and chilli cheese bites getting the recommendation.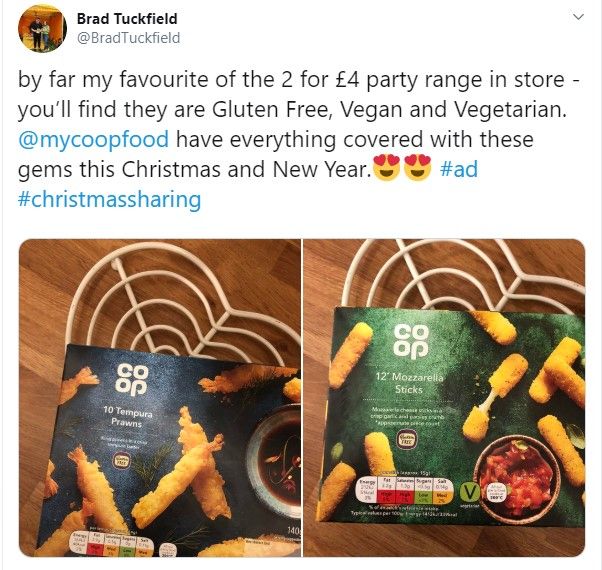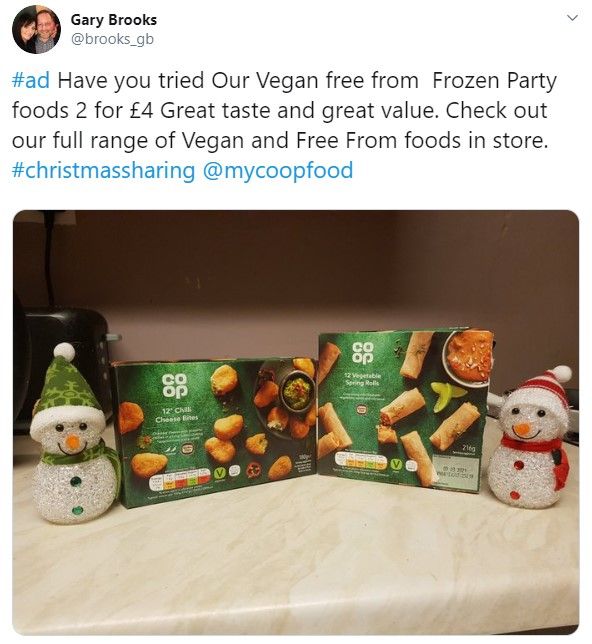 ---
Simply irresistible - luxury festive products hit the spot
Our Co-op Irresistible range raises the bar every year for delicious and luxurious products that provide truly moreish festive treats.
Our shoppers have been busy tasting some of the delectable offerings now available in Central England Co-op stores.
@rebeccawhomes was particularly taken with the Co-op Irresistible All Butter Pastry Winter's Eve Tarts which she lauded as "pretty much the best thing I have tasted in so long". @BradTuckfield was also enamoured with the tarts calling them "unbelievable" and "a must this Christmas".
Blogger @ToBecomeMum visited our in-store bakery to try some Co-op Irresistible Yorkshire Toffee Cookies which made a big impression - "a seasonal take that'll make your hot chocolate more Christmassy" she declared.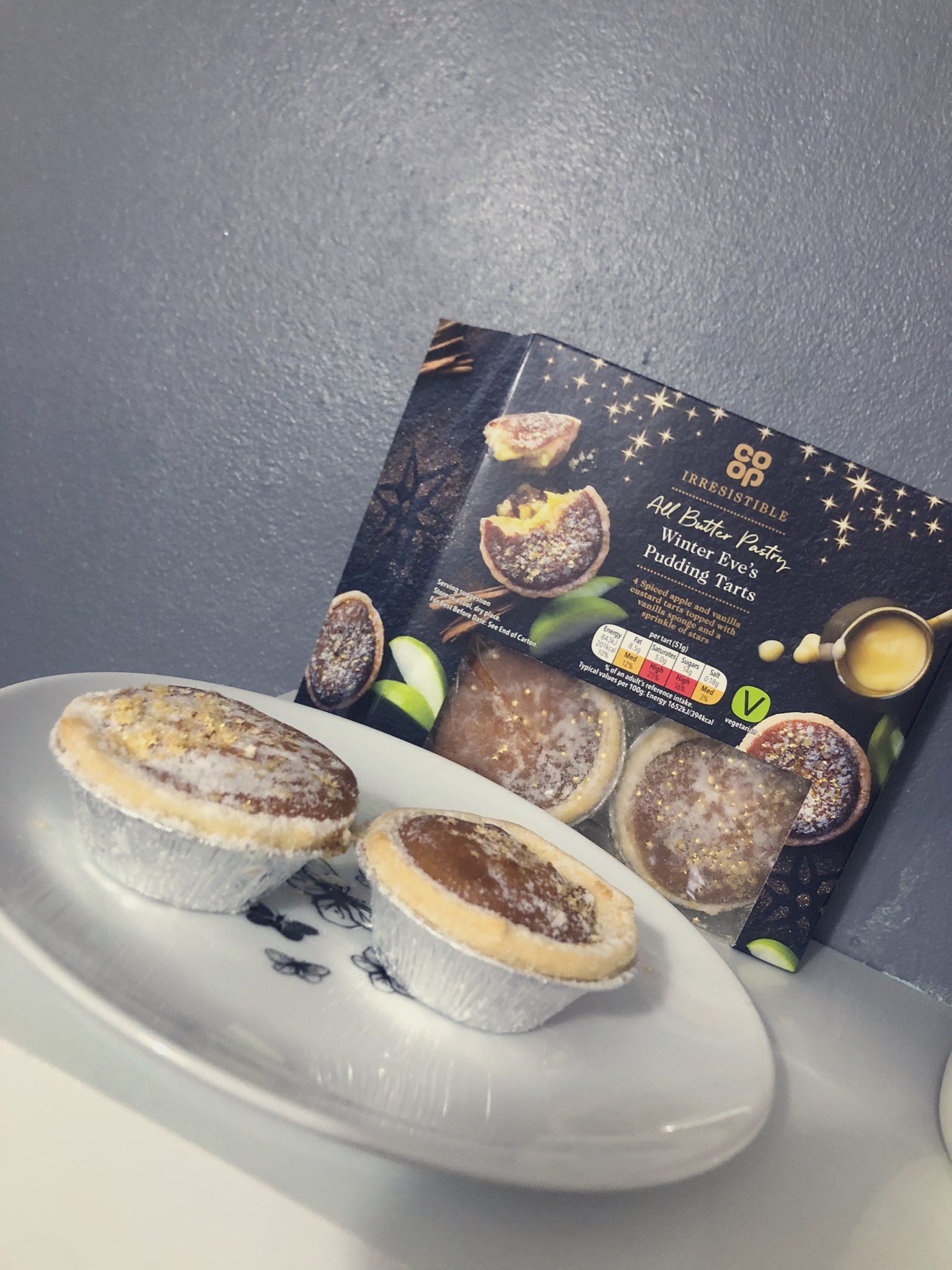 ---
An irresistible Christmas hamper is Jacqui's tip
A festive hamper of goodies is a great tip for a Christmas gift for that hard to shop for relative and shopper @JS0600 picked out our some of our Co-op Irresistible biscuits and chutney as ideal items to include. Which Co-op Irresistible products would you want in your Christmas hamper?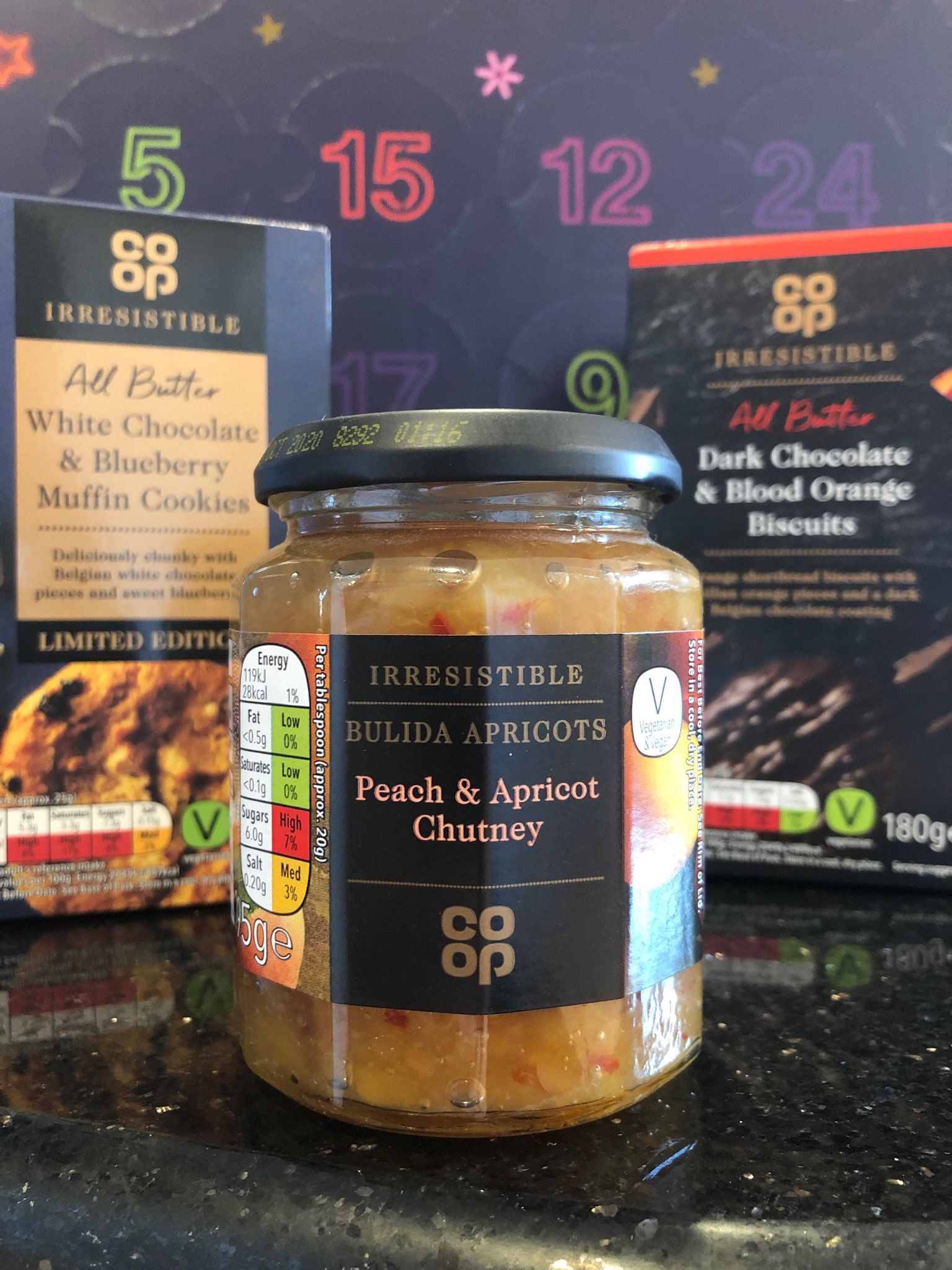 ---
Cookies prove 'irresistible' for blogger
Blogger Hannah Smith (@lifeappears) admits to being a big fan of our Irresistible product range and with Christmas on the horizon she said it was time to dive into the festive goodies and our Irresistible cookies proved too much to resist.
Read what she thought on her blog here:
http://www.lifeappears.com/home/co-op-christmas-week-4-irresistible-cookies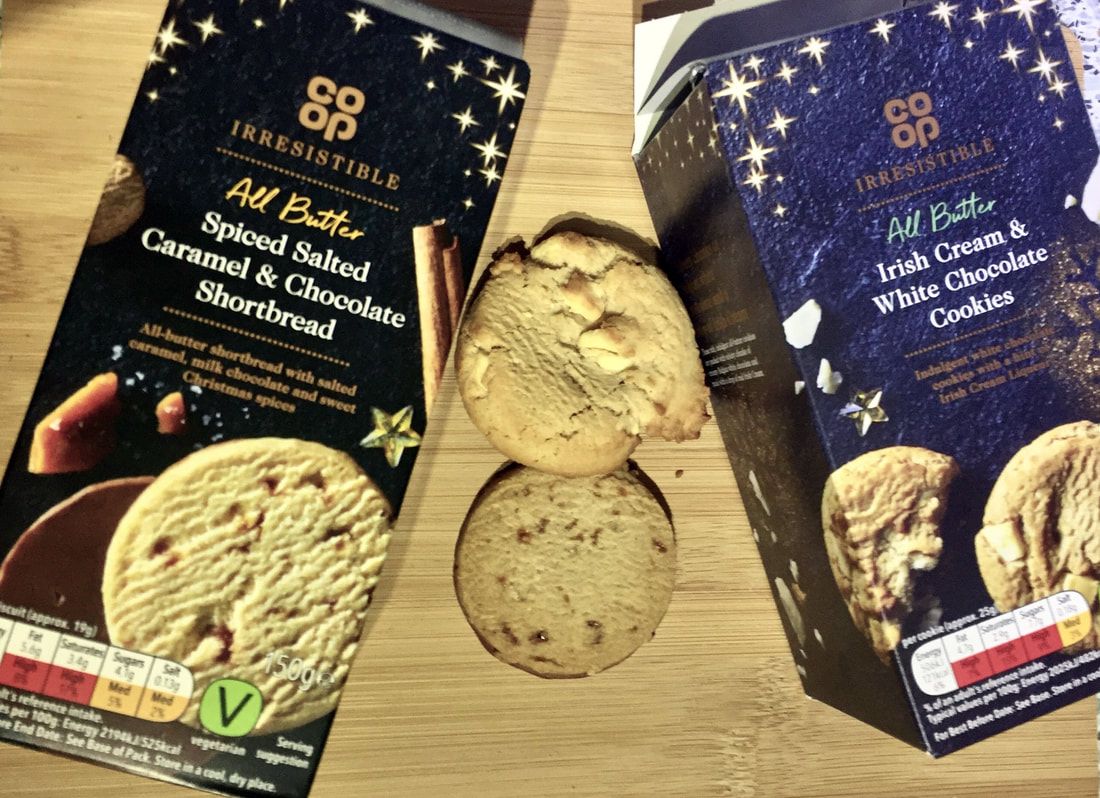 ---
Is this the perfect Christmas dessert?
How good does this look?! Shopper @ericahughes has paired our Co-op Irresistible Belgian Chocolate Melting Puddings with our limited edition Spiced Salted Caramel Ice Cream to create a delicious looking Christmassy dessert.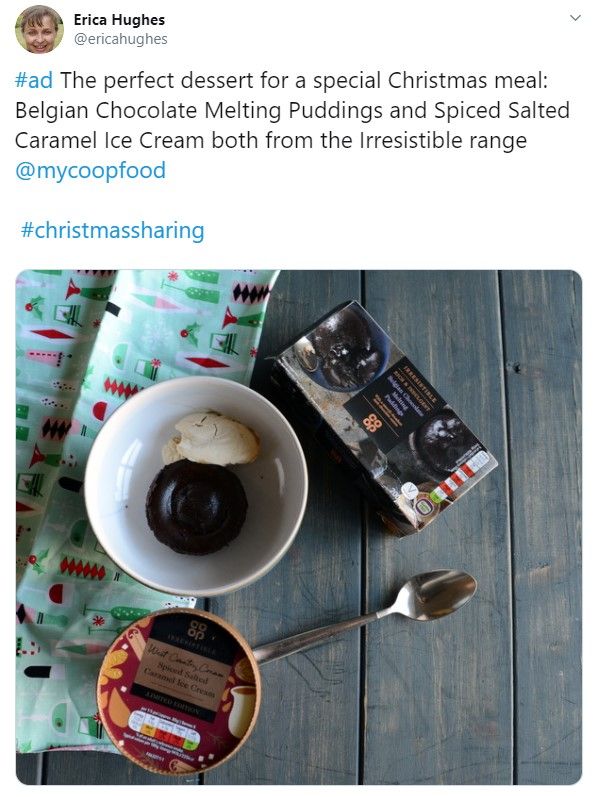 ---
Christmas lasagne recipe is a winter warmer to remember
The winter winds are blowing so it is the perfect time to enjoy some properly warming, home-cooked food and one of our talented bloggers has created a festive twist on the classic lasagne which is sure to do the job.
Emily's Christmas lasagne with turkey, brussels sprouts, bacon and a cheesy stuffing sauce provides a mouth-watering meal for all the family and also potentially a great idea for using up those Christmas leftovers after the big day.
Emily has used ingredients all available from Central England Co-op and you can view the recipe here https://www.recipesandreviews.co.uk/2019/12/christmas-lasagne-recipe.html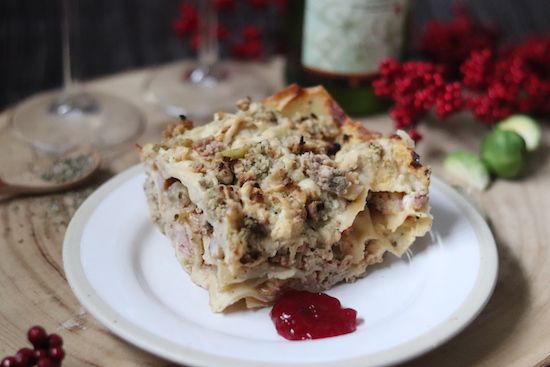 ---
Party season well underway and Co-op has your nibble needs sorted
Whether your holding a Christmas party or looking to stock up for that Christmas Day buffet or New Year's Eve celebration, Central England Co-op has a wide variety of delicious options.
Our bloggers have been busy sampling what's on offer. @BolandSusan has been stocking up her freezer and was impressed that all the products she found were gluten free. She declared our Tempura Prawn Lollipops as her favourite.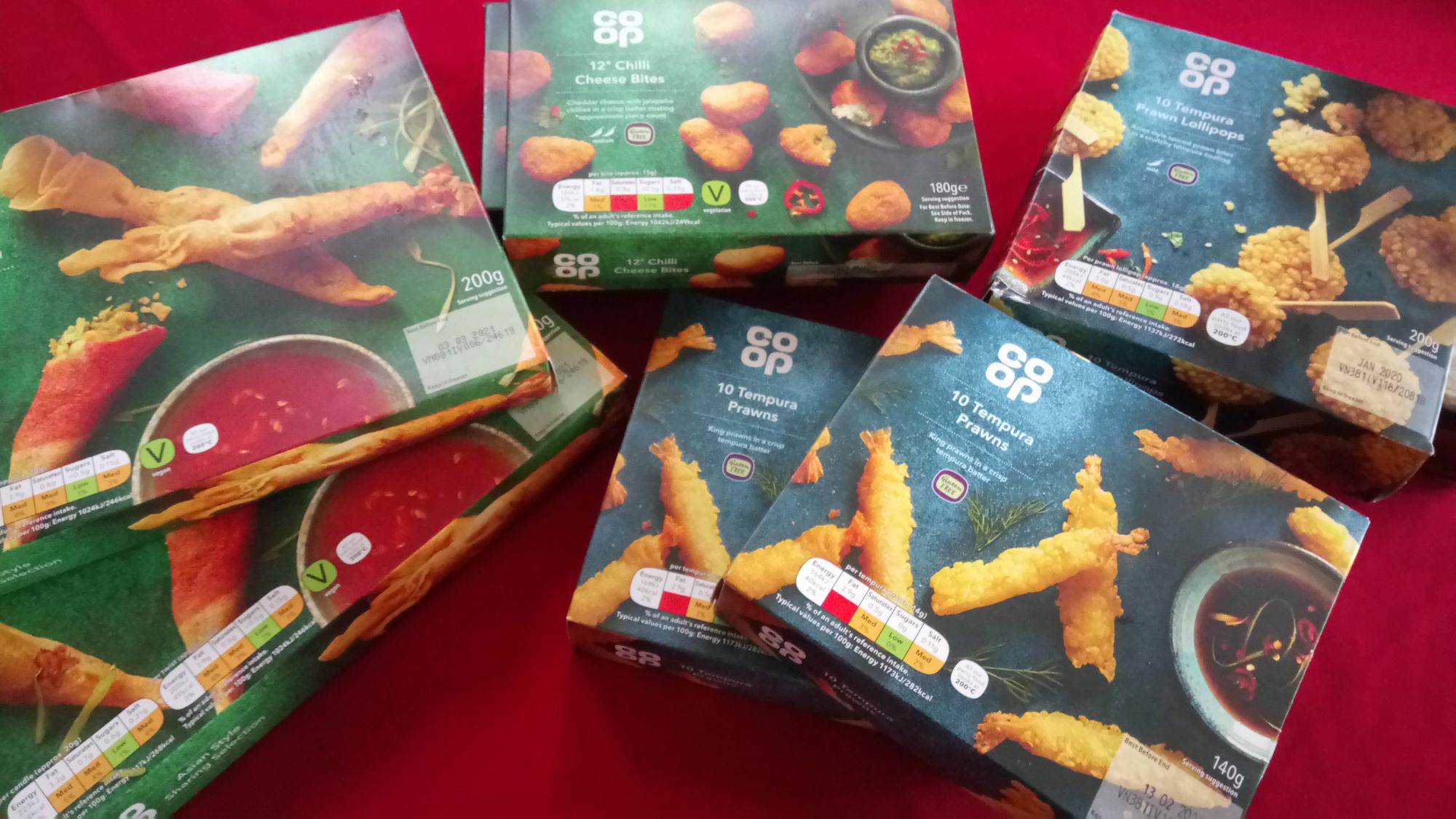 Meanwhile, blogger @ToBecomeMum was after some party snacks for her son's first birthday party and found our range of festive crisps perfect for nibbles. She said: "The pigs in blanket tortilla style rolls are something really different, super crunchy."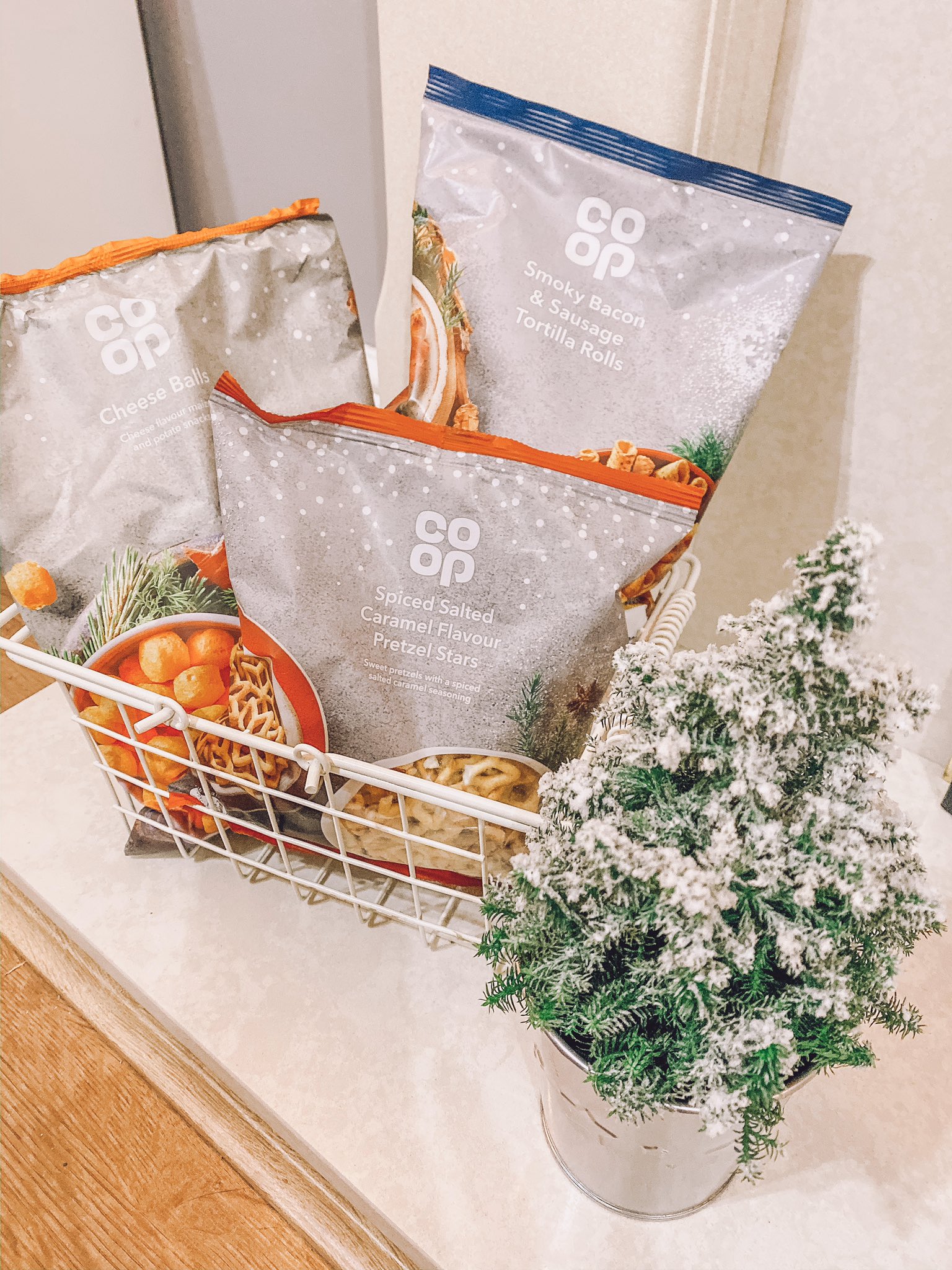 ---
Blogger asks what are your go-to party foods?
Blogger Hannah (@lifeappears) has been checking out the range of party foods at Central England Co-op. "Everything seems to taste better when it's bite-sized", she says and we couldn't agree more!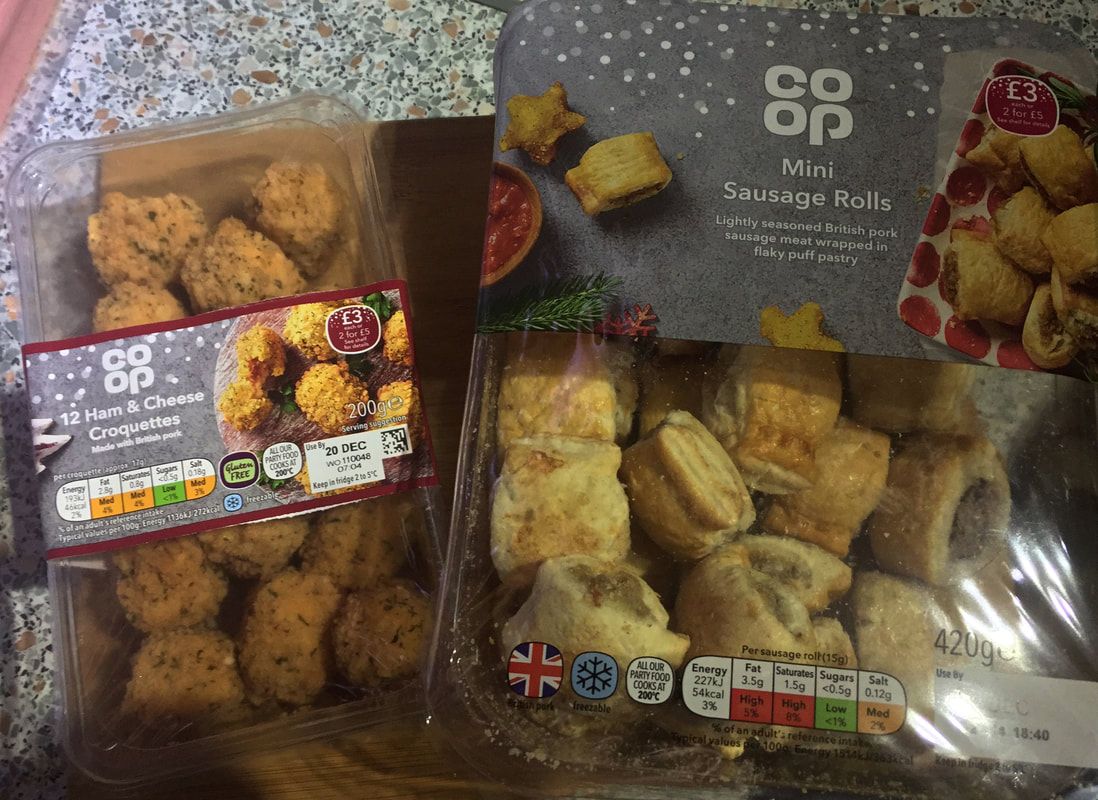 Hannah checked out our Mini Sausage Rolls and also our delicious Ham and Cheese Croquettes - both included in our 2 for £5 party food deal - and she said: "They're both just so delicious, I will happily munch my way through them all night long."
Hannah wants to know what your go-to party food is. See her blog and let her know your favourites here http://www.lifeappears.com/home/co-op-christmas-week-5-party-food
---
Modern takes on party food prove popular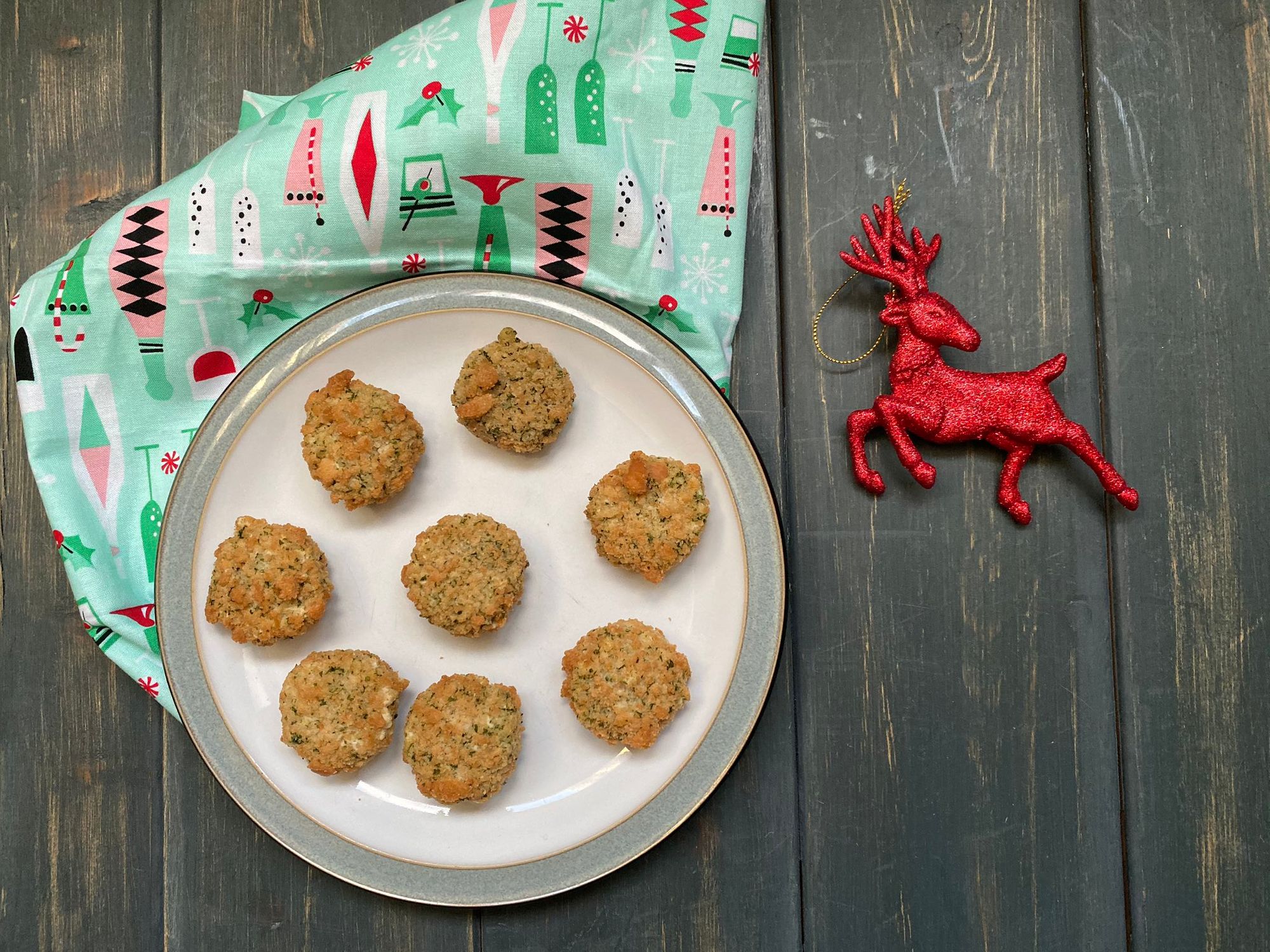 While the cocktail sausage and  sausage roll will always be popular Christmas party buffet choices, the Co-op party range also offers some different and more modern takes that have proved to be hits with our taste testers.
@ericahughes on Twitter has been loving the range but said the Co-op Mac and Cheese Bites (pictured above left) were her favourites.
Colleague @brooks_gb on Twitter also took home the Mac 'n' Cheese bites but was also taken with the new for 2019 Co-op Ham Hock and Cranberry Bon Bons which he called "fabulous".
---
Bakewell Christmas tree biscuits are a homemade treat
Blogger Emily (@emily_etc) has delighted us with some fantastic festive recipes this Christmas and she has delivered again with a biscuit recipe sure to delight young and old alike.
Emily's Bakewell Christmas Tree biscuits take the essence of the classic Bakewell Tart for a moreish treat to delight family and friends over the holidays, using ingredients all available from Central England Co-op stores.
You can find the recipe here https://www.recipesandreviews.co.uk/2019/12/christmas-tree-bakewell-biscuit-recipe.html