Charity forced to launch online funding appeal to help feed children in need this summer in Leicester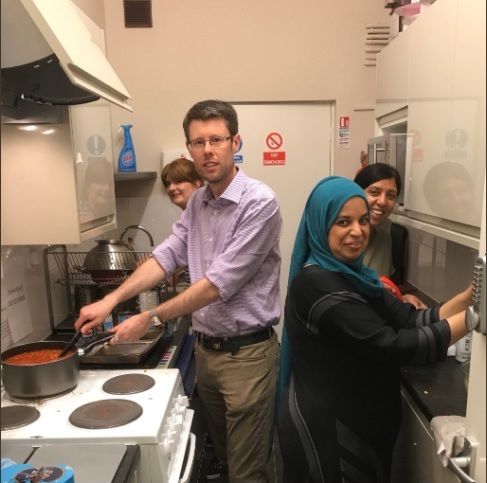 A Leicester charity which supports people in need in one of the most deprived communities in the country has launched a crowd funding campaign – to raise vital funds to stop children from going hungry this summer.
St Matthews Big Local revealed that it had to set up an online fundraising page after it missed out on vital Government funding that would have been used to help its on-going effort to tackle holiday hunger.
Holiday hunger happens when the net of free school meals is removed from children during the summer holidays.
This often leaves people trying to stretch their budgets in order to eat and in some cases going without proper food during the holidays.
In and around the St Matthews area of Leicester, a total of 503 children aged up to 15 years old are living in poverty. This equates to 28% of the entire community.
Simon Johnson, Manager at St Matthews Big Local, said: "We are now just a matter of weeks away from the school holidays and we need to ensure we do everything we can do to limit the impact of holiday hunger.
"We aim to provide 350 meals each week to those in need and, with a budget of just £2 per person, that would cost £3,800.
"After our area missing out on funding from the Government, we were left looking at different ways of trying to raise the funds we need to make sure no child in our area goes hungry.
"After generous support from Leicester City Council and Central England Co-op allowed us to raise £2,350, we were then forced to set up a crowd funding campaign to raise the remaining £1,450 to make up the shortfall.
"It is a sad state of affairs when we have to crowd fund just to put food in the mouths of children, but we will work hard to end holiday hunger in our area and urge anyone who can to head online and support our local community."
Central England Co-op has provided vital food vouchers to support the holiday hunger programme and colleagues will also be volunteering to support the charity over the summer.
Karen Bevan, Member and Community Relations Officer for Central England Co-op in the area, said: "We are proud of our links to the local and community and after hearing about the problems being faced by St Matthews Big Local we knew we had to help.
"As a co-operative we work to make a real difference to the lives of the people who live in the communities around our Food Stores and this is why our local Membership and Community Council has backed this vital campaign.
"We now echo the plea issued by the project and hope that as many people as possible can support it."
St Matthews Big Local is based in Kamloops Crescent, Leicester, and this summer, alongside its holiday hunger programme, will be working with partners deliver positive fun activities for the children who attend.
People who would like to support the campaign can do so by visiting https://wonderful.org/fundraiser/stmatthewsholidayhungerfoodandfun-3da5625a