Central England Co-operative Gardening Club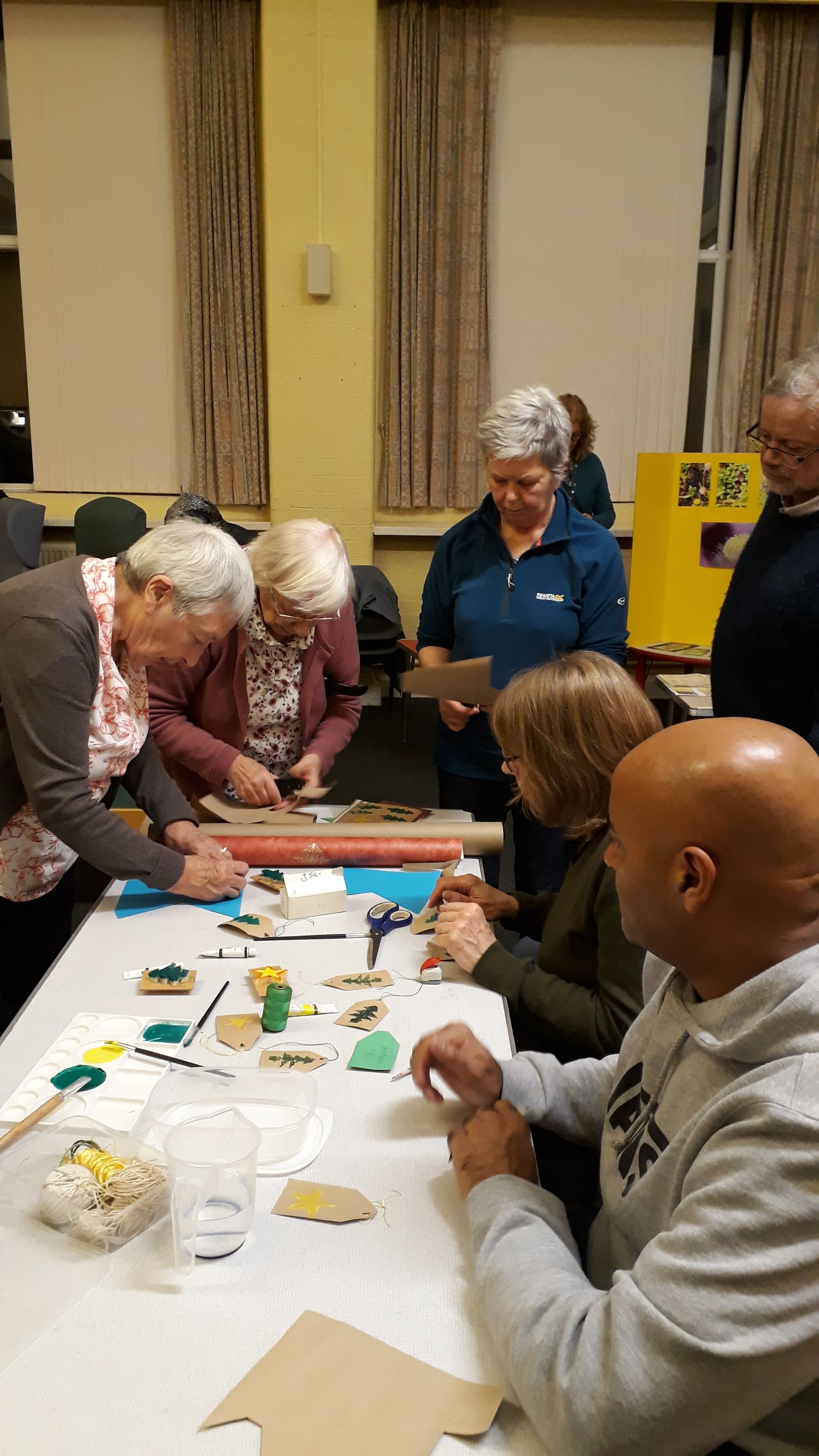 The Central England Co-operative Gardening Club meets in Cotteridge Church Hall, Pershore Road South, Birmingham B30 3EJ on the 4th Wednesday of each month (except December) from 7:30 to 9:30pm.  In the summer, with lighter nights, meetings take the form of visits to local gardens.

At the 2019 November meeting, the gardening year was celebrated with an exhibition, both digital and on paper, of members' horticultural photographs. They were also able to try their hands at making some Christmas decorations, origami stars, potato print labels and - a festive gift for the birds - fir cones stuffed with peanut butter and seeds.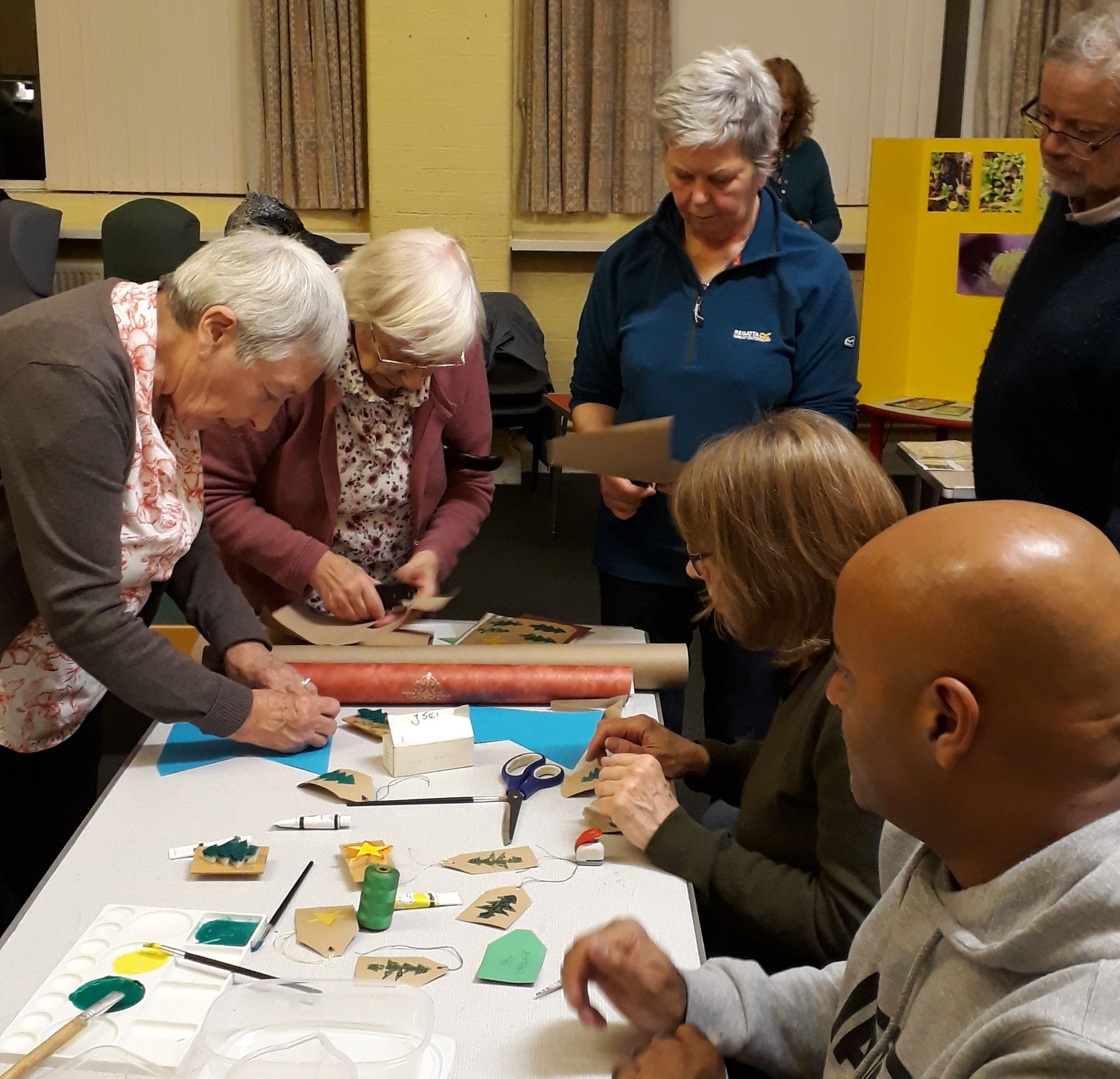 Below sets out details of meetings and activity for 2020:
2 January ARTS & CRAFTS GARDENS This Movement in decorative and fine arts also influenced garden design. Talk by gardens consultant and local expert Simon Gulliver 26 February SHADY GARDENS
Diane Clement says half her garden gets no sun for 6 months of the year so she has adapted her planting to suit. Useful advice for all gardeners!
25 March HERBS
A "hands on" session for growing and using herbs. Bring your suggestions for
your favourite herbs and their uses.
22 April OUR TOP 100 PLANTS
Samantha Hopes tells of her favourite garden plants, full of colour, texture &
scent, giving interest throughout the year.
27 May VISIT TO MASEFIELD COMMUNITY GARDEN**
A return – this time in Spring and hopefully drier! – visit to this Northfield garden
developing community food projects.
24 June VISIT TO WOODBROOKE COLLEGE GARDENS**
A tour of the gardens of the Quaker Study Centre in Bournville.
22 July VISIT TO SIMON GULLIVER'S GARDEN **
A great opportunity to visit local expert Simon's own garden in Stirchley.
26 August VISIT TO HIGHBURY COMMUNITY ORCHARD **
"Highbury – a piece of countryside in the city" to quote Joseph Chamberlain. A
chance to visit this volunteer run orchard that provides practical experience and
family and well being sessions.
23 September MAINTAINING GARDEN TOOLS
Dawn Tibbetts will talk on this essential aspect of gardening and tell us about South Birmingham Tools For Africa. Plus an opportunity to get tools sharpened - not to be missed!
28 October A YEAR ON THE PLOT
Expert advice on growing vegetables with Mick Poultney - "The Compost King"!
25 November CHRISTMAS DECORATIONS
The welcome return of our friends from Stirchley Co-operative Florists, leading this hands-on session. Plus festive refreshments to close the year.
New Members always welcome, please pop along on the night and see us.