Central England Co-op transforms another Northants food store with a whole new look
The ribbon has been cut on the revamped Oundle food store after a major investment.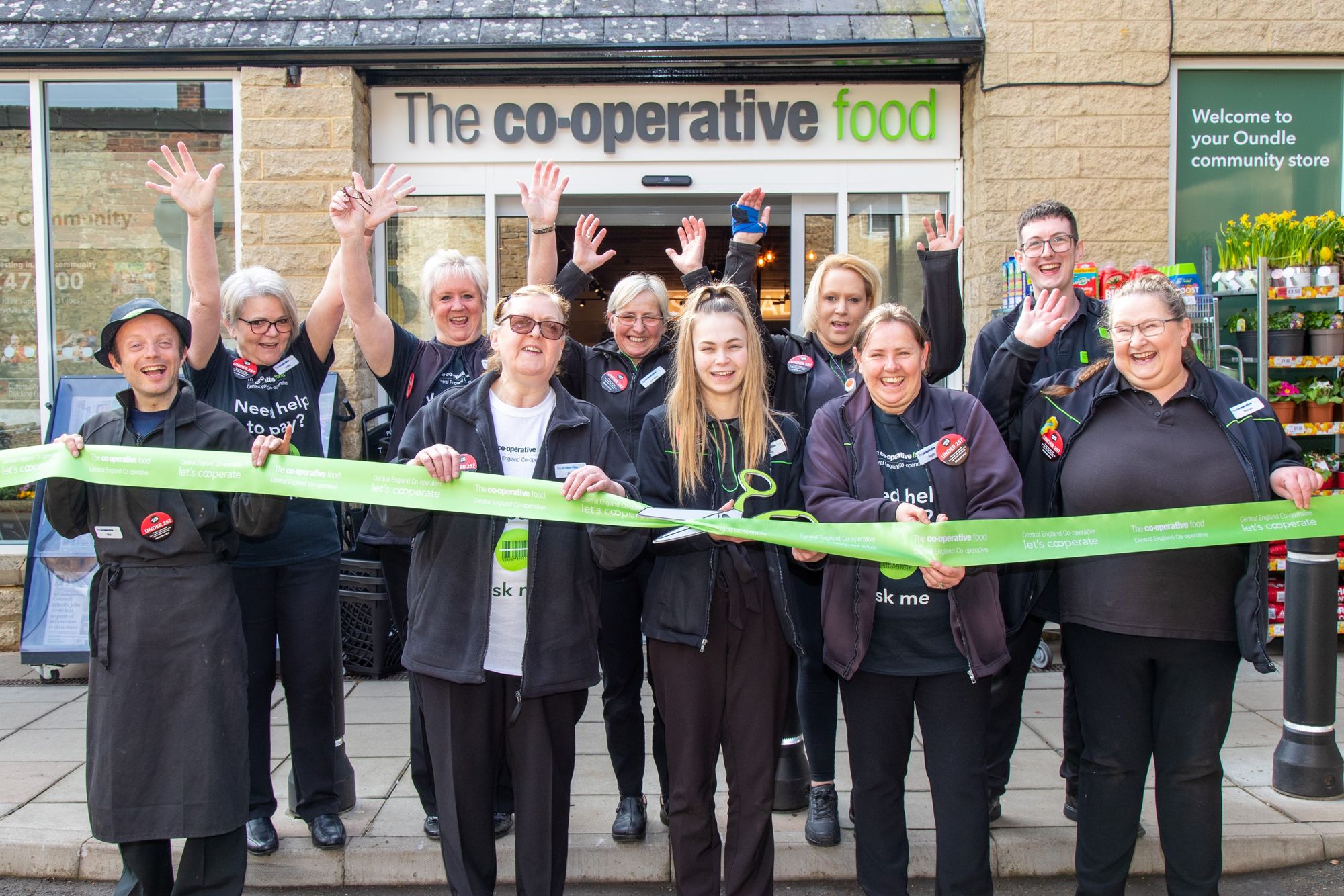 The ribbon has been cut on a revamped Central England Co-op store in Northamptonshire which has been transformed with a major investment to create a more modern and sustainable food store for the local community.
The food store in St Osyths Lane, Oundle has been completely refreshed with a brand new look and a whole host of new features, and follows on from the relaunch of the retailer's Thrapston store just last month.
The investment in the Oundle store has seen changes including:
· New features inside such as zero-waste refill stations, one offering products such as cereals, coffee, pasta, rice and dried fruit and another offering products such as shampoo, conditioner and washing up liquid. As part of a partnership with Fieldfare there is also 'scoop your own' frozen ingredients including a range of items such as pastries, Yorkshire puddings, Cornish pasties and fish cakes, all part of long-term efforts to cut down on plastic packaging and waste
· All new eco-friendly refrigeration and lighting, a recycle station and free water refills
· New self-checkout tills and kiosk, a new food to go section with hot food, Insomnia Coffee, Tango Ice Blast and F'real Milkshake, an iSqueeze freshly squeezed orange juice machine and new customer toilets with baby changing facilities
· New product ranges, including newly sourced local produce
· Improvements externally including updated signage and a free bicycle repair station and seating for the local community
Oundle Central England Co-op Store Manager Jonathan Quinn said: "It's been such an exciting day to finally unveil our brand new look and we're all so thrilled that this store has been chosen for such a significant transformation which offers our customers and members a much-improved shopping experience and some great new ranges and features.
"I'd like to thank our fantastic community in Oundle for their patience while the work has taken place to bring this transformation to life. I hope now they've seen the end result they'll agree with us it's been worth it."
The St Osyths Lane Store is open from 8am to 9pm, Monday to Saturday and 10am-4pm on Sunday and offers a wide range of products from everyday necessities to something a little more special. This includes fresh fruit and vegetables, an in-store bakery offering breads and pastries, chilled beers and wines and Irresistible and Fairtrade product ranges.
There is also Lottery, Paypoint, Collect Plus and foreign currency, a free cash machine and a lifesaving defibrillator for the local community.