Central England Co-op officially opens new £1.85m store to support Nottinghamshire community - creating 15 new jobs
Launch of new store in Warsop saw the Gruffalo in attendance to entertain local children on their summer holidays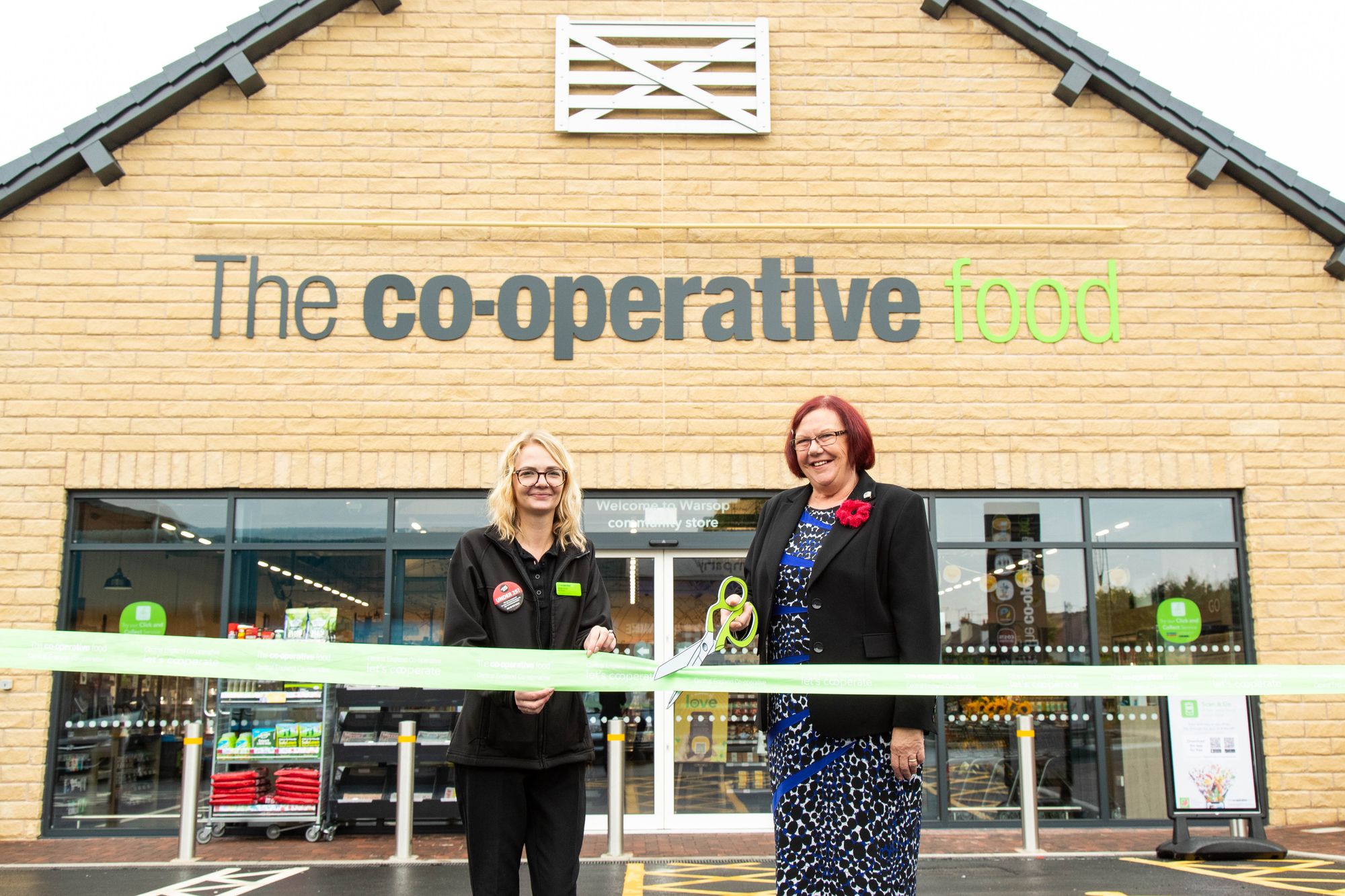 Central England Co-op has marked the opening of its new store in Nottinghamshire creating 15 new jobs so far and investing over £1.85 million in the local community with a special launch event featuring children's favourite the Gruffalo.
The Society today officially opened its new store powered by 100% renewable energy in Mansfield Road, Warsop offering the local community food and essentials on their doorstep.
Features of the store include self-scan till points, a full range of products, indoor and outdoor seating areas, a customer car park and customer toilets.
To mark the launch and the school summer holidays there was a range of fun events on offer for locals to enjoy including appearances by the Gruffalo, as well as face painting, bike repairs and advice from Inclusive Pedals and much more.
The ribbon was cut by Warsop resident Elaine Hopkins, recently awarded an MBE in the Queen's Birthday honours for over 20 years' service as a volunteer for The Royal British Legion and the ex-forces community, as well as being the driving force behind the 'Big Poppy Knit'.
The 'Big Poppy Knit' raised £140,000 for the Royal British Legion as part of commemorations to mark the 100th anniversary since the outbreak of the First World War.
A food bank collection point has also been installed to support the great work of Sherwood Forest Food Bank as it continues to manage the increased demand caused by the Coronavirus outbreak.
To mark the launch and the ongoing Central England Co-op Summer Food Bank Appeal to support families affected by holiday hunger, Store Manager Natalie Smith made a special donation of food and essentials to the food bank.
She said the store team were looking forward to being part of the local community and to working with Sherwood Forest Food Bank to support people struggling from the impact of the Coronavirus pandemic.
She said: "It is great to finally open our doors to the local community as the team have been desperate to support our neighbours and ensure they can access food and essentials during the pandemic.
"All of us here at the new store are proud to be part of such a great community in Warsop so we are delighted to be able to support Sherwood Forest Food Bank which is offering a lifeline to vulnerable residents and people struggling in these testing times.
"It's been lovely to welcome Elaine down to help us cut the ribbon as a figure in the local community who has done so much to raise money for the Royal British Legion and was deservedly honoured with an MBE this year.
"It's been amazing to welcome so many youngsters down to enjoy the launch with us and take part in all the great activities and surprises we have had on offer as a summer holiday treat.
"I'd also like to take this opportunity to thank local residents for their patience while we have been bringing the store to life. It has been long-awaited, but hopefully everyone will enjoy the store as much as we do."
As part of the launch shoppers have the opportunity to sign up to become a member and nominate a particularly deserving someone in their community to receive a seasonal Co-op hamper worth £100. More details are available in store.
The Warsop Central England Co-operative food store is open from 7am to 10pm, Monday to Sunday and offers a wide range of products from everyday necessities to something a little more special.
This includes fresh fruit and vegetables, an in-store bakery offering breads and pastries, chilled beers and wines, fresh and frozen product, Irresistible product ranges, as well as a great selection of food to go, including hot food.
It also offers Lottery and foreign currency, as well as a Costa Coffee machine and Tango Ice Blast machine, a free cash machine, a lifesaving defibrillator and customers can use Scan and Go allowing them to use a mobile app to help make their shopping experience even easier.