Central England Co-op Funeralcare opens the doors to the community in Nottingham
The Chilwell Funeral Home held a Jubilee-themed event and showcased what it offers to the local community.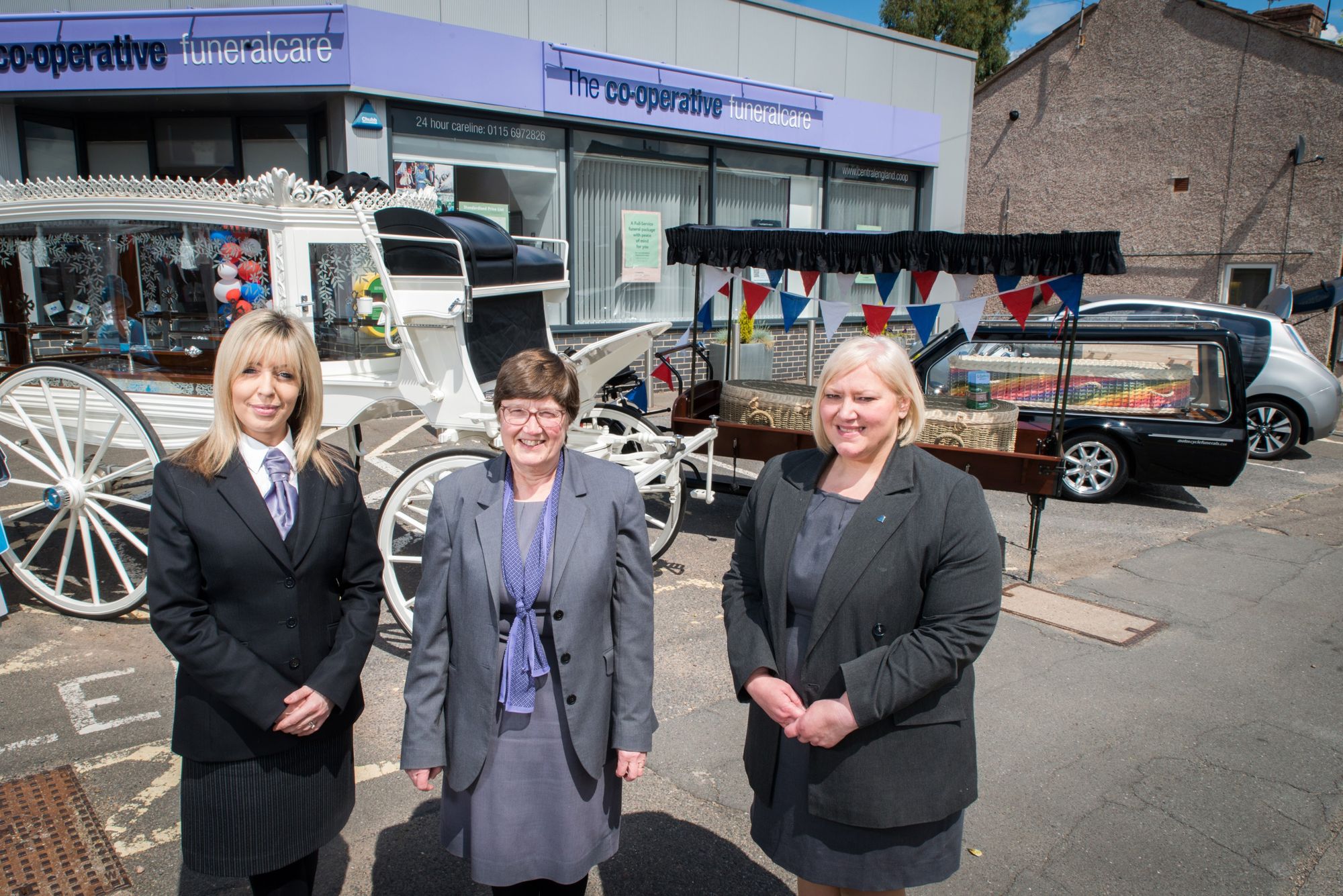 Central England Co-op (CEC) Funeralcare has offered members of the public a unique opportunity to discover more about the range of options open to them to say goodbye to and remember their loved ones – all while celebrating the Queen's Platinum Jubilee.
The team at the High Road Funeral Home in Chilwell, opened their doors to its local community to mark the Jubilee with refreshments and patriotic music, all while showcasing the various modes of transport on offer for funerals, the eco-friendly ways of saying goodbye and much more.
CEC's all-electric eco hearses were in attendance, as were a bicycle hearse and all new Ecoffins to show people the greener alternatives on offer.
There was also a visit from the Motorcycle Hearse Company, CEC's floristry team displayed some of their floral arrangements and the Society's Bretby Crematorium showcased its Bird Box Memorials.
Tracey Smith, from the Chilwell Funeral Home, said: "We were delighted to open our doors to our fantastic local community in Chilwell and to celebrate the Queen's Platinum Jubilee with a lovely event.
"It's important to hold events such as this to try and break some of the taboos around funerals and give people the opportunity to talk to the team and see some of the great ranges and options now available to say goodbye to and remember your loved ones, including the more eco-friendly options which is becoming more and more important to people in their thinking around funerals."
Central England Co-op Funeralcare has been providing help and guidance for local communities for over 30 years, so it understands that arranging a funeral can feel like a difficult and complicated experience.
The Society prides itself on being able to provide a comprehensive and personalised service.
Colleagues offer everything from a simple, unattended funeral, to a bespoke send off or a more elaborate service with a superior coffin and limousines. They can also talk about funeral plans.
They are also able to offer advice on floral tributes, monumental masonry, funeral stationery and probate.
For more information, whether help is needed with a funeral plan or arrangement, call the Chilwell Funeral Home on 0115 697 2826.