Borrowash funeral home supports local charity's Christmas appeal bringing festive cheer
Central England Co-op Funeralcare support local charity in Borrowash and Ockbrook with festive appeal.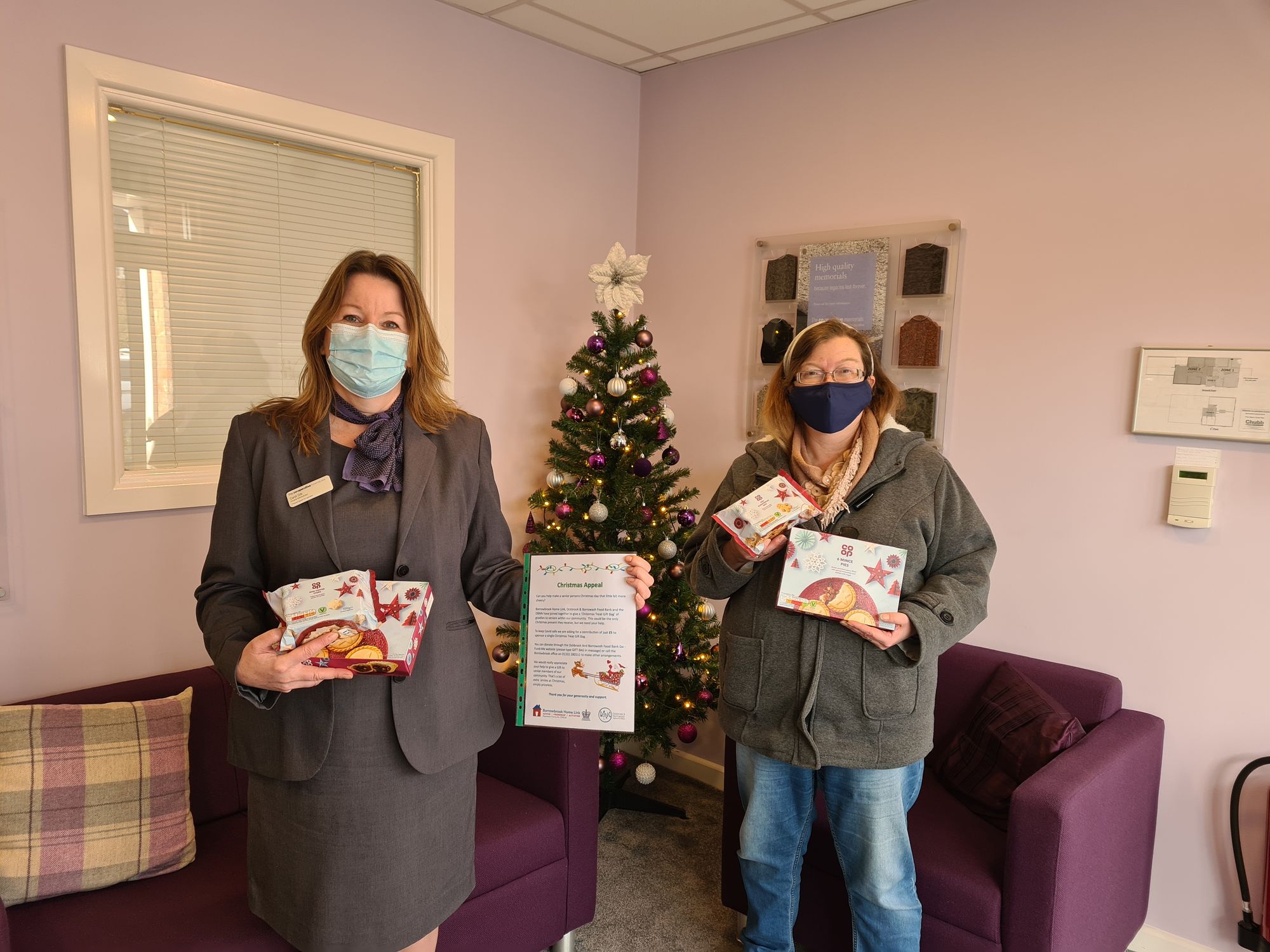 Colleagues at a Central England Co-op funeral home in Derbyshire have given a charity aimed at helping elderly people to live independent lives a festive boost with donations to their Christmas appeal.
The Victoria Avenue Funeral Home in Borrowash collected over 200 items to donate to Borrowbrook Home Link, who have joined together with Ockbrook and Borrowash Food Bank and the Ockbrook and Borrowash Neighbourhood Network (OBNN) to give Christmas Treat Bags of goodies to seniors in the local community.
With support from colleagues from Central England Co-op's Food Store in Castle Donington the teams collected items like biscuits, gingerbread men and mince pies to add a little luxury to the bags.
Funeral Director at Central England Co-op Funeralcare in Borrowash Kate Spencer said: "When Rachel at Borrowbrook came to me to see if we could help them with the treat bags which they wanted to provide this year I really wanted to help.
"They are a small, local charity working alongside the local food bank to support the elderly and vulnerable this Christmas. This pandemic has left many isolated, particularly in this second wave now
people are less likely to get out in their gardens due to the cold and damp.
"We have always been at the heart of the community and wish to continue to help wherever we can and this was a lovely way for our team, after a challenging year, to really give back to people in our community."
Borrowbrook Home Link has served the villages of Ockbrook and Borrowash since 2002 and provides a 'hub' of information for people to access facilities and information or services free of charge. During normal times they also offer group meetings, trips and social events, while they have recently set up a telephone befriending service during the Covid-19 pandemic
Rachel Page, who runs the charity, said the funeral home's donation was 'out of this world' and said the community response overall had been incredible.
She said: "When Kate called and said the donations were ready, I was going to pop along with a couple of bags, but she said I would need to bring the car round. I couldn't believe it when I saw how much they had collected; it was a huge shock and brought a tear to my eye to be honest.
"When we decided to do the Christmas gift bags I couldn't have imagined how it has snowballed. We managed to get all four local schools helping to make and decorate the gift bags which was so lovely, and the bags are just a joy.
"I am just in the process of delivering the gift bags and it has been both heartening and heartbreaking. The response of people getting them has been great and they are overwhelmed.
"Each bag contains things like a Christmas pudding, a Christmas cracker, a hand-knitted scarf, tea, coffee, hand soap and other gifts and they have really given a boost to the elderly residents.
"We are so blessed with the community we have in this area and everyone has really gone above and beyond. It is lovely when local businesses support charities like us as I am the only employee, so it is not just the financial support I rely on but the emotional and practical support too."