A Fairtrade Poem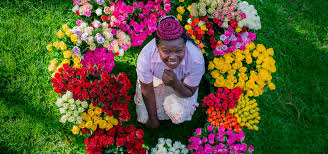 One of our members from the Creative Writing Group wanted to share this Fairtrade poem with you all.  Happy Valentines
Amazing Grace
Buy Grace's Fairtrade roses for your love this Valentine's Day,
Flamingo Horticulture gives her village work and pay.
A creche at the local school and a library full of books,
All funded by Fairtrade Premium with Grace's Farm undertook.
Highly sustainable standards and low greenhouse emissions,
Fit in with the Co-operative ethical traditions.
So if you're trying to watch your weight and your love is too,
A dozen Fairtrade roses is just the Job for you.
Happy Valentine's Day everyone.
Written by Vicky Wilmot.