Fairtrade supporters line up for special charity women's football match for Fairtrade Fortnight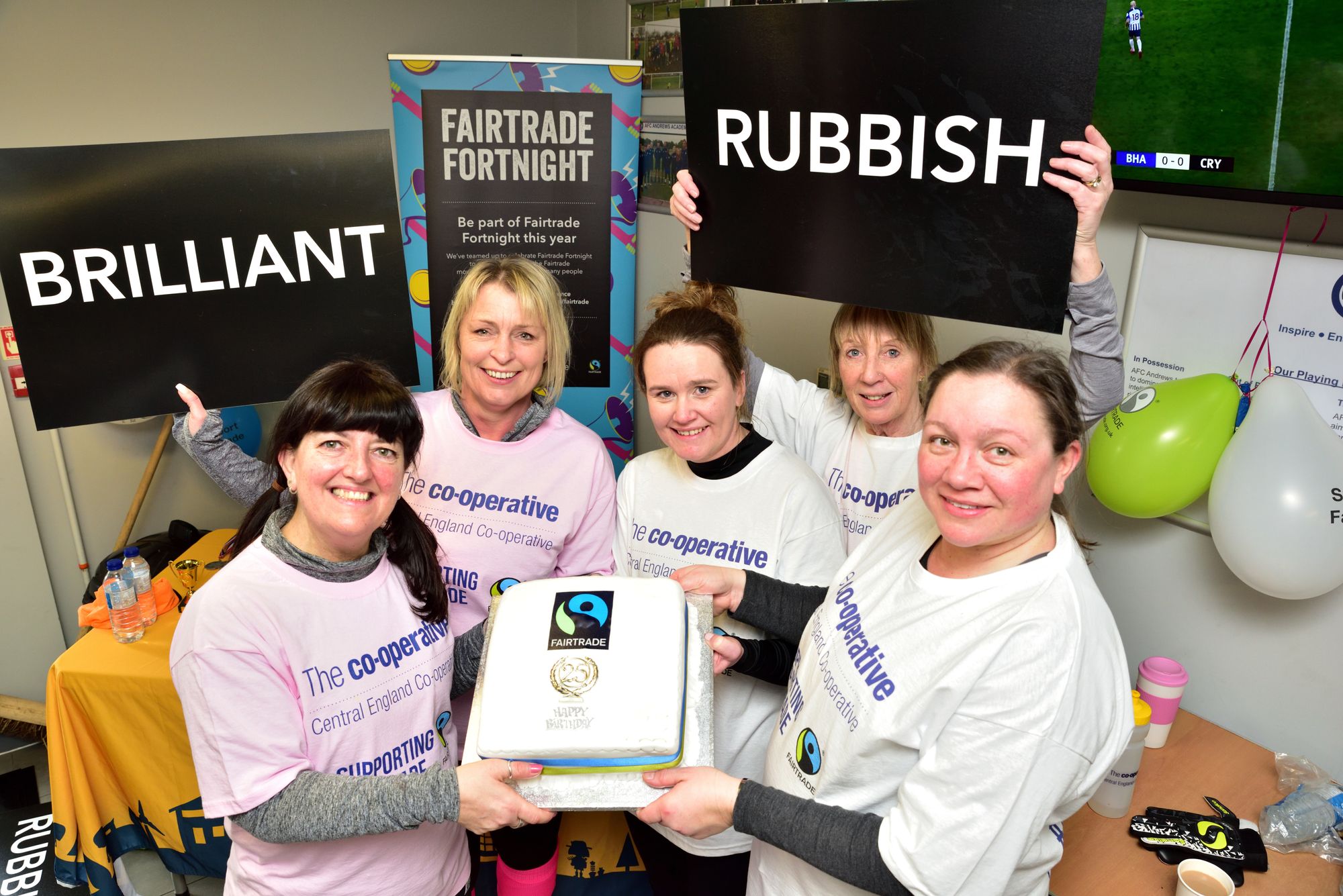 A special charity football game has been held in Leicester to mark Fairtrade Fortnight where fun and fundraising rather than finesse was the name of the game.
The 'Can't Play Players' women's football match was held at AFC Andrews Football Club in Knighton Lane East on Saturday as part of events to mark two weeks of Fairtrade celebrations and to raise money for Dementia UK.
Organised and funded by the Southern Membership and Community Council (MCC) at Central England Co-op, the game saw Members and colleagues with little or no experience of playing the game take on the challenge to raise awareness and vital funds for the retailer's corporate charity.
Even the matchball was a Bala UK Fairtrade Football and to thank the club for their hospitality and to help raise awareness with its younger players, the Southern MCC also donated 12 Bala Fairtrade footballs to the AFC Andrews' youth teams.
Karen Bevan, Membership and Community Relations Officer at Central England Co-op who organised and played in the game, said: "With this year being the 25th anniversary of the Fairtrade Mark the Southern MCC really wanted to do something special to celebrate during Fairtrade Fortnight in a fun way, while also promoting physical activity.
"We had a group of women who were keen on a football match and when we put out the call for players it was clear that we had a lot of ladies who fancied giving it a go, while also doing their bit to promote Fairtrade and raise money for a great cause in Dementia UK.
"I'm really thankful to AFC Andrews for helping us stage the game at their ground and we were delighted to mark our celebrations by presenting them with a donation of these striking, fairly traded footballs, hopefully making the youngsters more aware about Fairtrade."
Andy Ashton, from AFC Andrews Football Club, said: "The teams will be thrilled with the new footballs and I'm sure they will get plenty of use. We would like to thank Central England Co-op's Southern MCC for this kind donation and I'm happy we were able to host this great event."
Fairtrade Fortnight is continuing until 8 March and sees thousands of individuals, companies and groups across the UK come together to celebrate the people who grow food, people who live in some of the poorest countries in the world and who are often exploited and badly paid.
Central England Co-op is marking the campaign with a range of events across the 16 counties it covers from tea dances to school assemblies and workshops, to raise awareness of Fairtrade and the range of ethically-sourced products it stocks in its food stores.
You can find out more about Fairtrade Fortnight at Central England Co-op here https://www.centralengland.coop/fairtrade
A Fairtrade Foundation video telling the story behind Fairtrade Footballs can be found here https://youtu.be/wTrFOLLvlGs