Ten good causes share over £12,000 funding boost to tackle COVID-19 related problems thanks to our community fund
Ten good causes share over £12,000 funding boost to tackle COVID-19 related problems thanks to Co-op community fund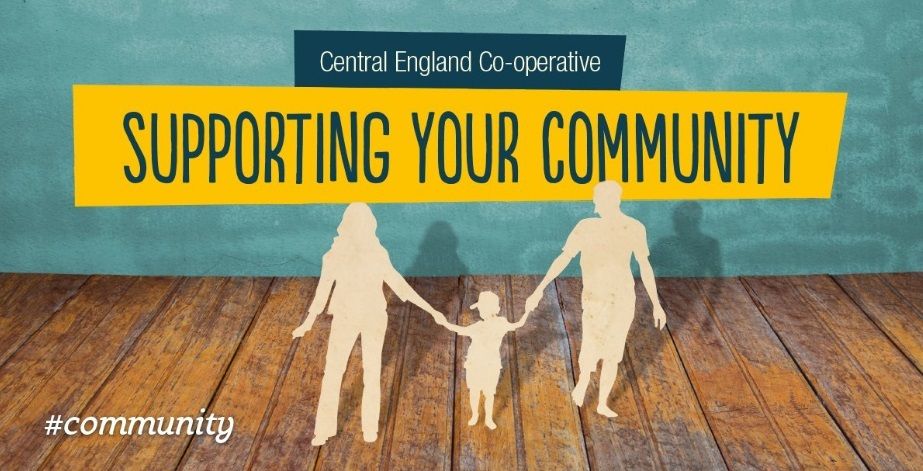 We have handed out over £12,000 to 10 charities and good causes as part of our revamped Community Dividend Fund aimed at providing quick funding boosts to help those impacted by the Coronavirus outbreak.
A wide range of charities and community organisations were delighted to receive the funding boost during these uncertain times.
Normally, grants from the fund are handed out four times a year to a wide range of organisations but, during the coming months, it has been decided to hand grants out on a monthly basis to support those suffering financial hardship due to the pandemic and others looking to step in to help those affected.
Organisations in the following areas have benefitted from a grant: Leicestershire, Northamptonshire, West Midlands, Suffolk and Yorkshire.
All applicants, regardless of their success, are all given Co-op vouchers to help support their great work in the community. Therefore, a total of 28 applicants shared £12,410 when taking into account full grants and vouchers awarded.
Here is a full breakdown of good causes handed funding listed via county:
Leicestershire
· Croft Good Neighbours - £1,000 – to continue work to support local families with food boxes
o   Kath Muir, chair of Croft Good Neighbours, said: "Once again, the Central England Co-operative Community Dividend Fund has come to our rescue with funding for our food and essentials boxes. We are a small voluntary group and although our volunteers and our local community generously donate towards our boxes, we still need funding to keep this project going - as we have now been doing for almost a year. This generous allocation of vouchers, to spend in the local Co-op, will support our project, meaning we can continue to help families in our village."
Northamptonshire
· Northampton Hope Centre - £1,000 – to provide dedicated support for people in living in poverty
· Kids Aid Foundation - £2,000 – to provide funding for specialist sessions for young people who have suffered some form of trauma
o   Case worker Becca Caswell-Fox said: "KidsAid are absolutely delighted to receive £2,000 from the Community Dividend Fund! Since the COVID-19 pandemic, our small charity has been in receipt of an unprecedented number of referrals from families seeking support - children appear to be struggling with trauma and mental health difficulties more than ever before. This funding helps us to make a positive difference to local families during a very difficult time."
West Midlands
· I Love Dudley - £1,000 – to help with work to support distributing food to people in need
· New Heights Warren Farm Community Project, in Kingstanding - £1,000 – to support the work of its community café
· Trustee John McGorman said: "We are delighted to receive a Community Dividend Fund grant of£1,000 from Central England Co-operative. We will now be able to create covered outdoor seating directly outside New Heights Community Café. From July we will be able to use this sheltered outdoor space to re-launch group activities for older and disabled people, a number of whom report remaining anxious about returning to indoor group settings. We will begin by organising free community meals in the new covered patio area and gradually reinstate indoor group activities as beneficiaries become more confident.  Use of this new outdoor meeting area will be a significant stepping stone to helping them to adapt to the 'new normal' following on from having to shield in their homes during COVID-19 lockdowns. It will also remain an excellent additional facility going forward."
Suffolk
· Fressingfield Primary School, in Eye - £250 – to help with the creation of a summer garden
Yorkshire
· Friends of Cinderhills Park, in Holmfirth - £1,800 – to provide workshops for local people and the development of a community garden
o Karen Lloyd, Friends of Cinderhills Park group, said: "The funding will be used to help set up and maintain a community garden in our local park. We are excited to start planting raised beds with fruit and vegetables.  There will be three workshops with Eden's Forest for planting and maintenance.  After such a long period of time, where we have all had to be shut up indoors, it will be so lovely to create a space for all to enjoy and get to know each other."
· Full Life Church, in Holmfirth - £1,000 – to provide vital funds to allow for its food bank to continue to support people locally
· Grow to School CIC, Huddersfield - £1,000 – to help deliver sessions for youngsters to learn how to grow fruit, vegetables, flowers and herbs
· New Hope Community Church, Sheffield - £2,000 – to pay the salary of a domestic support worker for the next six months