Co-op Fortnight 2022
Become part of a global movement for positive change.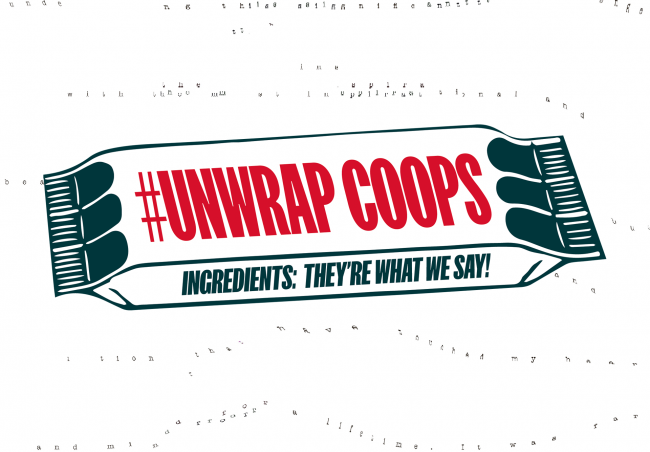 Fun ways to help you 'Unwrap Co-ops'
Co-op Fortnight runs from Monday 20 June to Sunday 3 July 2022.  This year's theme is 'Unwrap Co-ops' and we've got some fun ways to help you to understand and digest what we're all about.
Hopefully, by the end of the second week, you'll have unwrapped Co-ops enough to join one (or encourage a friend) and become part of a global movement for positive change.
You will find much more about us HERE
Reading between the wines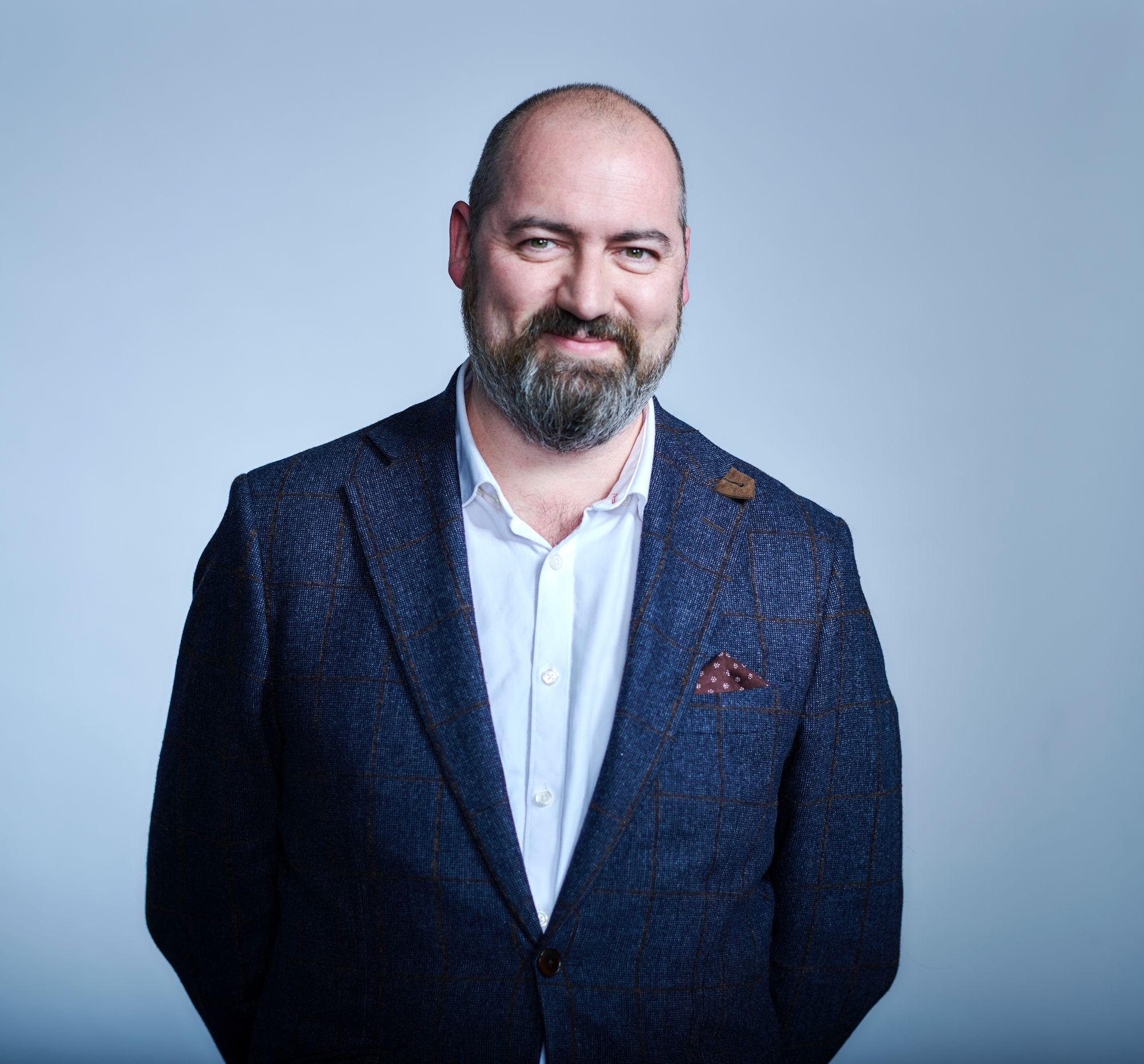 We've asked our regular wine expert and all-round friend of the Co-op, Tony Elvin from The Wine Events Company to share some tips on choosing Fairtrade wines through a series of wine tasting videos especially recorded for our members. Look out for them across our social channels and on our website throughout the fortnight.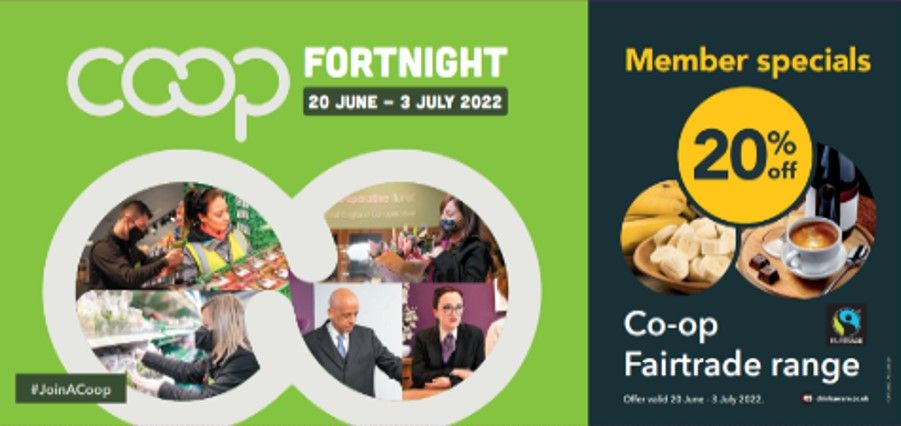 Remember that Co-op members can enjoy a generous 20% off all Co-op Fairtrade products throughout Co-op Fortnight.
Just Film Festival for a Fairer World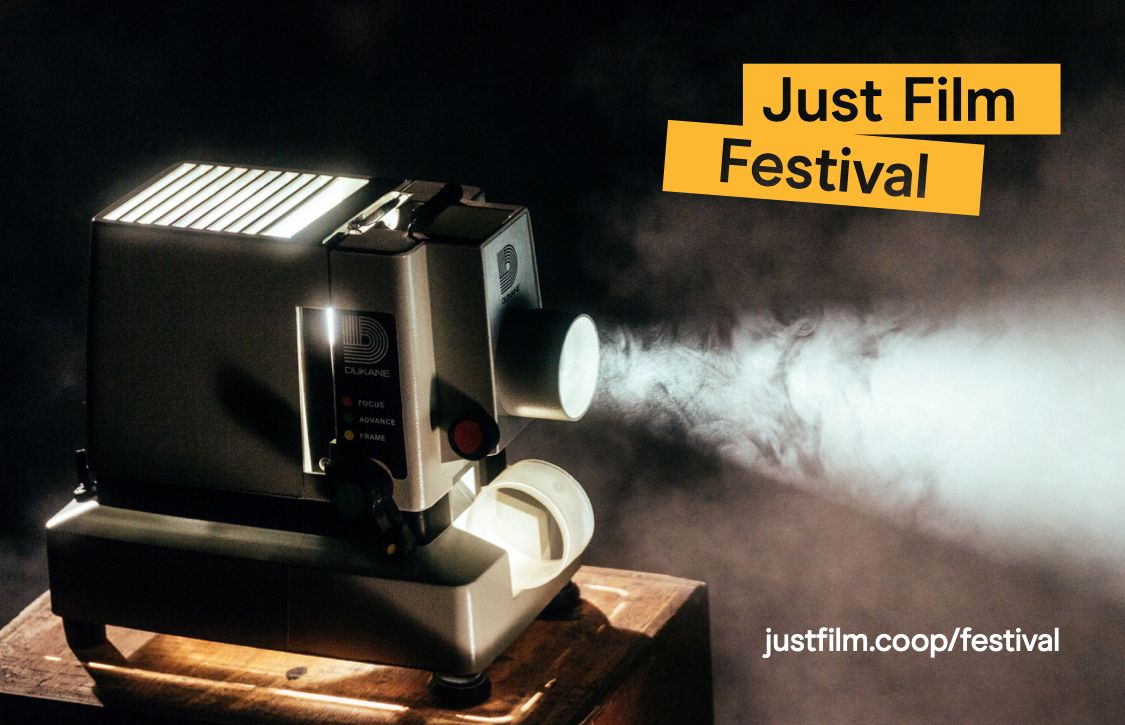 For the second year running we are supporting the "Just Film Festival" during Co-op Fortnight, Friday 24th June to Sunday 3rd July.
The festival includes online screenings of feature length documentary films and dramas exploring how we can build a fairer world, plus a short films competition on the theme of "Working together".
All films are available to watch online, and some as physical screenings too.
The full film programme can be found HERE
International Day of Co-operatives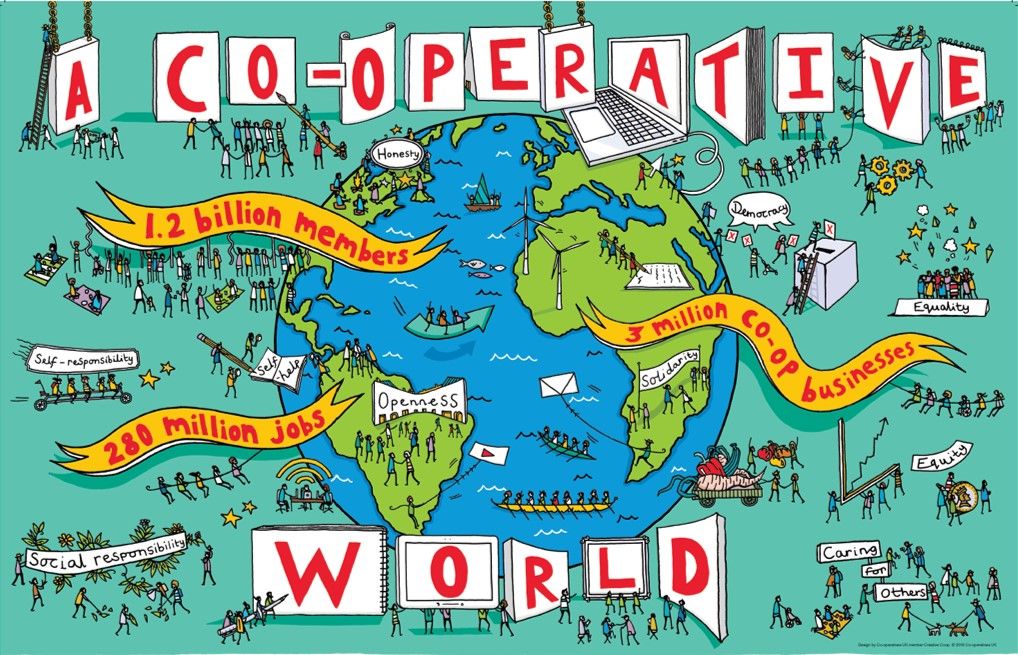 One of our guiding principles is Co-operation between Co-ops and this year we have exciting news of an innovative Co-operative project to share with you. But you'll have to wait until the 2 July for the big reveal - feels fitting to announce our news on the 100th International Day of Co-operatives.
All we can say is that it's driven by your spending power!
Unwrap Co-ops word search
Study the table of letters below and try to find as many words related to Co-operatives as you can.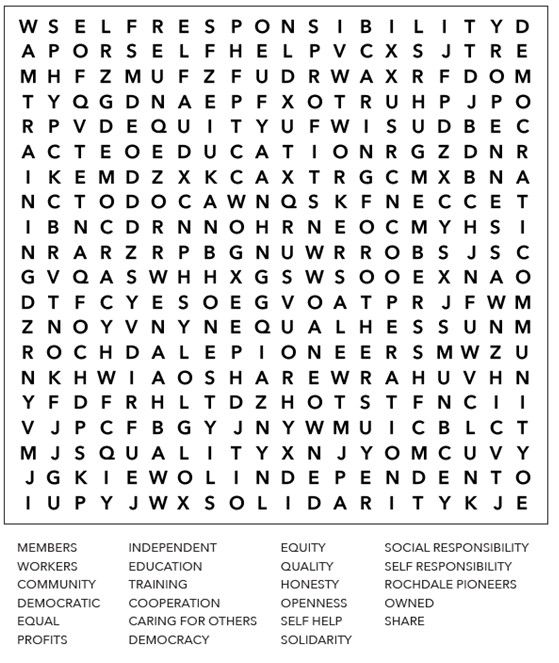 The first Central England Co-operative member to email competitions@centralengland.coop having found ALL of the words will win a Co-op Fair Trade hamper worth £50.  You will need to provide your membership number too.
There will be runner up prizes, so have a go. Competition closes at 12.00 noon on 8 July 2022
See the download at the bottom of this page to print at home
Unwrap Co-ops your way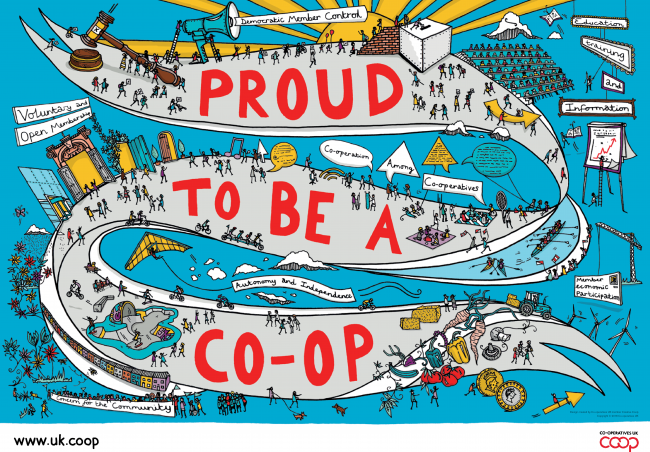 Why not join us at an event happening in your area during Co-op Fortnight? We'd love to see you.
1st July.  Join us at CoCoMAD in Birmingham and learn more about co-operation. A festival of music, art, dance and science. There's no other festival quite like it, you don't need a ticket - but CoCoMAD isn't free, it's paid for by donations from you, your neighbours and the businesses in the local area.  https://cotteridgepark.org.uk/cocomad/
·       21st June  - Wombles Litter Pick, Enderby - Working in Co-operation with Co-op Group, local volunteers litter picking between the two stores to keep the area tidy.
·       22nd June   Healthy Choices Workshop – an after school group at the Green Patch in Kettering www.groundwork.org.uk
·       23rd June - Healthy Choices Workshop – Health and Wellbeing Group at Shuttlewood Clarke Foundation – an organisation that supports  elderly people, adults with disabilities and young people through wellbeing activities, outdoor education, and inspiring support services.
www.shuttlewood-clarke.org
·       27thJune - Saving Saffron Brook – identified as a priority area for river restoration for the benefit of people and wildlife. The "Saving the Saffron Brook River Restoration Scheme" hopes to improve the river's ecosystems through community engagement designed to get local people involved.  www.leicester.gov.uk
·       1st-3rd July - Timber Festival with National Forest Fairtrade/climate change workshops.  We'll be promoting Co-op membership whilst tasting Fairtrade wine and chocolate
·       2nd & 3rd July - Desford Heritage Trail – two of our Co-op stores are dressing their windows (and themselves) to reflect bygone eras – Desford High Street store World War 2 and Desford Newbold Road, the Civil War  - an opportunity to lean about co-operation and membership while supporting the heritage trail.
Take a look at our Co-op Fortnight page to Unwrap us further!
Download your  Co-op word search HERE