Central England Co-op officially opens new £600k store to support new Warwickshire community
New Houlton store opens with ribbon cut by local schoolchildren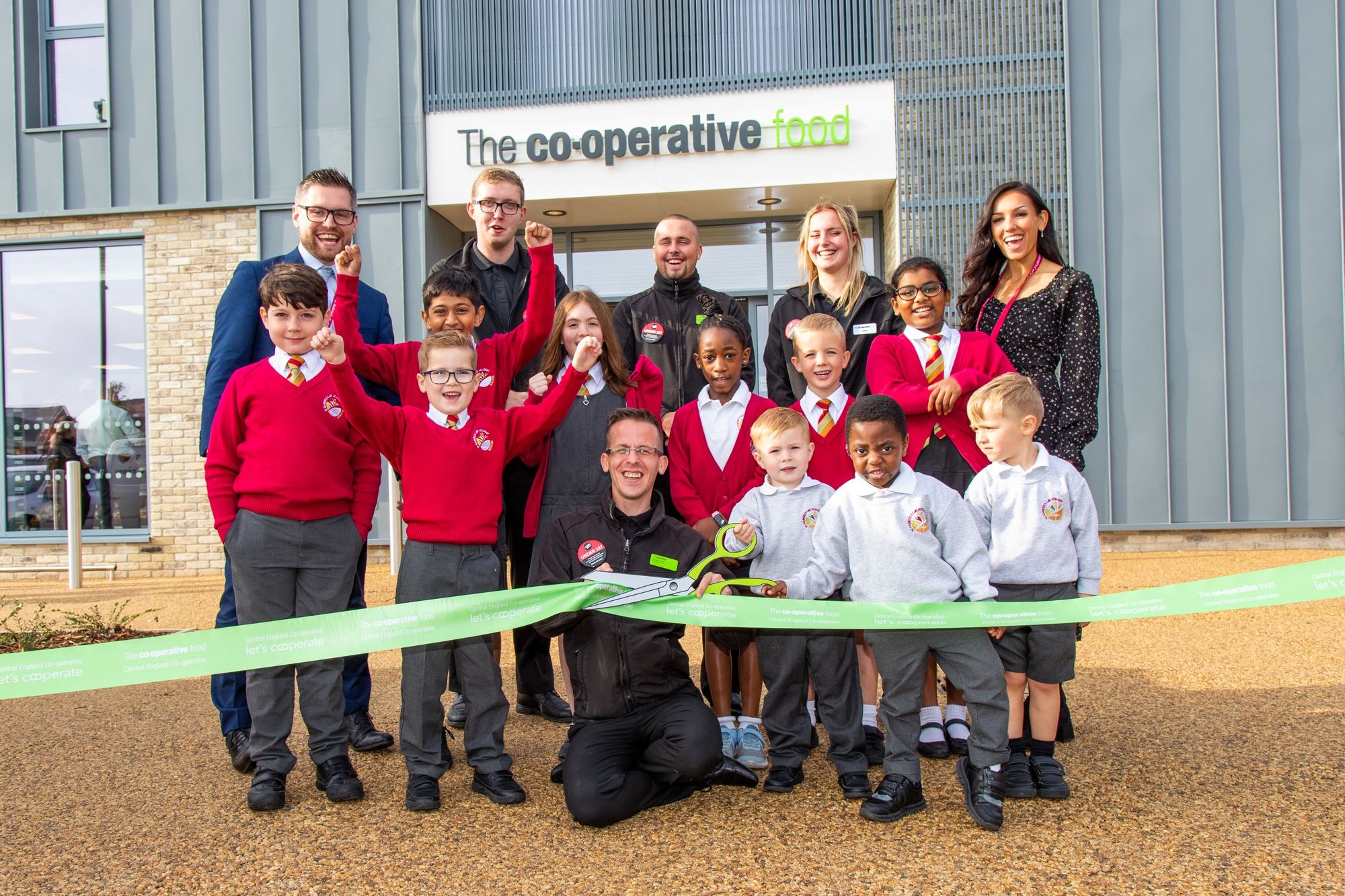 Central England Co-op has officially opened its new store in Houlton, Warwickshire creating 20 new jobs and investing £600,000 in the local community.
The Society today officially opened its new store powered by 100% renewable energy in the brand-new community at Dollman Farm, Houlton offering locals food and essentials on their doorstep.
Features of the store include self-scan till points, great products including hot food to go and Costa Coffee and Tango Ice Blast machines, as well as a customer toilet with baby changing facilities.
Inside the store there is also artwork specially created by children from St Gabriel's C of E Academy in Houlton, who also joined the store team to officially cut the ribbon at the launch along with children from the school's adjoining nursery.
A food bank collection point has also been installed to support the great work of Rugby Food Bank as it continues to manage the increased demand caused by the Coronavirus outbreak.
To mark the launch, Store Manager Michael Young made a special donation of food and essentials to the food bank.
He said the store team were looking forward to being part of the local community and to working with Rugby Food Bank to support people struggling from the impact of the Coronavirus pandemic, while he also thanked St Gabriel's Academy for helping to cut the ribbon and for the children's fantastic artwork.
He said: "It is great to finally open our doors to the local community as the team have been desperate to support our neighbours and ensure they can access food and essentials during the pandemic.
"All of us here at the new store are proud to be part of such a great new community in Houlton so we are delighted to be able to support Rugby Food Bank which is offering a lifeline to vulnerable residents and people struggling in these testing times.
"All the team were so happy to be joined on our big day by children from St Gabriel's C of E Academy and I would like to thank the children for their brilliant artwork which we are so proud to be able to include inside the store and see every day while we serve the community.
"I'd also like to take this opportunity to thank local residents for their patience. It has been long-awaited, but hopefully everyone will enjoy the store as much as we do."
The artwork created by St Gabriel's is entitled 'What Houlton Means to Me' and Andrew Taylor, Headteacher at St Gabriel's C of E Academy, said the school were thrilled to be involved.
He said: "We were delighted to be asked by Central England Co-op to not only help cut the ribbon on their brand-new store for the community here in Houlton but also to provide a special piece of artwork to be displayed inside.
"The children had a great time completing the project which saw them draw inspiration from our fantastic new community and the area's history. They have been really excited about seeing the finished design and to join in with the launch day by officially opening the store."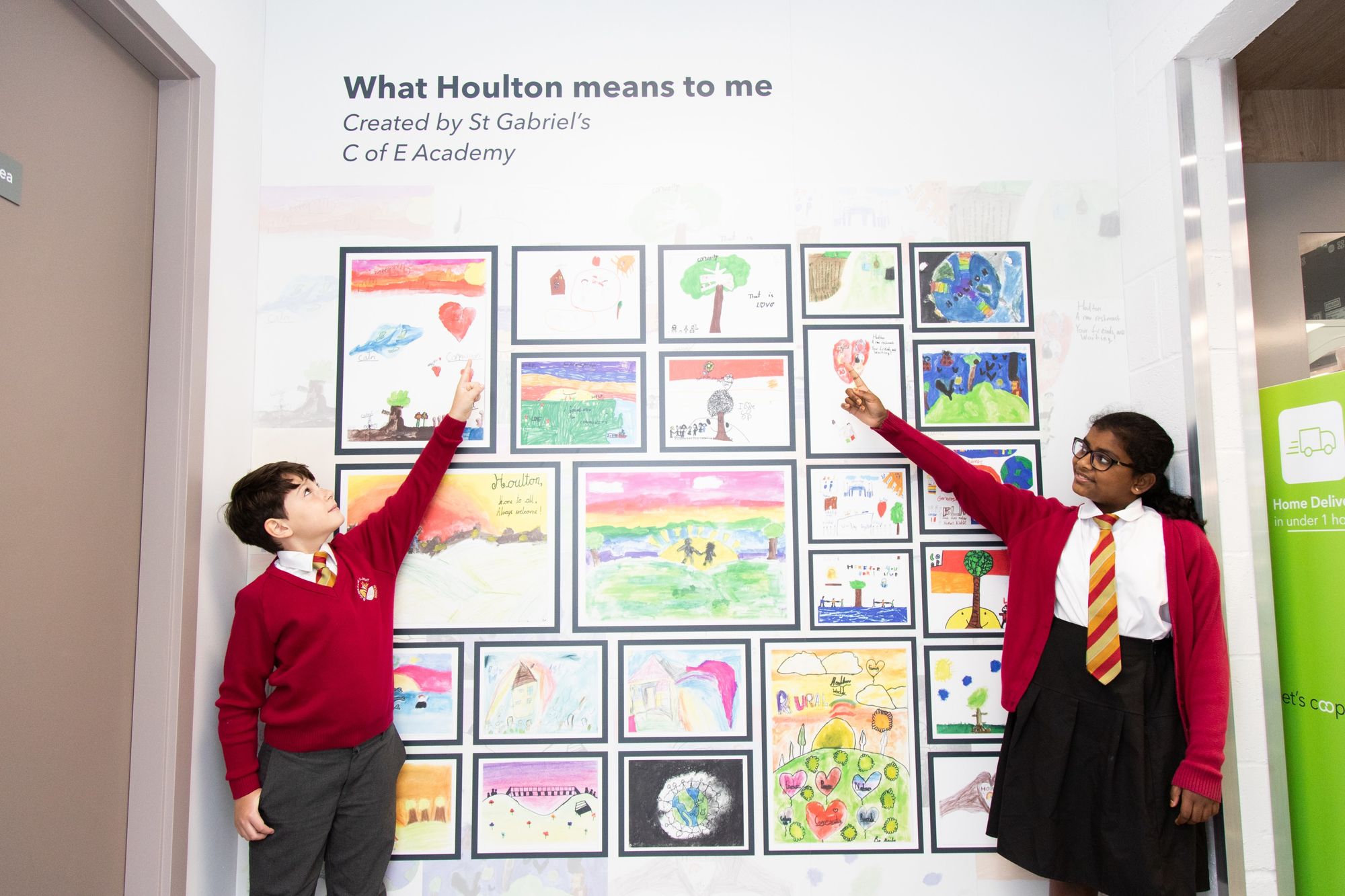 As part of the launch there was food available from a special pancake stand and food sampling from one of the many local suppliers whose produce is sold in store.
There was an opportunity for shoppers to sign up to become a Member and nominate a particularly deserving someone in their community to receive a seasonal Co-op hamper worth £100. This will continue in the coming weeks and more details are available in store.
The new food store is the latest phase of the Dollman Farm development at Houlton, a brand-new community created by developers Urban&Civic.
Mike van den Berg, Senior Development Manager at Urban&Civic said: "We are delighted to welcome Central England Co-op into the Houlton Community. This store is the first for Houlton and we are excited to see our community benefit from access to everyday essentials on their doorstep. "Our existing neighbours at Dollman Farm are also looking forward to working together to enhance sustainability, promote fewer journeys to large supermarkets, and reduce our collective carbon footprint."
The Houlton Co-operative food store is open from 7am to 10pm, Monday to Sunday and offers a wide range of products from everyday necessities to something a little more special.
This includes fresh fruit and vegetables, an in-store bakery offering breads and pastries, chilled beers and wines, fresh and frozen product, Irresistible product ranges, as well as a great selection of food to go, including hot food.
It offers Lottery and foreign currency, as well as a free cash machine and shared customer car park. Customers can also use Scan and Go allowing them to use a mobile app to help make their shopping experience even easier, with home delivery also available in-store.